Below is a chart of how our investment portfolio performed against the S&P 500 index and the 30-year Treasury based on the January 3, 2013 rate (found here).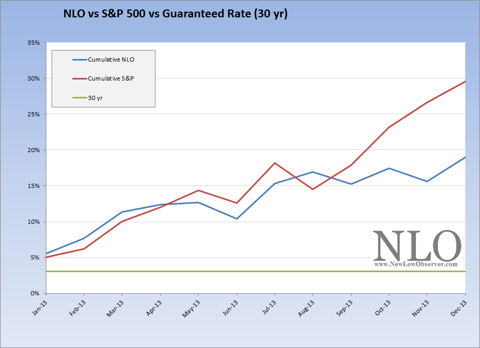 Our portfolio exceeded the guaranteed rate (30-yr treasury) by almost six times. However, the S&P 500 exceeded our 2013 return by nearly double.
Below is the cumulative performance of our investment strategy since 2006 when we codified our investment approach in the last quarter of 2005. We have compared our performance to the indexes indicated, based on $10,000 invested over the subsequent period of time.
| | | | | | | | | |
| --- | --- | --- | --- | --- | --- | --- | --- | --- |
| Year | Dow | $10,000.00 | S&P | $10,000.00 | Nasdaq | $10,000.00 | NLO | $10,000.00 |
| 2006 | 16.29% | $11,629.00 | 15.74% | $11,574.00 | 9.52% | $10,952.00 | 18.30% | $11,830.00 |
| 2007 | 6.43% | $12,376.74 | 5.46% | $12,205.94 | 9.81% | $12,026.39 | 19.80% | $14,172.34 |
| 2008 | -33.84% | $8,188.45 | -37.22% | $7,662.89 | -40.54% | $7,150.89 | 14.35% | $16,206.07 |
| 2009 | 18.82% | $9,729.52 | 27.11% | 9,740.30 | 43.89% | $10,289.42 | 36.65% | $22,145.60 |
| 2010 | 11.02% | $10,801.71 | 14.32% | $11,135.11 | 16.91% | $12,029.36 | 7.14% | $23,726.79 |
| 2011 | 5.53% | $11,399.05 | 0.00% | $11,135.11 | -1.80% | $11,812.83 | 6.20% | $25,197.85 |
| 2012 | 7.26% | $12,226.62 | 16.20% | $12,939.00 | 15.91% | $13,692.25 | 7.80% | $27,163.28 |
| 2013 | 26.50% | $15,466.67 | 31.90% | $17,066.54 | 38.30% | $18,936.38 | 19.00% | $32,324.30 |