On February 8, 2012 (article here), we posted an article about our gold stock indicator which had already given an indication to acquire the Direxion Daily Gold Miners Bear (NYSEARCA:DUST) ETF. From February 8, 2012 to February 15, 2012, DUST gained +10.73%.
Then, on February 24th and February 28th, our gold stock indicator signal to buy DUST at $29.57 and $28.21, respectively. The gains from the 24th have been +21.17% while the 28th has been +27.01%.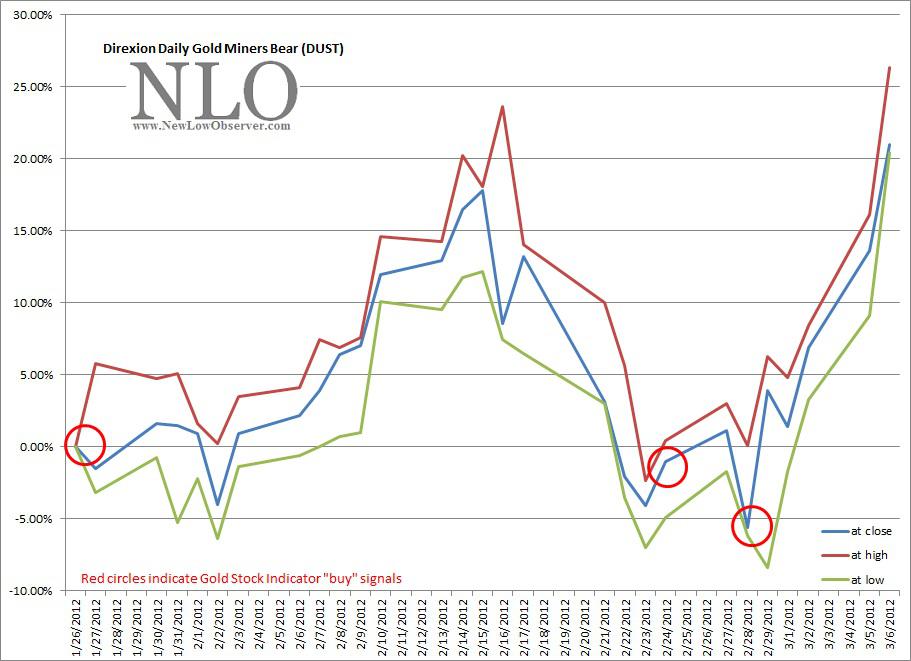 Although our gold stock indicator is relatively new, we have decided to include updates on our website whenever a new buy indication occurs for either DUST or Direxion Daily Gold Miners Bull (NYSEARCA:NUGT) ETF.
Those who are remotely interested in either DUST or NUGT must assume considerable volatility with daily swings of (+ or -) 15% and/or a total loss of capital BEFORE entering into any transactions.
Disclosure: I have no positions in any stocks mentioned, and no plans to initiate any positions within the next 72 hours.