On January 26, 2012, our gold stock indicator said that it was time to sell gold stock positions and go short gold stocks in general. On February 8, 2012, we published an article on Seeking Alpha (article here) that said the trend was definitively down. Since both the unpublished and published indications, the Direxion Gold Miners Bear ETF (DUST), our preferred vehicle for such a reliable indicator, has gained over +55%.
Being neither bullish nor bearish on gold and gold stocks, if you haven't done so already WE RECOMMEND SELLING DUST at the market as we are nearing the point where an indication for the purchase of Direxion Gold Miners Bull ETF (NUGT) can be done with a reasonable expectation for substantial gain, as indicated in the chart below.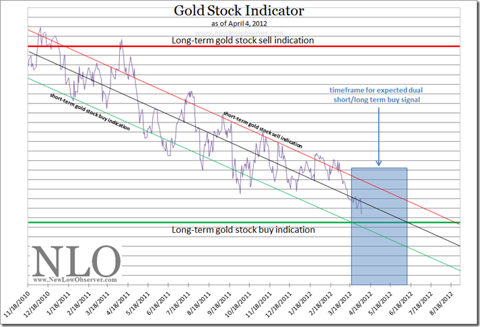 Despite the dramatic decline in gold and gold stocks on April 4, 2012, we must caution that the decline is not over. The above charts indicate that the dual short and long term gold stock buy indication should occur between now and June 7, 2012. However, we're not there yet.
Our worst case scenario for a bottom in gold stocks is the period between June 15, 2012 and August 21, 2012. While downside risk will be present after the buy indication, we believe that, on a relative basis, our signal will provide the most ideal opportunity to buy NUGT.
Our preference for using Direxion Gold Miners Bull and Direxion Gold Miners Bear ETFs aren't for the risk averse. As noted in previous articles found on Seeking Alpha, investors who wish to accumulate gold shares from within the XAU index should benefit from well-timed purchases rather than getting whip-sawed by a wildly gyrating index that will inevitably underperform the price of gold in the "long-term." We have identified the top five stocks that are likely to outperform the XAU index when the next buy signal is given. The five companies are AngloGold (AU), Yamana Gold (AUY), Gold Fields (GFI), Randgold (GOLD) and Royal Gold (RGLD). The most popular product for gold itself is SPDR Gold Trust ETF (NYSEARCA:GLD). GLD will also rise when the indication is triggered however not as much as NUGT.
Gold stocks are approaching an unprecedented short term buying opportunity. If you've managed to follow our last gold stock indication, you have substantial profits to reallocate towards our preferred long instrument, Direxion Gold Miners Bull , when our Gold Stock Indicator registers a buy signal.
Sell DUST at the market and be prepared to buy NUGT.
Disclosure: I have no positions in any stocks mentioned, and no plans to initiate any positions within the next 72 hours.
Additional disclosure: Long physical gold and silver