On August 23, 2009, we said the following:
"Based on the combination of the Dow Theory confirmation of July 23, 2009 and the IPI turning up from the June low, I will have to guess that the National Bureau of Economic Research (NBER) is going to proclaim June 2009 as the official end to the recession. The end to this recession will be lackluster and questioned from all corners.

"Additionally, the stock market will only follow the pattern of a cyclical bull market (bear market rally) within a secular (long term) bear market. I doubt that the general public will agree that the recession is over since jobs will not be as plentiful as the past."
Below is the September 20, 2010 announcement from the National Bureau of Economic Research that the recession had officially ended in June 2009:
In addition, the jobs data has been lackluster as is par for the course but was anticipated in our August 2009 review.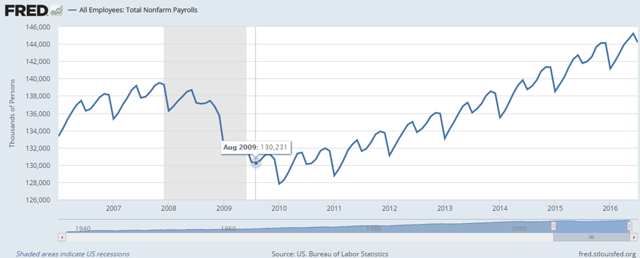 Many claim that the employment data is rigged to reflect favorably for whichever politician that is in power at the time, so we have included the U-6 TOTAL unemployment data to verify if the economic environment really did turn around at or near the same period in time.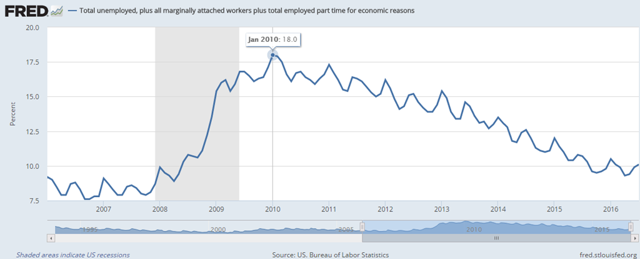 From all appearances, the turn in the economy did arrive at the time that we thought that it should. The stock market has been off to the races since 2009 with the Dow Jones Industrial Average (NYSEARCA:DIA) and S&P 500 (NYSEARCA:SPY) falling far short of most alternative indexes.
There are critics who say that the U-6 TOTAL unemployment data isn't as low as it was at the 2007 period and therefore we aren't in a recovery. However, to achieve a low in the U-6 TOTAL unemployment you would need the clearly obvious bubble economy that we experienced at the peak of 2007. Anyone who wants the same U-6 TOTAL unemployment as the 2007 period also wants the subsequent bust that is required of such a period.
We haven't had as much luck calling a top in the economy as we had in calling the bottom. On two occasions we had Dow Theory bear market indications which turned out to be false and in one instance, we've had the Industrial Production Index in decline. However, we haven't had both occur at the same time allowing us to make the call that the economy was entering a recession.
What are the odds that such a coincidence (saying that the recession was over a year before the NBER, that no one would believe it, that unemployment would be lackluster and that a bull market was in effect) could occur? Got lucky is all we can say.