On April 5, 2011, we said the following of the downside targets for Teva Pharmaceutical (NYSE:TEVA):
"Charles H. Dow indicated that the fair value of a stock is the average price that is paid by investors. The fair value is the point at which an investor, as opposed to speculators, will consider buying or selling a stock. The fair value that we've arrived is based on the low of July 2006. If Teva were to decline below $47.06, the prospects for $29.77 become almost inevitable."
Since that article, as TEVA declined below the $47.06 level, the stock eventually declined to the ascending $29.77 level by November 2013 as seen in the chart below. After hitting the ascending $29.77 level, the price jumped to just north of $72.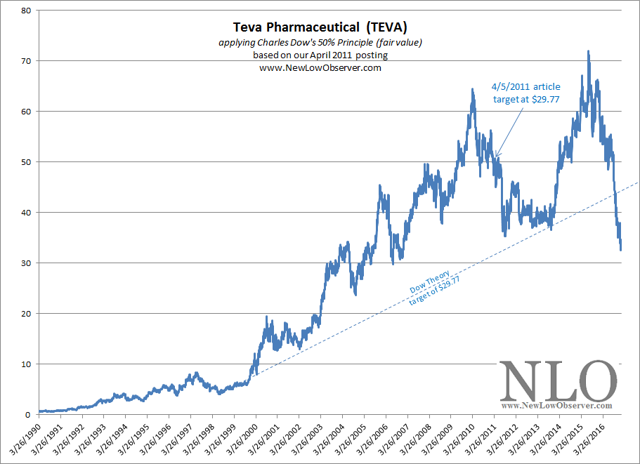 We'll have to accept that this is all mere coincidence and slight of hand rather than any kind of basis in facts. However, our claim has always been, if the target is achieved then review & decide whether to invest or if it is never achieved then move on to other opportunities.
Let's review the prospects for TEVA under the current price structure which includes the periods since the November 2013 low to the present. But first, you need to see the July 12, 2013 Speed Resistance Lines that we posted for TEVA as it is instructive and in alignment with the Dow Theory targets.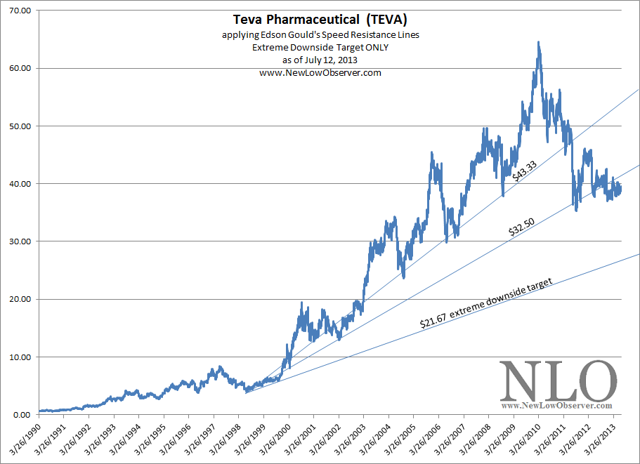 The long-term downside targets for TEVA based on the SRL indicated that the $32.50 level was the time to consider acquisition of the stock. At that time we said the following:
"We could not determine a conservative downside target. Because of this, we had to run some calculations and came up with the trendline of $43.33 and $32.50 as tentative support levels."
Since TEVA provided the best indications using Dow Theory and came close using Edson Gould's Speed Resistance Lines, we're going to give the Dow Theory perspective in the long and short run and see where it takes us.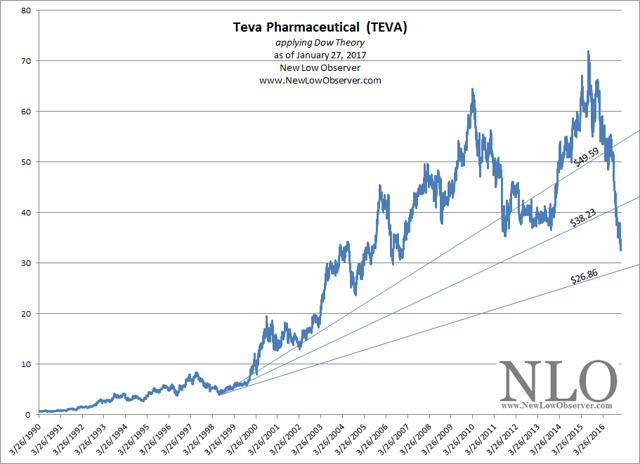 The above chart indicates that at the current price Teva Pharmaceutical is considered below fair value ($38.23) as long as the fundamental data confirms what the price suggests. Additionally, TEVA seems poised to achieve the downside target of the ascending $26.86 level (approx. $28.50). Purchases of this stock are best made in stages with 50% of allotted funds at the current price and 25%+25% at predefined lower levels.