We're value investors who are willing to forego the obvious run-up in a stock to acquire quality companies at severe discounts. Our use of Edson's Gould Speed Resistance Lines [SRL] is just one of many tools that help the New Low Observer team refine our technique of buying stocks at or near an all-time low. This approach allows us to put fundamentals into perspective.
As an example, take our review of Netflix (NASDAQ:NFLX). On December 3, 2010 we applied Edson Gould's Speed Resistance Lines [SRL] to Netflix (NFLX). At the time, the most recent high of the stock was $205.90. The downside targets that we arrived at were:
$117.76 (conservative downside target)
$68.63 (extreme downside target)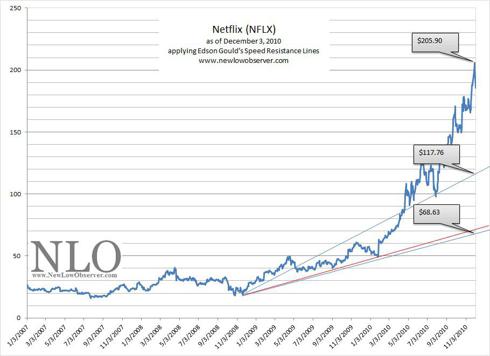 NFLX subsequently rose as high as $298.73 on July 13, 2011. However, when the decline in NFLX did arrive, the stock fell to the $117 level and traded in a range for about a month before declining to the extreme downside target of $68.63.
In our Seeking Alpha review of the Nasdaq 100 Watch List Summary section dated September 26, 2011 (found here: https://seekingalpha.com/article/295933-top-5-nasdaq-100-stocks-near-a-new-low) we said the following of Netflix:
"Netflix (NFLX) is going through significant turmoil as reflected in the stock price. Since the high of $298.73, NFLX has plummeted to $129.36 or down -56%. The financials on NFLX are a moving target, making it difficult to fully determine the company's true value. However, the business model is compelling and warrants considerable review. NFLX has a market cap of $6.8 billion and enterprise value of $6.65 billion. After applying Edson Gould's 1/3 speed resistance line, NFLX will become worth considering at $99.58 and below. A detailed analysis of Gould's speed resistance line applied to NFLX can be found here (http://www.newlowobserver.com/2011/09/netflix-and-speed-resistance-lines/) ." Subsequently, we were able to acquire NFLX at $63.
In the same Nasdaq 100 Watch List Summary section dated September 26, 2011, we said the following of Illumina (NASDAQ:ILMN):
"The following are companies we are tracking from our watch list this week. First up is Illumina (ILMN) which was last on our watch list on December 19, 2009. After being on our list, Illumina rose 172% at its peak on July 4, 2011. Already ILMN has lost -45.17% since the high in July. While ILMN is still nearly 50% above the December 19, 2009, price, the possibility exists that all the gains that were made could disappear in short order. As an example, anyone who bought ILMN after June 4, 2010, is confronted with a loss. ILMN has a market cap of $5.18B. Levered free cash flow at $146.48 million and enterprise value at $4.75 billion. The stock has lost -47.52% since the high on July 6th and is currently trading at 4.65% above its 52-week low."
Soon thereafter, ILMN declined another -39%. We were able to acquire ILMN at $27.16. Today, ILMN is trading at $44.97 and is in negotiations to be acquired by Roche.
The proper use of Edson Gould's SRL is to project downside targets of stocks that you're interested in and buy when and if the targets are achieved. Because the market has so many opportunities going on at the same time, missing the rise in Apple (aapl) pales in comparison to our holdings of Transatlantic holdings (NYSE:TRH), recommended on August 28, 2010 at $48.52 (found here: https://seekingalpha.com/article/222720-transatlantic-holdings-a-value-proposition-worth-consideration) getting a bid from Warren Buffett and ultimately getting purchased by Alleghany (NYSE:Y) or Wesco Financial (NASDAQ:WSC) getting bought by Warren Buffett only days after our recommendation (found here: https://seekingalpha.com/article/222098-wesco-financial-fundamentals-and-technicals-are-aligned).
We have been able to acquire far more companies that ultimately get bought out by larger rivals, in a relatively short period of time, using our approach that what may seem unfamiliar to you is quite common to us.
This is a response to our article titled: Considering the Downside Prospects For Apple (https://seekingalpha.com/article/503161-considering-the-downside-prospects-for-apple)
Regards.