Again the financial media gets the assessment wrong when commenting on financial markets. In this case, it is Barron's which gets it wrong about the resurgence of Bitcoin (OTC:GBTC).
On June 24, 2019, Barron's gave the following headline: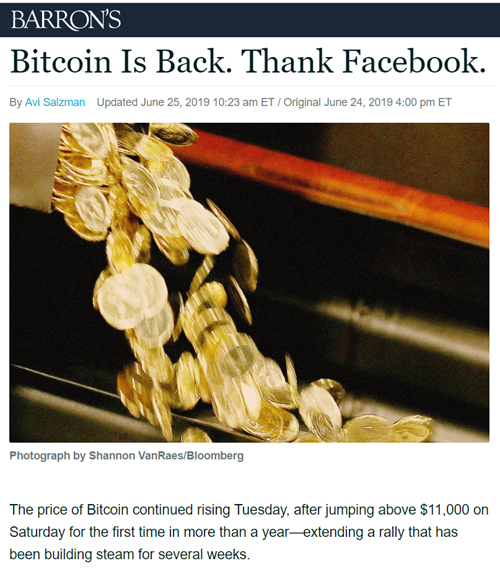 In the eyes of Barron's, Bitcoin (COIN) has finally arrived on the scene due to the news that Facebook announced that they will issue their own cryptocurrency called Libra. Facebook made their announcement of Libra on June 18, 2019.
Let's look at Facebook's announcement of Libra relative to the price of Bitcoin from December 2017 to June 26, 2019.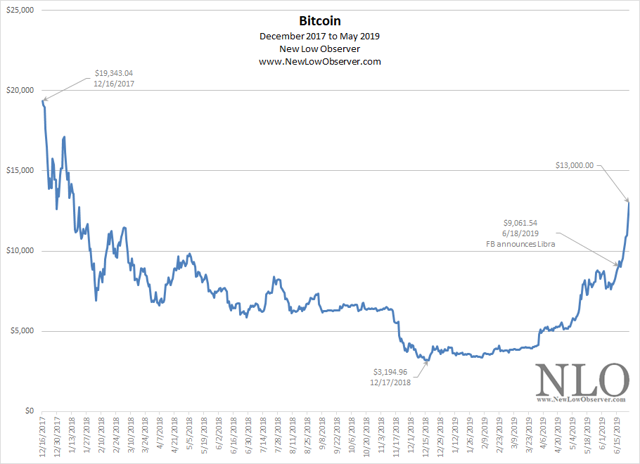 In the price chart above, Bitcoin (BTC-USD) crashed from $19,343.04 in December 16, 2017 to a low of $3,194.96 on December 17, 2018. The amount of increases from the December 17, 2018 low was +183.61%. This was approximately the same level the Bitcoin achieved on May 27, 2019 when it traded at $8,800.
Attributing the move up in the price of Bitcoin, after it had already bottomed six months earlier, mistakes correlation as causation. This also highlights the potential power of Bitcoin which, at this point in time, adds more credibility to Bitcoin as a viable "investment" versus a pure speculation.
Bitcoin Article Archive: 2013-2019
Disclosure: I am/we are long GBTC.