On August 4, 2019, we said the following of Consumer Sentiment:
A trend doesn't define the future prospects. However, we believe that the declining trend has not completely played out. This means that we expect that the economy and stock market will languish, in the best case scenario.

Alternatively, if the Dow Jones Industrial Average can exceed the 28,750 level, the Consumer Sentiment Survey will reflect this change of direction and move above the short-term peak of May 2019.
On August 30, 2019, the University of Michigan Consumer Sentiment Survey (UMCSENT) came out with a reading of 89.8 for August 2019.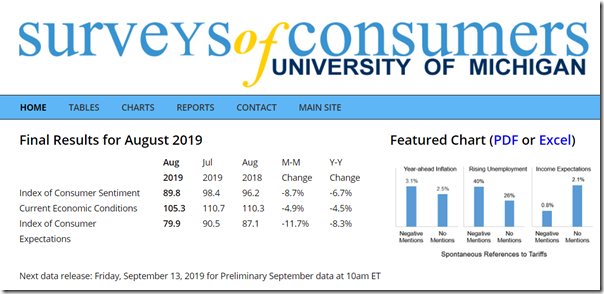 The year-over-year change in the index, along with the Dow Jones Industrial Average (DIA), is charted below: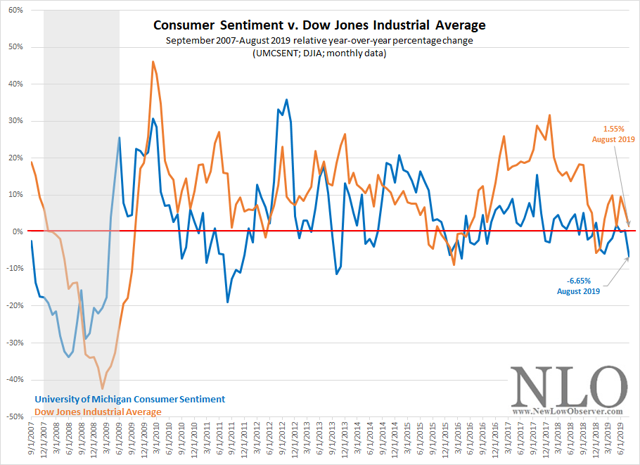 So far, our belief (that the trend for consumer sentiment is down) has played out. This was not a feat of economic forecasting, just an observation of the overall trend since the October 2017 and January 2018 peaks in the UMCSENT and the DIA, respectively.
A quick resolution on the tariff front could bode especially well for sentiment, pushing the DIA higher (on a YoY basis) which will be quickly translated into the UMCSENT.
Data Review
Some discussion has been made of the fact that, on a month-over-month [MoM] basis, the August 2019 UMCSENT number has declined the most in seven years. However, the -8.74% MoM decline ranks 25th among the largest declines since the inception of the UMCSENT. We're in a wait and see mode as the economic picture evolves. We believe that the DIA will be the real-time indication of the direction for the September 13, 2019 release of the UMCSENT.
See Also: Dow's Theory on Consumer Sentiment