On October 25, 2011, we published a chart of Green Mountain Coffee Roasters (NASDAQ:GMCR) that utilized Edson Gould's Speed Resistance Lines [SRL] to determine what the possible downside targets might be. At the time, Green Mountain Coffee Roasters was trading at $64.75. However, our use of the SRL indicated GMCR had a conservative downside target of $59.63 and an extreme downside target of $37.21.
After reach the level of $59.63, GMCR's stock price rose marginally before falling significantly to the downside resting at the $39.42 level. Soon afterwards, GMCR rose as high as $70, but did not go above the SRL rising trend established at $59.63.
After reaching the $70 level, GMCR promptly fell to the $37.21 level which established what we believed to be a "support" level (green arrows; definition here). Support levels, if broken, would result in the stock of GMCR going to the previous downside levels that helped to establish the upside trend at $22.53 and $8.30.
In after-hours trading on May 2, 2012, GMCR plummeted from the closing price of $49.52 to as low as $28.50, a loss of -42%. We believe that GMCR has a new support level of $22.53 and upside resistance (definition here) at $42. If the price of GMCR falls significantly below $22.53 (i.e. $21) then we would expect that the new downside target of GMCR is $8.30.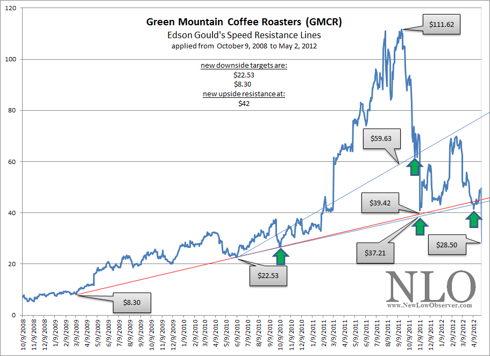 As an investor, if you have a stop-loss order (definition here) at $45, then you'll only be able to get out of the stock at the next best price. This means that if GMCR opens at $30 tomorrow, you're only able to get out of GMCR at $30, not $45-$44 under normal market conditions. Right off the bat, you'll lose 33% more than you had planned.
Typically, when a stock crashes it would usually rebound to a higher level before continuing the declining trend (if it happens to be going lower). The stop-loss order will trigger automatic selling of GMCR even though we expect that it might rebound from the $28.50 low of today to, at least, $35.50 tomorrow. If nothing else, selling on the short-lived rebound would reduce the amount of loss while a stop-loss order typically ensures the maximum loss in the shortest period of time.
This explains why we are against the use to stop-loss orders as a means to avoid losses. The best way to avoid significant lose is to consider the downside targets before buying a stock. After considering the downside, we recommend putting an amount that you're comfortable with even if the stock were to decline -50%.