It seems as if Apple is finally overtaking Samsung as the leader of global smartphone manufacturers. Based on Apple's recent quarterly report and tentative data from Samsung, Apple sold 46% more phones in Q4 2014 than the prior year, while Samsung sold 11% less. Their respective market shares, according to IDC, are 20.01% for Samsung and 19.85% for Apple.
The following graph shows how the two companies have fared over the past few years, beginning in 2011 when Samsung overtook Apple for the first time. Samsung's market share soared until 2013 then took a nosedive to where it sits now.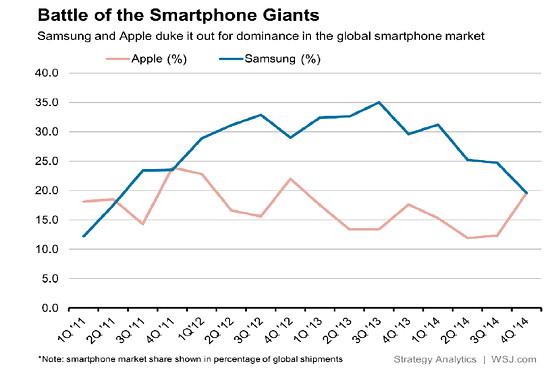 The interesting thing, though, is that Apple hasn't actually increased its market share by that much over the past few years. Its current market share is even lower than it was at the end of 2011 and 2012. However, smaller smartphone manufacturers like Lenovo, Huawei and Xiaomi are all carving their own slices of the global market share pie.
So it's not necessarily Apple Samsung has to worry about, it's the lower-end manufacturers. This is especially apparent in China, where Apple is clearly winning the high-end battle and Samsung is struggling to fend off the local manufacturers. One analyst even posited that Samsung should "consider taking over rivals, such as Blackberry, in order to revitalize growth this year."
As it sits now, Apple looks to continue to ride the success of the iPhone 6 and iPhone 6 Plus, which were released last year, while Samsung will need to find a way to take back its dominant position.
Disclosure: The author has no positions in any stocks mentioned, and no plans to initiate any positions within the next 72 hours.