It looks like the US dollar is ripe for a major correction. Look at the chart below – it shows my sentiment index constructed for the greenback (using the data delivered by the Commitments of Traders reports) and updated every week on my Marketplace service: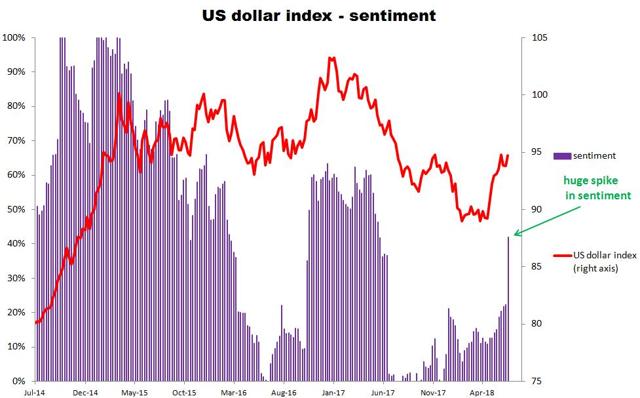 Source: Simple Digressions
Note a huge spike in sentiment (the green arrow) printed by the US dollar index during the week that ended on June 19, 2018. In my opinion, it is a sign of excessive optimism among big speculators trading the US dollar.
Interestingly, the pattern drawn by the sentiment index and my thesis that there is too much optimism on this market is supported by this chart: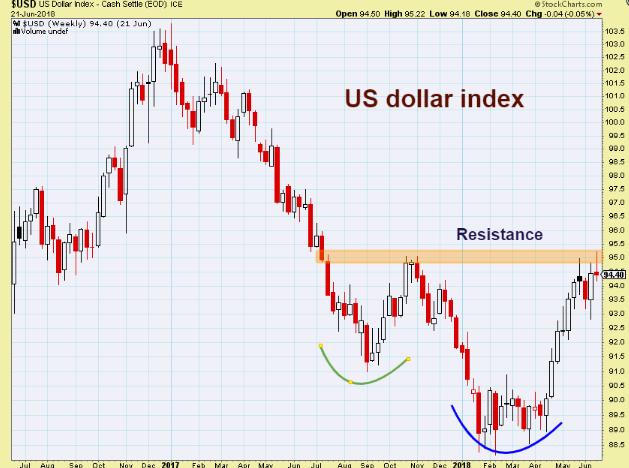 Source: Stockcharts
The US dollar index is very close to its strong medium-term resistance at 95 (the area marked in orange) so I would not be surprised to see a major corrective move down now.
However, in the long term I am still optimistic about the greenback. Although I am not a fan of the classic technical analysis, it looks like the US dollar index is drawing the so-called "Head and Shoulder" reversal pattern. The first "shoulder" (the green hyperbole) and the "head" (the blue hyperbole) have been drawn before. Now the greenback is drawing the second "shoulder".
Finally, a weaker US dollar supports higher gold prices so…expect a move up in precious metals.
Final Note
If you are interested in this kind of analysis, please, try my Unorthodox Mining Investing service.
Please note that on July 1, 2018 I am going to raise monthly/annual rates for my service. It means that now you have the opportunity to lock in the current low price.
Disclosure: I am/we are long CEF, GDX.