Remember that old stock market maxim, "don't fight the tape"? Well, don't fight the Bitcoin tape. Bitcoin started at close to $0 and is now valued around $400+ currently (For the latest pricing see Coin Market Cap). Money has flown into Bitcoin and money will begin to flow into public companies that avail themselves of the Bitcoin protocol and bitcoin as a transaction option for their customers. Think Overstock, Apple or Chancellor Group mentioned here. We may be looking at one of the greatest arbitrage opportunities in the stock markets history. And this is largely due to the lack of understanding surrounding the opportunity connected to Bitcoin. This historical chart shows the true trajectory and trading range of Bitcoin: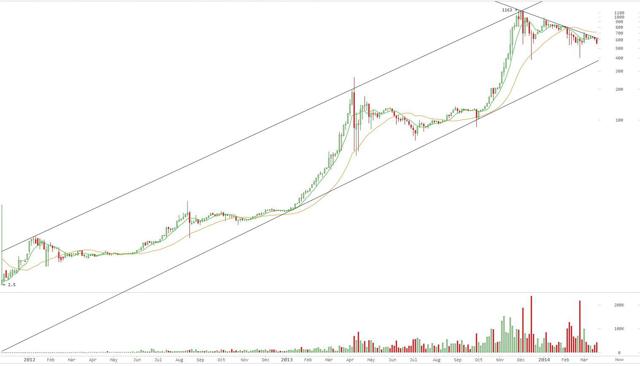 If one keeps a close eye on the latest adoption metrics related to Bitcoin, they will begin to see something extremely transformative taking place, this is the basis for the opportunity that has arisen for sharp and prescient investors. Lets consider the underlying trend manifesting itself around the world related to Bitcoin (This list will continue to grow. If you have anything that should be added to this list, please let me know in the comment section below):
Public companies that are preparing the groundwork for investors to begin taking positions before this trend really begins to take off include Overstock (OSTK), WPCS International (WPCS), Chancellor Group/Pimovi (OTC:CHAG), Zynga (ZNGA), Elephant Talk Communications (ETAK) and many more to come. I will write about these in future articles.
Bitcoin and other alternative currencies are set to change the world of banking, personal finance and investing. Just as the PC (IBM), Internet (pick your favorite), Web (choose any number of companies), Linux (most every company), Search Engines (GOOG), (YHOO), Social Networks (FB), Mobile Apps (AAPL) created new investing opportunities - Bitcoin and public companies that utilize it, represent an opportunity and trend that cannot be ignored as its adoption and validation as a new financial instrument is formidable. Remember what happened to those that fought the tape and were skeptics related to the Internet, Google or Facebook? Now is the time to learn from the past and the way technology and companies have changed the world, as has always been the case.