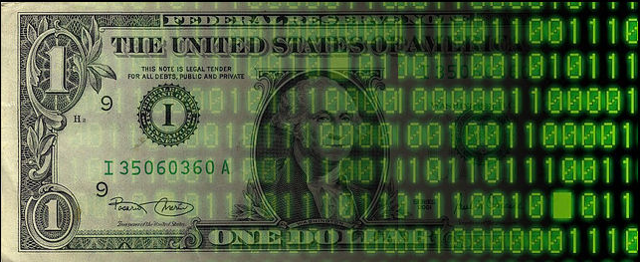 The race is on for companies that include alternative currency, such as Bitcoin, in their revenue and customer acquisition strategies. Investing in these companies can bring the rewards of alternative currencies but without the extreme volatility or associated risk. Of course, one can always do both by hedging or engaging in arbitrage between the stock and the alternative currency. Companies such as Expedia (NASDAQ:EXPE), Dish Networks (NASDAQ:DISH), Overstock.com (NASDAQ:OSTK), Bitcoin Shop (OTCQB:BTCS), Chancellor Group (OTCPK:CHAG) and Zynga (NASDAQ:ZNGA) to name just a few, are enabling their customers to engage in transactions using Bitcoin and other digital currencies.
It's also important to note that the number of Bitcoin ATMs are skyrocketting as you can see from the chart below: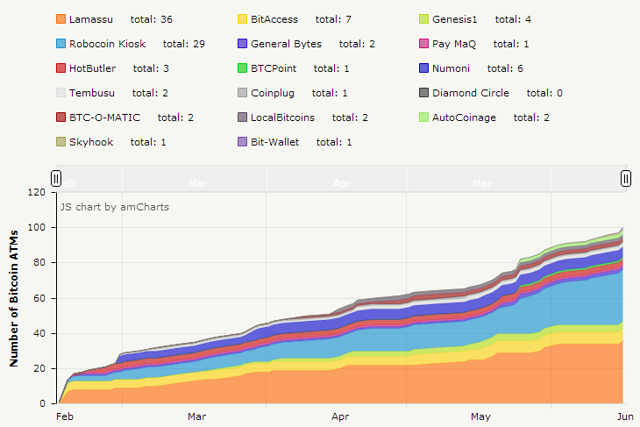 Digging a little deeper we can find opportunity ahead worth keeping on our radar. Lets take a look:
Companies expected to soon allow transactions with alternative currency include:
Apple (NASDAQ:AAPL) - "Apple begins allowing Bitcoin currency apps back into the App Store"
1-800 Flowers (NASDAQ:FLWS) - "1-800 Flowers to Accept Bitcoin"
Google (NASDAQ:GOOG) - "Google Lets Slip That It's Exploring Possible Bitcoin Integration Plans"
Companies that stand to benefit from using their own Bitcoin-like alternative currencies include:
Amazon (NASDAQ:AMZN) - Along with the recent announcement of the new Amazon smartphone, Amazon has already announced its own virtual currency and it would only make sense that Amazon would enable users of the smartphone to engage in transactions with an alternative currency, just as Apple is now doing. Quoting from a recent article, "Android and iOS app developer Zak Tanjeloff agrees that Amazon Coins could put more cash in developer's bank accounts. "Any time you reduce the friction in buying an app or an in-app purchase, developers see better sales," he says. It could also open the door for more in-app promos, where consumers can win coins and use them for future in-app purchases, which would help developers earn even more money, Tanjeloff says. " It's now just a matter of time before they move toward a full scale alternative currency of their own.
Terra Tech (OTCQX:TRTC), Green Cures & Botanical Distribution, Inc. (OTCPK:GRCU), Quasar (OTCPK:QASP), ENDEXX Corp. (OTCPK:EDXC), Tranzbyte Corp. (OTCPK:ERBB), Hemp, Inc. (OTCPK:HEMP), Medial Marijuana, Inc. (OTCPK:MJNA), Nuvilex, Inc. (NVLX) and Growlife, Inc. (OTCQB:PHOT) for example, can all be part of the growing PotCoin initiative as described in the following article, "Meet PotCoin, the Cryptocurrency That Could Solve the Marijuana Industry's Biggest Problem"
As noted in this article, "Songcoin Wants to Be Music's Alternative Currency", One company that is building and operating alternative currency for other industries, the Chancellor Group (OTCPK:CHAG), is in a position to create added value to the bottom line of other companies, including those listed above.
The upside to alternative currencies, and to the companies that seize this new opportunity, can be tremendous considering the price appreciation of Bitcoin and other alternative currencies. Positioning early in companies that avail themselves of this new kind of revenue stream can clearly have great benefits to any investors involved.
Disclosure: The author is long GOOG, AAPL, AMZN, ZNGA, OSTK, BTCS, DISH, CHAG, EXPE, TRTC, GRCU, QASP.