Summary
Tesla has started using the phrase "Free long distance travel on the Supercharger network" on its ordering site. Earlier, it used to be "Free for life".
Tesla's official message remains contradictory, but it is using friendly persuasion to discourage local supercharger use.
Either limiting or not limiting the supercharger access can be a big deal for Tesla and Model S owners, especially taxicab operators.
Tesla (NASDAQ:TSLA) has always promoted its supercharger network as a "free for life" benefit, once it is enabled for a car. But on June 9, 2015, during Tesla's annual shareholder meeting, Tesla CEO and Chairman Elon Musk hinted at some new restrictions on supercharger usage in response to a shareholder question:
Keith Lambert, [ph] shareholder.
"..And as far as the expansion of the Superchargers, what is the life time of free charging per vehicle and what is the accounting for it when you sell a car?"
Elon Musk - Chairman and CEO
".. For the Superchargers, as we've said in the initial press release, the Superchargers are free. It's basically free long distance for life, forever. So, free long distance forever is what the Superchargers are providing. There are few people who are like quite aggressively using it for local Supercharging and we also send them just a reminder note that it's cool to do this occasionally but it's meant to be a long distance thing. But it is free long distance forever and it's basically built into the cost of the car. And based on what we're seeing in terms of the economics, it looks quite supportable.."
On surface, this seemed like a minor change at that time, even though such limitations were clearly being newly mentioned. Also, it wasn't clear to what extent Tesla was going to enforce these restrictions. But after this surprise announcement from Mr. Musk, Tesla has started changing the words "free for life" to "free long-distance travel" on its website and email notifications to owners. As this article details, the rules are still not quite clear and the messages remain contradictory. For example, Tesla's support page on supercharger network still says "free for life".
"How much does it cost to use the Superchargers?
Supercharging is free for the life of Model S, once the Supercharger option is enabled."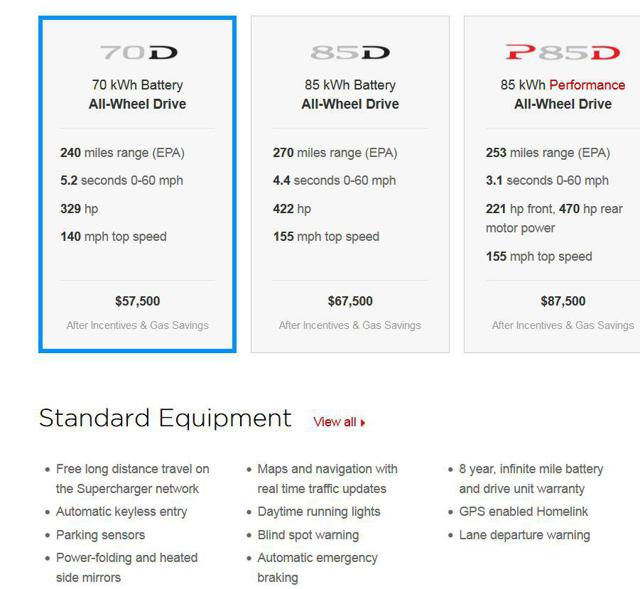 Clearly, limiting the supercharger access retroactively for existing owners can land Tesla into legal issues. Any such limitation for new buyers can also significantly impact its new orders. In this article, I show why the free and unlimited access to its supercharger network is a big deal for a large group of Tesla buyers, and calculate its financial implications for Tesla.
The promise of free fuel for life lured some taxicab operators into using Tesla Model S as taxis. This is especially true for European countries, where gas prices are often much higher than the free market price we see in the U.S. due to several taxes levied on it. Using Model S as taxis makes sense if the operators can tout the Model S taxi as a novelty service. It makes even more sense if there is also significant savings in fuel costs. However, electricity rates, especially commercial rates for heavy consumers, are not cheap. In some countries, it can be quite significant compared to gasoline prices. For example, the average electricity rates are as follows for a select few countries of interest.
| | | |
| --- | --- | --- |
| Country | US Cents/KWH | Last updated |
| Belgium | 29.08 | Nov 1, 2011 |
| Denmark | 40.38 | Nov 1, 2011 |
| Germany | 36.25 | May 1, 2013 |
| Switzerland | 25.00 | Jan 6, 2014 |
| Netherlands | 28.89 | Nov 1, 2011 |
| Norway | 15.9 | July 25, 2013 |
| United Kingdom | 20.0 | Nov 12, 2013 |
| U.S.A. | 10.32 | April 2015 |
(Table I: Electricity rates in some of Tesla's markets. Source: Wikipedia, EIA)
A typical taxi in U.S. runs 1000 miles per week, or around 50000 miles a year. For simplicity, let us assume this same mileage in all countries. Let us also assume that the taxi is charged only using Tesla's supercharger network. These are reasonable assumptions, as the taxicabs need to spend as little time charging as possible. Also, let's assume that a Model S will consume 0.5 KWH/mile. This is slightly higher than the advertized rate of 0.33 KWH/mile. But we know that the Model S range can be severely degraded by weather and road conditions. So, I believe 2 miles/KWH or 0.5 KWH/mile is a good estimate, particularly for colder European countries.
With these assumptions, I computed the lifetime electricity cost for each car for two very realistic scenarios:
The car is run to ground during the first 8 years of infinite mile power train warranty: In this case, the taxi will run an average of 400,000 miles during the 8 year period. This is equivalent to 200,000 KWH of electricity.
The car is run for 12 years instead of 8 years: The total mileage during this period will be 600,000 using the same annual mileage. This amounts to 300,000 KWH of electricity per taxi.
| | | |
| --- | --- | --- |
| Country | Cost of electricity for scenario I | Cost of electricity for scenario II |
| Belgium | $58,160 | $87,240 |
| Denmark | $80,760 | $121,140 |
| Germany | $72,500 | $108,750 |
| Switzerland | $50,000 | $75,000 |
| Netherlands | $57,780 | $86,670 |
| Norway | $31,800 | $47,700 |
| United Kingdom | $40,000 | $60,000 |
| USA | $20,640 | $30,960 |
(Table II. Costs of electricity using rates in Table I.)
Table II shows the total electricity costs incurred by Tesla for different countries for the two scenarios. As you can see, these costs can be huge portions of the Model S price. And these will likely be even higher, as electricity rates go up due to higher percentage of renewable resources and inflationary adjustments. Note that I did not even include the initial setup costs and additional maintenance costs associated with the superchargers. The costs above are just the costs of electricity alone.
So, it comes as no surprise that the Schiphol airport of Amsterdam decided to use 167 Model S for taxi service last year. A recent WSJ report indicate that these taxis are indeed using the Schiphol supercharger extensively, frustrating the private Tesla drivers who have to wait for long times to charge their cars at that supercharger.
In U.S., due to lower electricity rates, a Model S taxi, even with free fuel, is not very cost effective. However, that is changing with the introduction of CPO cars at great discounts. Several CPO cars are being purchased by taxi companies. Taxicab operators care little about specific configurations or colors, but more about costs. So the inventory and CPO cars are ideally suited for taxi cab operators. And naturally, many good CPO deals are being snapped up by them. Even the lower priced Model S 70D is an attractive option for taxi operators, as it also comes with 8 year, infinite mile warranty and free supercharger access. Although the electric charges incurred by Tesla for these taxis in U.S. are not as high as in Europe, at $20K to $30K, they are still very significant.
Note that my costs above do not include the additional warranty costs in these heavily driven taxis. We know that Edmunds' test car went through 3 drive unit replacements within 30K miles. The poor build quality of Model S is amply recorded in Edmunds' long term testing of 2013 Model S. These drive unit issues are still not completely resolved. Even taking a conservative estimate of one drive unit replacement every 20K miles would imply that a Model S used as a taxi could require 20 drive units during the warranty period. At a reasonable estimated cost of $5K per drive unit replacement, that alone can amount to $100K additional cost per taxi. Looking at these whopping costs, it seems to me that Tesla is almost giving away the cars to taxi operators, and still taking on huge financial risks not covered by their paltry warranty reserves.
In countries with high electricity rates, even private owners who drive just one-fourth of the miles driven by taxicabs, are also enjoying free electricity worth thousands of dollars every year from the superchargers. Owners who live in apartments and high rise buildings really have no option but to use the superchargers extensively. This is the case for much of Asia and Europe, and for most big cities around the world. So, limiting the access to this network can be a big deal for these owners as well.
Apparently, Tesla has realized its mistake and is now trying to limit such losses by discouraging local supercharger usage. However, the owners who already purchased their cars will find this unacceptable, as the financial benefits they had assumed when making those purchases were pretty significant in many cases, as I showed above. If Tesla changes the rules only for new orders, potential customers will now see a big increase to their cost basis and may find it unattractive to purchase a Model S at its current high price; thereby lowering new orders. The effect will be most pronounces for taxicab and fleet orders, as those cars enjoy a much higher benefit at the moment. It appears, that Tesla is in trouble either way, whether it limits the supercharger access or not.
Conclusion
For a long time, Tesla bulls have touted its supercharger network as a moat. But as I show above, it can also be a huge financial burden for Tesla. If I were a Tesla investor or worked in Tesla's finance department, the massive costs of giving away free electricity would send chills down my spine. But as someone short TSLA, I welcome large fleet sales for Tesla, as it only dramatically increases its incurred costs per sale. It seems Tesla is digging itself into a financial hole of immense depth. It you are long TSLA, you should be greatly concerned next time you see a fleet order for Tesla.
Disclosure: I am/we are short TSLA.