TerraTech Corporation is a company that began in the agriculture space eventually acquiring contracts to sell their "sustainably-grown hydroponic produce" with major grocery stores such as Walmart, WinnDixie, and Kroger (to name a few). This company eventually took notice of the ever-increasing demand for the legalization of marijuana and decided to jump into this emerging space relatively early. TerraTech Corporation has transitioned itself into being the only publicly-traded U.S. company that is involved in every aspect of the marijuana industry (from seed to sale).
Since 2012, the year this company went public, 8 states have legalized marijuana for recreational purposes. Moreover, several states now allow for medical marijuana and several others have decriminalized the plant. There is an ever-increasing demand for cannabis and, without a shadow of a doubt, recreational marijuana will eventually be legal in every state. An end to the prohibition of cannabis will come and it is important to find great companies to invest in now while this industry is in its infancy.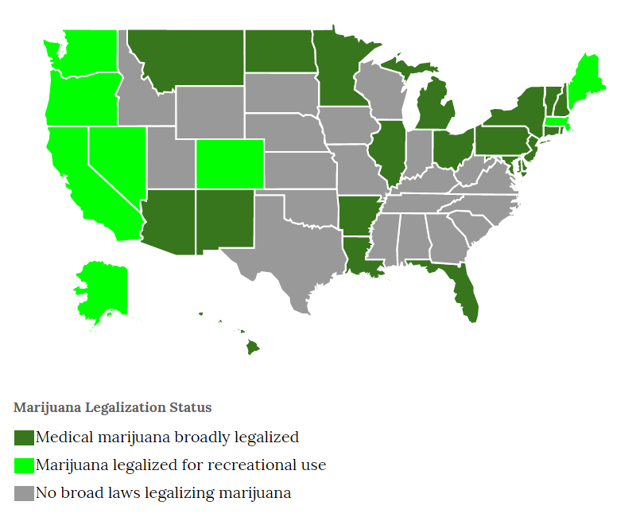 TerraTech's Blüm has been awarded all four licenses to sell marijuana for adult-use in Nevada, three of which are located in Las Vegas (one being in Reno). Considering that Colorado topped $700 million in its first year and over $1 Billion in 2016, Nevada could see a substantial amount more than that due to Las Vegas already being established as a highly popular tourist destination. It's evident that this was a great move because on July 1, Blüm had generated roughly $250,000 in revenues on its first day of recreational sales. Days later, the same lines are still wrapped around the outside of its locations. Although it may not be possible to make $250k in sales every day, it is interesting to think that if this continued, TerraTech could close this quarter with $22 Million in revenues alone. With Q1 & Q2's medical marijuana and Edible Garden sales, this company could close the year up $50 Million (in sales).

TerraTech also owns a cultivation facility in New Jersey. Although cannabis is not yet recreationally legal there, Chris Christie's term officially ends on January 16, 2018. He has been vocal about the issue claiming that "crazy liberals" want to "poison our kids" for the tax revenue. This is an interesting take since medical marijuana is already legal there, but what the people are demanding is marijuana for adult-use. TerraTech is hopeful that a newly-elected governer will be in-favor of marijuana, which is why they have a 5-acre cultivation facility there ready to grow within 48 hours notice. In addition, TRTC owns a 1-acre cultivation facility in CA, and a Blüm location in Oakland, CA which will be ready to sell recreational marijuana on January 1, 2018 if the license is obtained.

Sales have been increasing exponentially each year. With the exception of 2015, revenues have just about tripled every year. This is a great sign, however, the cost of goods sold seems to be unquestionably high. This is something that needs to be brought down dramatically, and it is probably one of the reasons the stock has been compressed. We will see what actions upper management decides to take regarding this.

In looking at expenses, one will notice how high TerraTech's administrative costs are in comparison to their gross income in years past. These need to come down as well. The company has not needed to pay tax as they have generated losses in the past. This is a huge benefit to the company as it stands today because if they had carried back then forward their losses, they will not have to pay taxes this year on a great majority of their profits.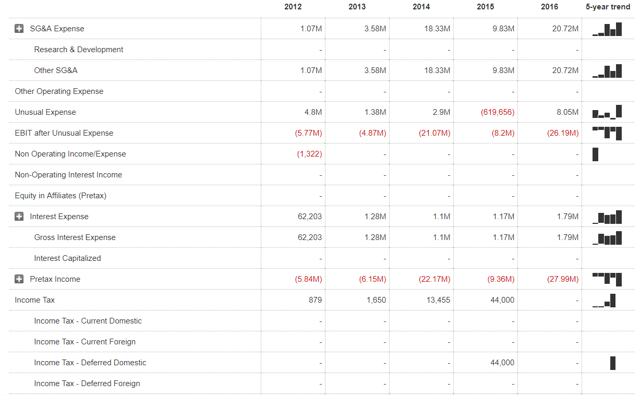 This last section of this financial report is critical. Every year, TerraTech has put more shares on the market. In 2012, only 77 Million shares were outstanding, and as of March 31, roughly 591 Million shares are now outstanding. This has put an incredible strain on the stock price, but it also needs to be understood that the marijuana industry is seen as a "risky" investment to banks. Banks are reluctant to loan large amounts of capital to marijuana companies because if licenses are unable to be acquired, or if legislation is passed against marijuana, lenders may not see a return on investment. This is probably why upper management has turned to stock dilution in order to fund their operations. This is understandable, but now that substantial revenue is coming in, they should be able fund their operations and not need to do this anymore.

Let's discuss stock price. TerraTech has gone "parabolic" many times followed by periods of declining price action. After experiencing a decline for some time now, the stock has now broken out of it on high volume due to outstanding news. It may be back on its journey to $1. Derek Peterson, CEO, has expressed his aspirations for the company to become the first marijuana company in the US to uplist. When the time to uplist nears, we may also see a reverse-split. Hopefully, however, we see stock buybacks before this happens. 

Let's discuss what has been transpiring in regard to recent insider transactions. On June 20, CFO Michael James was gifted 185,724 shares @ .17 ($31,573) by the company. Derek Peterson, CEO, was "granted" or "awarded" 324,993 shares @ .2313 ($70,171) on June 30. On the same day, TerraTech's CFO was also "granted" or "awarded" 244,133 shares @ .2313. Hopefully they plan to hold these shares instead of director Steven Ross who unloaded 200,000 shares on the open market on July 3. The CEO & CFO are important to pay attention to because their actions will determine the success of this company. Will they hold onto the shares that they acquired? Or will they act in a cowardly fashion as Steven Ross did on July 3 anytime a small gain is made? We shall find out. 
Although TerraTech started off somewhat rocky, I believe that no other company in the marijuana space comes close to the position they are currently in. Their corporate governance could be stronger but their accounting practices seem to be solid as they have produced audited quarterly and annual reports. As this is not required of OTC stocks, this is something that I consider outstanding. Having all aspects cornered-off (from cultivation to sale) this company can be a major player in the marijuana industry. If TerraTech can cut its cost of goods sold, cut its administrative expenses, buy back shares/quit selling stock, it is an absolute home-run buying opportunity. Even at these levels it seems like a steal. Once the liabilities are taken care of and expansion is cash-flowed from current operations, they can see substantial gains going forward. Do they have plans in acquiring other dispensaries to REALLY corner-off the market?
To put things into perspective, Apple (adjusted for stock splits) could have been bought for .20/share in 1985 during the industry's infancy. Monster Energy (currently $49.50) could have been bought for .20/share in the energy drink industry's infancy; marijuana is an immensely bigger market than the energy drink space, mind you. Imagine if this company turns out to be the Google of the cannabis industry. The potential is certainly there. Time will be the only determining factor. Will management decide to squander this opportunity for short-term gains? Or will they make a commitment to becoming a huge monopoly in this industry and rake in billions?
Disclosure: I am/we are long TRTC.