Investors, asset managers and business leaders take note! The public around the world remains strongly in favor of replacing GDP with a broader way of reporting national progress, according to the new global poll conducted in eleven countries by GlobeScan on behalf of my company Ethical Markets, together with UK-based business think tank Tomorrow's Company and the accounting institute ICAEW. The poll shows that more than two-thirds - 68 percent of citizens on average - in the countries surveyed favor replacing GDP with a broader indicator embracing health, social and environmental statistics as well as economic ones. Twenty-three percent would rather retain a focus on money-based economic statistics. These findings are in line with World Bank President Jim Yong Kim, M.D., who wrote in his book Dying For Growth (2002) that "the quest for growth in GDP" had "worsened the lives of millions of women and men" (quoted in The Economist, Stand up for Doing Business, May 25 , 2013).
The Beyond GDP survey was previously conducted in 2010 and 2007 for the European Commission (www.beyond-gdp.eu). This year's results show that while globally the proportion favoring going 'beyond GDP' has not changed since 2010, there were some significant shifts in individual countries. The proportion of the public favoring measuring national progress using non-economic factors grew significantly in China (up by 12 points to 80%), the UK (up 11 points to 81%) and Australia (up 10 points to 81%). China's new 5-year plan acknowledges GDP losses from pollution, shown as 3% in its earlier Green GDP. These three countries now have the largest proportions favoring a 'beyond GDP' approach. India (where 44% want to see a new system), Kenya (43%) and Germany (57%) are the most skeptical of change.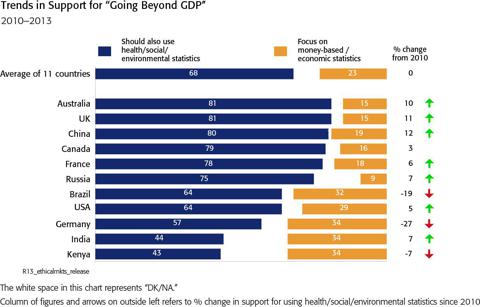 In 2010 Germany and Brazil were with the countries with the largest margins favoring a new system of measuring national progress. But this year public opinion there has swung significantly in favor of a traditional money-based approach. Thirty-four percent in Germany and 32 percent in Brazil now prefer keeping a focus on money-based statistics, perhaps due to media coverage of the recession, unemployment and austerity.
Thus, in these eleven countries, the public is still ahead of politicians, economists and financial analysts in seeing how GDP and money-based statistics short-change other important aspects of progress in health, education, environment and overall quality of life. Claire Jones, Sustainability and Economics Manager at ICAEW, commented: "ICAEW supports the use of a broad range of indicators to assess national performance, rather than a narrow focus on GDP, and the survey confirms significant public support for this approach."
Tony Manwaring, Chief Executive at Tomorrow's Company added "At Tomorrow's Company we believe that the future success of business lies in recognizing how value is created. Value creation has changed fundamentally in the Age of Sustainability. It must now integrate economic, social and environmental factors in order to deliver in the long-term. If this is true for companies and investors, then it is even truer for countries. The way we currently measure value is no longer fit for purpose."
The issue is, of course, externalities at both the level of national accounts and company balance sheets, capital asset pricing models and price discovery. Financial markets still mis-price company assets as revealed by Carbon Tracker and Trucost, and sovereign bonds tied to GDP, which ignore the value of efficient infrastructure, educated work forces and productive ecosystems.
As co-founder of the NGO Citizens for Clean Air in the 1960s, we took our then Senator Robert Kennedy on a helicopter ride to view New York's air pollution - counted as useful "product" in GDP. Kennedy supported our effort to have these pollution "bads" deducted from GDP which he said "measures everything, in short, except that which makes life worthwhile." We at Ethical Markets welcome these findings as further confirmation for measuring what matters for our common future as we update our Ethical Markets Quality of Life Indicators - which I originally developed with the Calvert Group of socially responsible mutual funds in 2000.
A total of 10,845 citizens across 11 countries were interviewed face-to-face or by telephone between January and March 2013. The margin of error per country ranges from x to y, 19 times out of 20.
Disclosure: I have no positions in any stocks mentioned, and no plans to initiate any positions within the next 72 hours. I wrote this article myself, and it expresses my own opinions. I am not receiving compensation for it (other than from Seeking Alpha). I have no business relationship with any company whose stock is mentioned in this article.