Technical Strategy For Fundamentalists During Earnings Season
New Fundamental Line Indicators Reveal Critical Trading for JNJ Stock
It has never been easier for individual investors and traders to have an inside view of what to expect for stock values during earnings season. With advanced and far more sophisticated charting software available, being ahead of the curve on earnings has never before been this simple to interpret.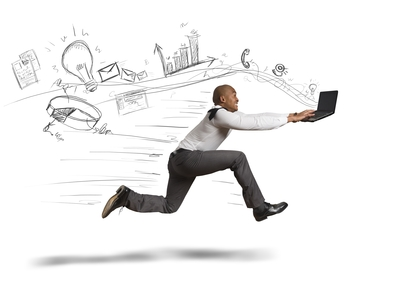 Being prepared for how a stock will behave on its earnings release date is a matter of using the new line fundamental indicators, that can be applied on a chart just like technical indicators. The line graphs provide ample analysis in a few seconds.
Combining technical and fundamental indicators in the stock chart is the next evolution of stock analysis. It allows for Relational Analysis™ which provides a far more extensive analysis with ease of use, that candlestick charts have always provided.
Earnings Strategies are only useful when they can be applied in advance of the earnings report, to take advantage of the move up or down. This requires that investors as well as traders have a prequalification analysis of the stock, weeks ahead of the earnings announcement.
If investors or traders wait until the company reports then they will be chasing a stock after High Frequency Traders HFTs have driven the price upward, or they will be in a stock that is gapping down or collapsing suddenly.
Earnings Strategies must be staged well ahead of the report, so that entries can be made before the stock starts to trend up or down due to the upcoming earnings report. Incorporating all available data through the use of both technical and fundamental indicators on a stock chart gives a superior analysis, outperforming the popular indicators by far.
Johnson & Johnson Co. (NYSE:JNJ) is reporting October 14, 2014. In the chart below, there is a decisive pre-earnings pattern developing in both the technical and fundamental indicators.
On September 19, 2014 an indecision day candle formed, followed by another. An attempt to break out to the upside failed and triggered a correction that was fueled by HFTs driving price down. Buy-on-the-dip investors bought on October 8th only to discover the stock would continue down sharply the next day.
A Downside Sandwich candlestick pattern which is one of the new Western Candlestick patterns, confirms that the white candle on October 8th was a false rally. It was instigated not by Dark Pool giant fund investors but the Odd Lot investors who are uninformed, and emotional buyers who thought they were buying on a "dip."
Normally a stock begins to show earnings trends about 1 month ahead of the earnings report. Already JNJ has lost 7 points, which is a sizable loss for those who bought in at the prior high. All the technical indicators confirm that JNJ has been under "rotation" for some time.
Two of the fundamental indicators confirm that there has been rotation and distribution by the giant and large funds over the past few months.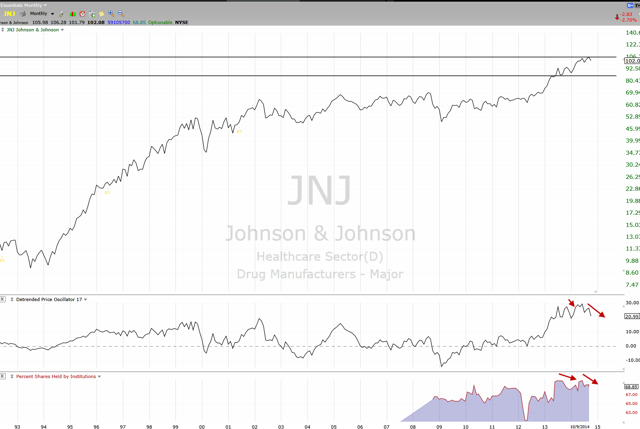 The Percent Shares Held by Institutions PSHI indicator is a fundamental indicator that is extremely useful for traders, as it shows whether the percentage of institutions holding the stock is declining or increasing. For JNJ, these fundamental indicators show that there were two periods of rotation.
The Detrended Price Oscillator DPO indicator shows the cycles of the stock, and therefore the business cycles occurring in JNJ. The company values have not kept up as well with the stock values. The Relational Analysis™ between the stock price values and the company fundamental values must be in sync or the stock is at risk of suddenly correcting.
There is no News from the company regarding the earnings report, and no Guidance from the CEO was issued in the last earnings report in July.
The key for recognizing the weakness in the run that followed, was the twin indecision days on a small gap up in the run. At the same time the Time Segmented Volume TSV which is a technical indicator and DPO which is a fundamental indicator, warned that the upside was weakening as both indicators peaked.
With both technical and fundamental indicators confirming rotation, the stock continues to move down ahead of its earnings. Traders have more consistent data to work from, with confirmation from both indicators. The current risk factor is that JNJ is shaving off points well ahead of its earnings report.
On the day of the earnings report, it may not have sufficient point gain potential left for a strong sell short. If HFTs trigger on a weak earnings report, it could result in a gap down.
For traders entries into these types of pre-earnings runs either down or up, must be made well ahead of the report release date otherwise the point gain potential is insufficient for exceptional profits.
I invite you to visit my website at www.technitrader.com
Trade Wisely,
Martha Stokes CMT
Chartered Market Technician
Instructor and Developer of TechniTrader Stock & Option Courses
Copyright ©2014 Decisions Unlimited, Inc. dba TechniTrader. All Rights Reserved.
TechniTrader is also a registered trademark of Decisions Unlimited, Inc
Disclosure: The author has no positions in any stocks mentioned, and no plans to initiate any positions within the next 72 hours.