In case you've somehow missed it, QCOR has been raided by bio-pharmaceutical bears who have been trying to destroy the stock on speculation that other providers will follow Aetna and not fully cover Achtar prescriptions.
On September 19th, the stock dropped ~50% on HUGE volume (64 million) even though there are only ~59 million shares available; more than equivalent of every share traded that day! Obviously there are some institutional investors who are making rash decisions, and I think- trying to swing the stock price of the currently $1.5 billion market cap company.
The next day, September 20th, the US government announced that they would be investigating QCOR's marketing practices, the stock then fell by more than 30% and finally began consolidating the next few days ~$20.
Since then, volume has been high, and it appears that institutional investors are getting back in the game, while some are taking profits at the newly reached $25 level (large 11 million volume yesterday after institutional investor tried to power-sell (dump a large amount of shares at the same time)
Throughout all of the noise, the 12 analysts covering the company have barely tweaked their earnings estimates; FY13 EPS estimates are currently at $3.85 compared to a high of $4.15 last month and FY12 estimates have nudged up to $2.88. The stock has been cut in more than half and yet earnings and revenue projections are nearly untouched. The negative news has not caused these analysts to cover their back-sides and revise their estimates; they have been staying strong and even defending the stock (see SunTrust).
That, and fishy power-selling (trying to dump shares at one time, causing a big and fast downward move) are two of the main reasons that QCOR is currently my favorite stock. Until EPS estimates start to slide I see no reason to not hold shares of QCOR which trade at 6.7 X 2013 EPS with a projected 33% increase in revenue and with a 0.23 PEG ratio. Until company management nudges the analysts to let them know future EPS will be hurt I think that there is a tremendous buying opportunity in QCOR that was created by institutional investors buying short term puts and dumping their shares to ultimately put their calls in the money. Call me crazy but how often do you see every share outstanding trade in a day.. Optimistically Bullish on QCOR and buying up shares on down days.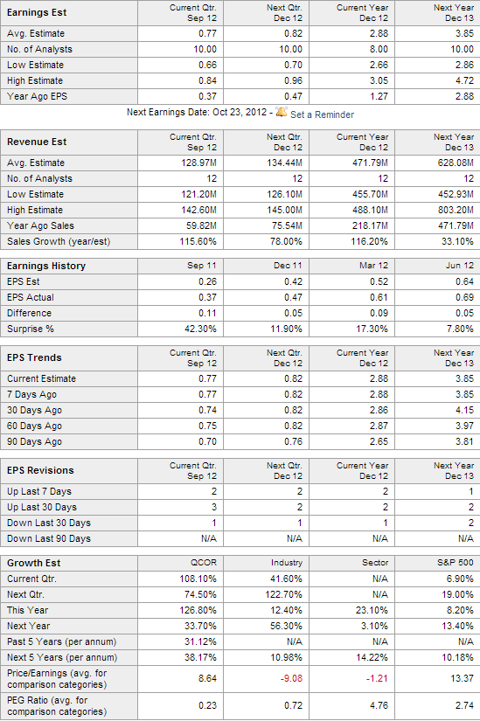 Disclosure: I am long QCOR.