Overview:
Let's review the sector performance for week ending Feb. 26, 2016 and compare it to the overall monthly metrics for both February and January 2016. This should help you to understand where money is flowing and help you to be more proactive in determining where to allocate new funds (or reallocate existing funds).
A review of January's performance is necessary for starters (see first chart below). Only three sectors were net positive for January - Utilities, Treasury Bonds, and Consumer Staples. All three are defensive in nature (i.e. "risk-off", "flight-to-safety"). All four "aggressive" sectors had negative returns for the month - Technology, Cyclicals, Industrials, and Financials. Those four sectors are the ones that you want to see leading during a bull (i.e. strong) market.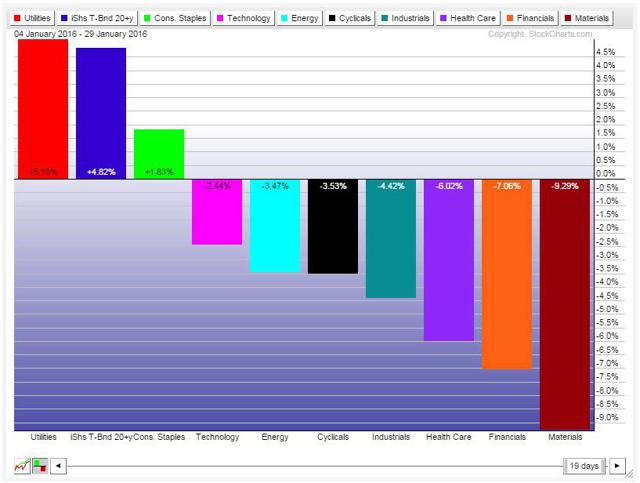 Next up is a review of the overall monthly performance for February. This will help you to determine if the sentiment landscape is changing from the defensive nature seen in January (see next chart).
There was cleary a change in character during February. It was encouraging to see the Materials and Industrials sectors lead the pack. Materials and Industrials are two early market-cycle sectors, typically showing early strength in the formation of a new bull market. The overall market is still bifurcated though, as there was still a defensive nature to the other two leaders - Treasuries and Utilites. However, overall the landscape appears to be improving for the bulls.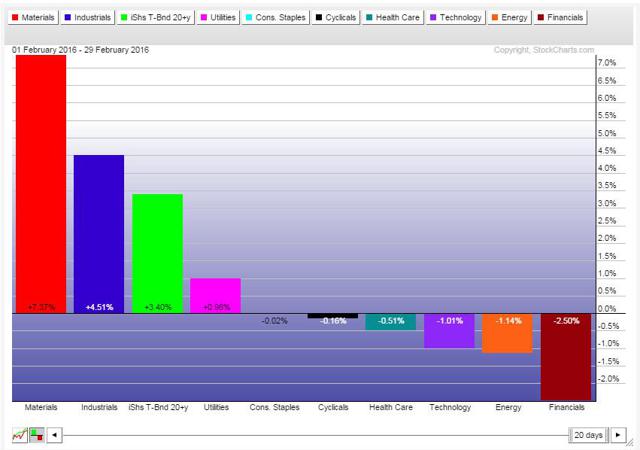 Finally let's review the sector performance for the final week of February. This will put some granularity around the changes from the previous monthly chart and help to confirm if a positive shift is occurring.
The biggest highlight from last week is the positive performance in the Cyclicals sector. Cyclicals is home to Retail and other Consumer Discretionary stocks. This is one of the four aggressive sectors that is a necessary component for bull markets. Technology turned positive last week, which is also a member of the aggressive sectors group. Industrials and Materials continued their positive momentum as well. Financials was essentially flat line (slightly up), but this is still an encouraging and positive development.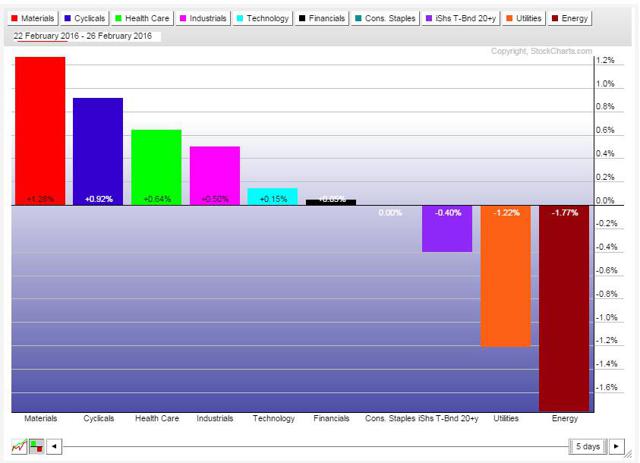 Insights:
For the week ending Feb. 26th we have all four of the aggressive (risk-on) sectors finishing positive - Cyclicals, Industrials, Technology, and Financials. Does this mean to go "full boat" long on your entire account? No, but it does signify that market sentiment may be becoming less bearish, and now is time to start polishing up your watchlists.
Summary:
In a previous Instablog post I wrote about the early strength in the Industrials and highlighted several industry groups within that sector that have seasonal strength going into March.
(see the following link to review).
seekingalpha.com/instablog/2463221-rocksteadyfinancial/4793586-positive-divergences-appearing-industrial-sector-xli
Also for review (Sector Analysis for Week Ending Feb. 19, 2016):
seekingalpha.com/instablog/2463221-rocksteadyfinancial/4830336-timing-market-sector-analysis-week-ending-feb-19-2016
Disclosure: I/we have no positions in any stocks mentioned, but may initiate a long position in XLI, XLY, XLK, XLF over the next 72 hours.