Overview:
It was another strong week for the markets with eight of the nine core SDPR sector ETF's finishing positive for the week. The exception was the Health Care sector, -1.79% for the week (see chart below). The biggest drag on Health Care was the Pharmaceuticals sub-group, -2.32% for the week. Valeant (VRX) was primarily responsible for the Pharma's group underperformance due to is accounting scandal (Valeant's stock was -60% for the week).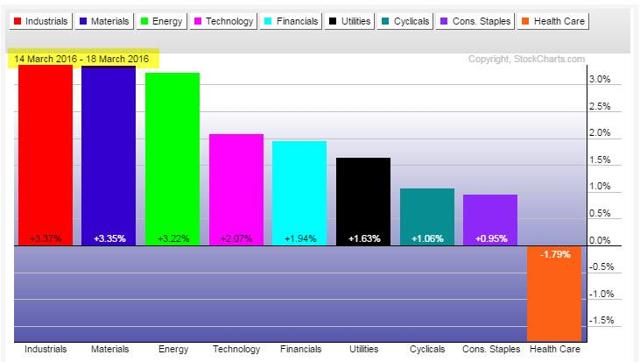 Insights:
Outside of Heath Care it was another positive weekly finish for the four aggressive sectors - Industrials, Technology, Financials and Cyclicals (Consumer Discretionary). It is clear from the chart above that there is rotation occurring into the more economically sensitive areas of the market. The two primary defensive groups - Utilities and Consumer Staples - are no longer leading the pack. This trend demonstrates that investors are becoming more confident in the economy and are willing to take on more risk.
The next chart (below) is a weekly performance for the major indexes including the Dow Jones Transportation Index. It surged 5.01% last week. The Transports' surge was driven by strong weekly gains in Delivery Services (+7%), Transportation Services (+6%), Railroads (+4%), and Trucking and Airlines each up more than 3%. These industry groups are also part of the Industrials sector and helped boost its outperformance as shown in the first chart above.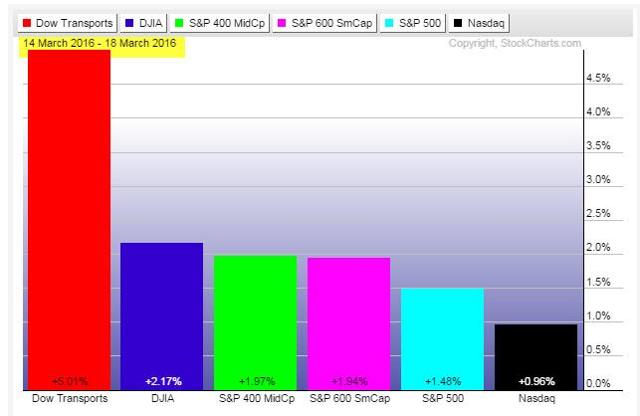 As another sign of investor confidence and their willingness to take on more risk is the relative outperformance of both the S&P 400 (Mid Caps) and the S&P 600 (Small Caps). One concern though is the Nasdaq's underperformance relative to the other indexes. I have highlighted this weakness as a concern in previous Instablog posts over the last several weeks. I will be spending some time this week to drill down within the technology index to better understand the source of the underperformance.
Summary:
We have experienced five consecutive strong up weeks. The market is probably due for a pause or a mild pullback at this point. This will be a good time to polish up your watchlist with leading stocks and take advantage of any pullbacks for optimum entries.
Previous blog Posts:
Is The NASDAQ Relative Under Performance A Warning Sign, Or Just Seasonal Weakness?
Timing The Market With Sector Analysis - Week Ending March 11, 2016
Disclosure: I/we have no positions in any stocks mentioned, and no plans to initiate any positions within the next 72 hours.