Overview:
The market had a risk-off slant to it last week. All four of the aggressive sectors (the economically sensitive sectors) were negative on an absolute basis for the week - Cylicals (-1.75%), Financials (-0.82%), Industrials, (-0.61%) and Technology (-0.09%). See first chart below.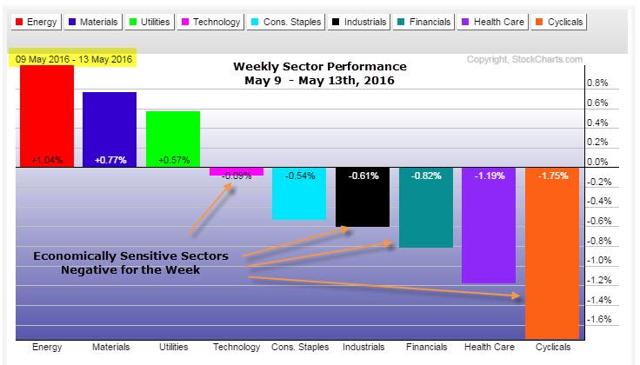 Cyclicals took the biggest hit as a result of negative investor reactions in the Retail space. The Clothing, Apparel, and Footwear groups were some of the biggest losers for the week as a result of earnings announcements. The Specialty Retailers group was also hit hard due to the Office Depot - Staples merger being called off (ODP was off 40.07% for the week, SPLS was off 19.2%).
Energy lead the pack as crude oil continued its advance. West Texas Intermediate was up 5.5% for the week. The Materials group was driven primarily by takeover news surrounding Monsanto (NYSE:MON). MON was up 11.4% for week. It makes up roughly 8.5% of the Materials sector (NYSEARCA:XLB) weighting.
Insights:
As I have mentioned in my previous blog posts is it important to also look at relative performance. The next chart is for the same week-ending period as above except on a relative basis (the S&P 500 being the benchmark).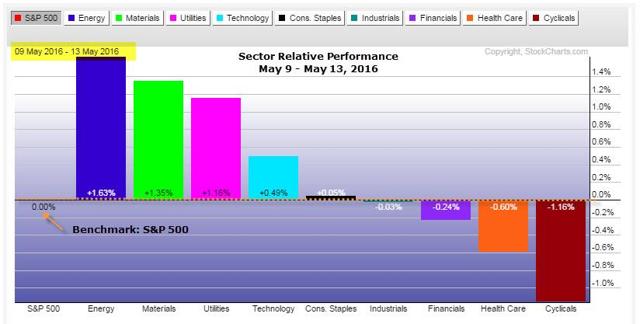 The main takeaway between the two charts is Technology was positive for the week on a relative basis. This was also the case for last week, but the momentum in Tech could be stalling. In addition, all three of the core indexes - Dow, Nasdaq, and S&P 500 - closed lower for a third consecutive week.
This does not bode well for a continued market advance. Taken in the context that we are entering the slower summer trading window (i.e. "Sell in May") the defensive nature of the market could be taking hold. The coming week could be telling - the glimmer of hope is that Biotech and Semiconductor's were showing some resilience late last week. Many of the small-cap Biotech stocks trade on the Nasdaq. The Tech sub-groups Software and Computer Services were also positive for the week (as they were last week).
Summary:
Technology is still showing relative strength over the last two weeks. Tech leadership is vital if the market advance is going to continue. If not, the "Sell in May and Go Away" will most likely take precedent (this scenario has the odds in its favor from both a seasonal and historic patterns). Defensive sectors - Utilities and Consumer Staples - would then lead over the next two to three months.
Previous Instablog's for Reference:
Week-Ending May 9th, 2016:
seekingalpha.com/instablog/2463221-rocks...
Disclosure: I am/we are long XLY.