Overview:
We saw quite a reversal last week after the big "Brexit" selloff from the previous week. All nine of the core SPDR sectors finished the week with postive percentage returns (see first chart). On a relative basis (which measures each sector's performance against the S&P 500) Healthcare, Utilities, Cyclicals, Consumer Staples and Industrials outperformed the benchmark (see second chart). Healthcare was the leader on both an absolute and relative basis last week (more on Healthcare in the Insights section).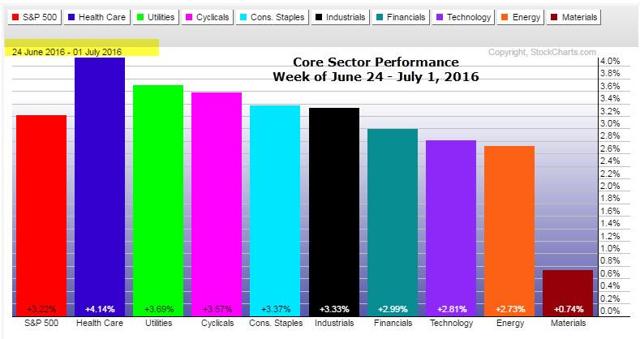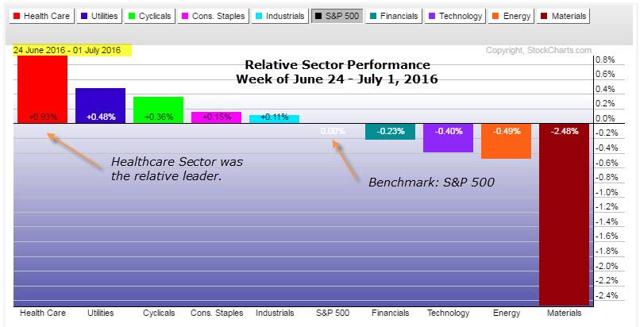 The third chart (below) is the monthly rollup for June 2016. It reinforces that even with the post-Brexit rally last week the market still remains in a defensive posture. Utilities and Consumer Staples were the clear leaders in June.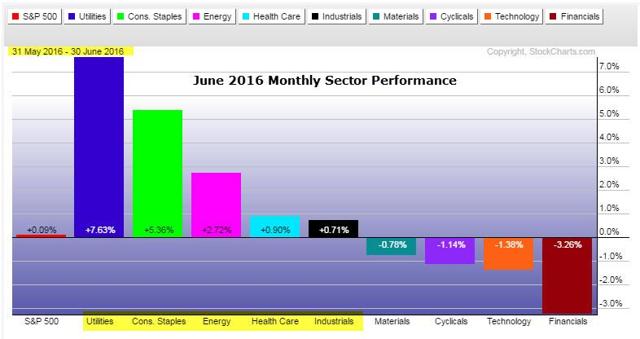 Last week's blog also included a year-to-date chart for 2016 which reinforced this defensive market posture. In the 2016 YTD chart, Utilities was shown to be outperforming all the other sectors by healthy margin. It also highlighted that three of the four economically sensitive sectors had negative YTD returns - Cyclicals, Financials, and Technology. The Industrials sector was the only economically-sensitive sector to have positive returns for the year. (see link to last week's blog)
Timing The Market With Sector Analysis - Week Ending June 24th, 2016 - Brexit "Brakes" The Rally
Insights:
I have stated before in previous blog posts that one of the best ways to potentially spot how money may be rotating from one area to another is through relative performance. I have included the relative performance chart for the previous week (June 17 - 24) below as a refresher to help demonstrate this rotation (see next chart). What this chart demonstrates is Healthcare was already showing relative strength for the week ending of June 24th, despite the Brexit selloff.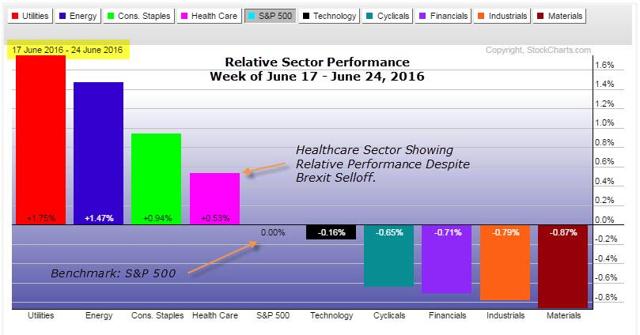 Healthcare was also showing both relative and absolute strength last week (week-ending July1st) as the first two charts in this blog demonstrated. The monthly chart for June (above) also showed Healthcare finishing positive. So it pays to review both absolute and relative performance to help spot new opportunities. The strength of the sector can contribute to as much as 50% of a stock's performance within that sector.
The next chart shows the Industry Group performance within the Healthcare Sector. Pharmaceuticals and Medical Equipment were the leading sub-groups within Healthcare for the last two weeks. This is where you can start to drill down to look for specific opportunities.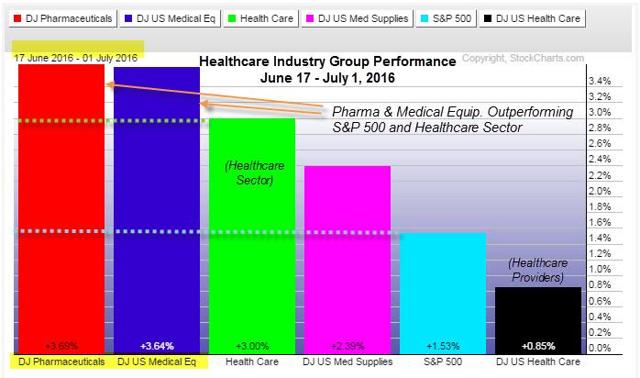 Summary:
Even with the positive reversal last week after the large Brexit selloff the market is still maintaining a defensive posture. Utilities and Consumer Staples are still the two strongest sectors. As yields here in the U.S. continue to press lower this defensive posture is more likely to continue. The Healthcare sector is showing relative strength, especially in the Pharmaceutical and Medical Equipment sub-groups. Healthcare is also considered a defensive sector and is a good area to focus on for new opportunities.