Overview:
Despite the S&P 500, the Dow, and the Nasdaq all hitting historic new highs on Thursday it was a rather lackluster week for the four economically-sensitive sectors - Cyclicals (NYSEARCA:XLY), Financials (NYSEARCA:XLF), Industrials (NYSEARCA:XLI), Technology (NYSEARCA:XLK) . Two defensive sectors, Consumer Staples (NYSEARCA:XLP) and Utilities (NYSEARCA:XLU), made a bit of comeback last week. (see first chart below)
Perhaps this is a market that needs to digest its recent gains with some money rotating into the defensive areas as a hedge against any short-term downside. Volume is still below average as mentioned in the previous week's Instablog. Financials were impacted by Friday's poor retail-sales and PPI reports for July.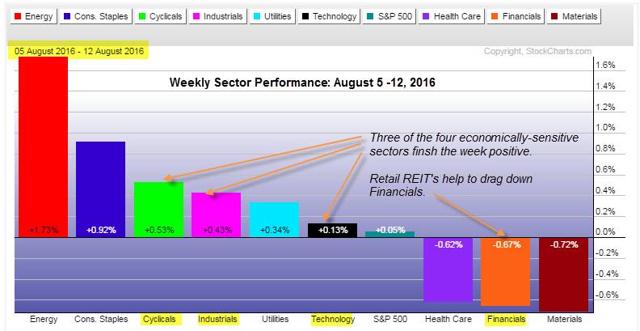 The Energy sector led on both an absolute and relative basis (next chart). As mentioned in the July 29th Instablog it was stated Energy's weakness was being driven by short-term oversupply issues. This was corroborated with last week's IEA report. Crude oil may have put in its bottom at ~ $40/bbl. Greg Schnell, Sr. Technical Analyst at StockCharts.com, stated last week that the money to be made in oil will be on its way back to $60/bbl. Greg publishes a free blog on intermarket and commodities analysis. His material is definitely worth a read.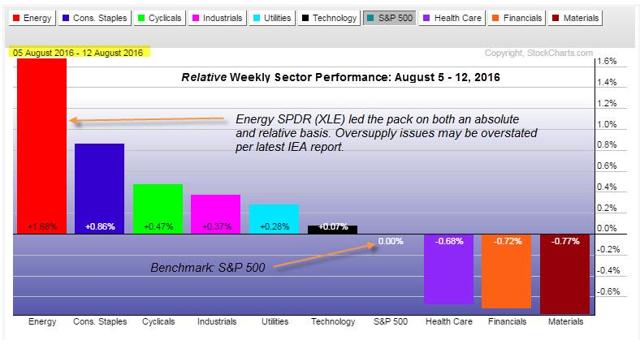 Stepping back and looking at the month-to-date sector performance for August all four of the economically-sensitive sectors are in the black - Technology, Industrials, Financials, and Cyclicals. Technology is clearly a leader and this is clearly bullish for the market (see next chart). Strength in Tech represents an appetite for risk.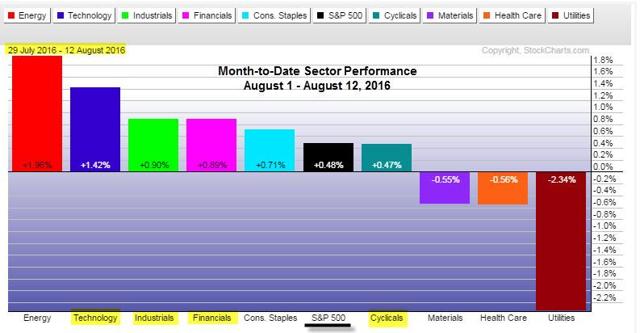 Insights:
The following chart is the month-to-date performance for August for the top ten Technology sector industry groups. Consumer electronics and computer hardware are the leading two groups. Money rotation into these two areas infers that there is more confidence in the consumer / economy than the recent retail-sales report for July implies. Perhaps this is in part anticipation of stronger back-to-school sales for the August retail-sales report.

The following chart is for the top ten industry groups in the Consumer Discretionary sector (Cyclicals) for last week.

Many of the traditional brick-and-mortar retailers had big weekly gains after their earnings reports last week: Nordstrom (NYSE:JWN) +17.98%, Macy's (NYSE:M) +16.74%, Kohl's (NYSE:KSS) +14.35%, Dillards (NYSE:DDS) +9.23%.
Summary:
We are still in the traditional summer doldrums and volume is still a concern despite the recent rally.
The Retail sector is still worth watching despite the plethora of negative projections that have been made lately. Take a look around your own community, what do you see? Are the restaurants and mall parking lots full on the weekends?
Oil prices have potentially bottomed and should help drive the Energy sector higher. Higher oil prices equate to higher gasoline prices which could stoke inflation speculation. This speculation will in turn cause yields to rise (watch the 10 Yr Treasury yield closely).
Higher yields will re-light a fire under the Financial sector (e.g. banks). Higher oil prices typically drive down the U.S. Dollar, which is good for U.S. exporters and U.S. based multinationals.
A lower dollar is good for the commodity market, which in turn helps to drive emerging markets higher, and in turn global growth.
Technology is most likely consolidating after its run over the last six weeks and could be poised to continue its rally in the near term. As previously stated above, strength in Tech represents an appetite for risk.
Summer Doldrums?, What doldrums? Lots to keep an eye on over the next several weeks.
Thanks for the read…
Previous InstaBlog's:
Market Sector Analysis - Week Ending Aug. 5, 2016 - Friday's Employment Report Lights A Fire Under Financials.
Market Sector Analysis - Week Ending July 29, 2016 - Retail Is Outperforming Despite The Q2 GDP Flop.
Disclosure: I/we have no positions in any stocks mentioned, but may initiate a long position in XLF over the next 72 hours.