Overview: Absolute and Relative Sector Performance
For the week ending Sept. 16 th Technology and Utilities were the sector leaders as they both have been for the entire first half of the month. The Computer Hardware industry group has been leading within in the Tech sector. Apple (NASDAQ:AAPL) has been a large part of this strength, up 11.3% last week. The other three economically sensitive sectors, Cyclicals, Industrials, and Financials have been lagging on both an absolute and relative basis (the four economically-sensitive sectors are highlighted in the following charts).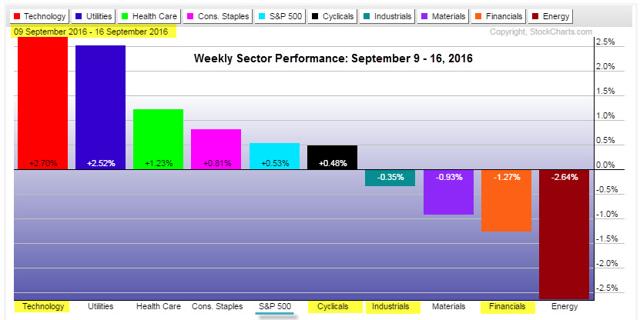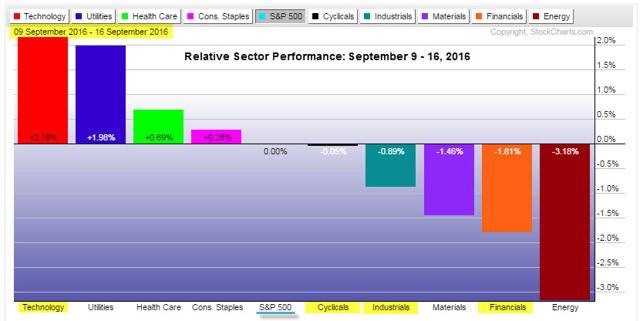 Financials and Utilities have essentially "flipped" their respective positions since August where Financials were the stronger of the two sectors. The Utilities sector is now a leading sector month-to-date for September and the Financials sector the biggest laggard on both an absolute and relative basis (see next two charts). Utilities are a "bond proxy" and tend to perform stronger when interest rates are low or perceived as staying low. Investors seeking yield will sell bonds and buy dividend-paying stocks such as Utilities.
Utility stocks were being sold during August on the pretense that the odds were improving for a FOMC rate hike in September. Recent sub-par economic data has taken the air out of most of that sentiment, thus the "flipping" of the performance of these two rate sensitive sectors.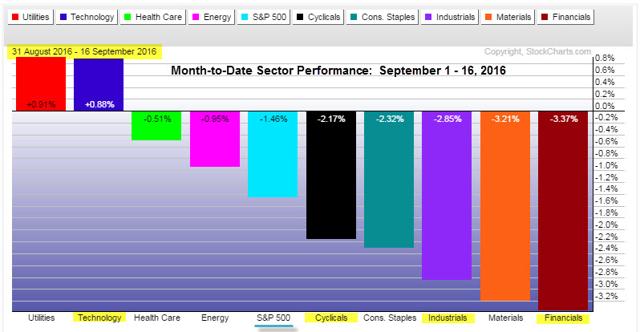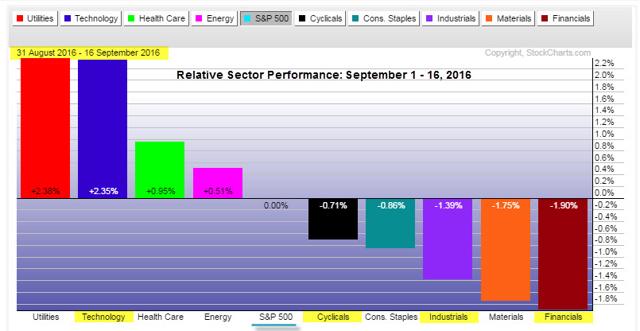 Insights:
The 10-Year Treasury Yield -
One interesting data point regarding the performance of Utilities and Financials is the 10-Year Treasury yield, up 8.48% for September (yield as of Friday's close: 1.692%). Typically Utilities are inversely correlated to the 10-year yield and Financials are positively correlated to the yield. This correlation has also "flipped" since the beginning of the month.
This is setting up an interesting conundrum going into this week's FOMC meeting. Some of the selling we have seen in Financials this month and in Utilities in August may be due to Financials being overbought and Utilities being oversold ahead of the FOMC September decision.
The recent action in these two sectors suggests that investors and traders are anticipating no rate hike. Instead of trying to guess what the decision will be Wednesday regarding interest rates, it may be best to stay underweight these two and wait for the dust to settle.
Revisiting Consumer Discretionary -
At the end of August I posted an update regarding the seasonal strength of the Consumer Discretionary sector (Cyclicals). Here again is the seasonality chart for the XLY SPDR sector…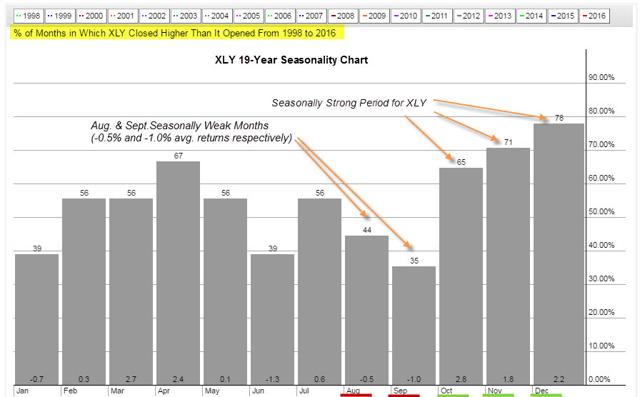 August and September are historically seasonally weak months for consumer-discretionary stocks. This seasonal weakness has been playing out as expected so far. The final three-months of the year are exceptionally strong though (Oct - Dec). Now is the time to start looking for good stock candidates in this sector ahead of this seasonally strong period.
Last month I also posted a chart on the seasonal strength of Amazon (NASDAQ:AMZN). September is its strongest month. Here again is Amazon's 20-year seasonal chart for reference…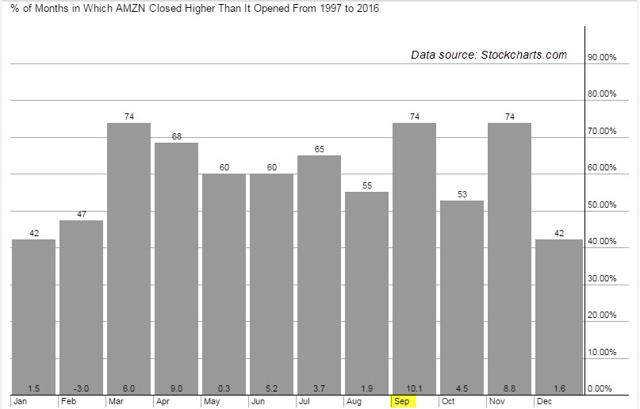 Amazon is up approximately 1.2% so far for September. It was up 1.15% on Friday alone, and on volume that was over double its 30-day average. The chart above shows Amazon has gained an average of 10.1% during September (74% of the time as measured from 1997 thru 2015). That's compelling, and its move on Friday may be the beginning of its seasonal strong run.
Summary:
Volatility in September has spiked - the second half of September historically produces negative annualized returns.
Expect the volatility that started since the beginning of the month to continue.
The Financial and Utilities sectors are trying to sort out who is right regarding a near-term rate hike.
The FOMC meets Tuesday and Wednesday of this coming week.
Seasonal strength going into calendar year Q4 favors strength in the Consumer Discretionary sector.
Amazon looks like it is ready to breakout and live up to its historical September outperformance.
Thanks for the read…
Previous Instablog's for Reference:
Amazon's September Seasonality Record Is Impressive: Mid-Week Update, Aug. 31, 2016
Sector Analysis - Week Ending Aug. 26, 2016 - Consumer Discretionary Bears Close Watching
Disclosure: I am/we are long AMZN.