October 2, 2016
S&P Index Seasonality (Q4):
The seasonally worst month of the year has come to a close (September). Let's look at the seasonality trends for October - December. I focus on 1500 stocks for my own trading and investing - the S&P 500 (Large Cap), the S&P 400 (Mid Cap), and the S&P 600 (Small Cap). Following are the 20-year seasonality charts for each of those indexes. I used data for 1996 - 2015; 2016 is excluded as it is not yet complete.
(S&P 500 Seasonality)
(S&P 400 Seasonality -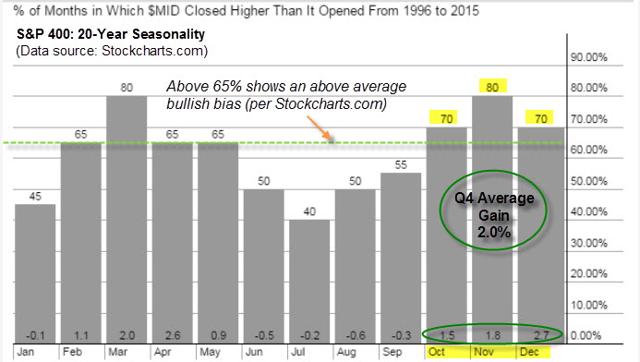 As annotated in the above charts, there is a bullish bias when the positive closes for each month is above 65%. All three indexes demonstrate a positive (bullish) bias for all three months during Q4. The average gain / loss for October - December (Q4) is also positive for all three indexes; S&P 500 (+1.7%), S&P 400 (+2.0), S&P 600 (+2.0%).
The S&P 500 (Large-Cap) tends to be the strongest of the three indexes during October. The S&P 400 and S&P 600 both show stronger performance in November and December.
Sector Seasonality for October:
The following chart is a 10-year (2006 - 2015) performance rollup for the nine core SPDR sectors. A 10-year rollup was used as all sectors had at least this amount of reportable data (not all sectors had 20 years of seasonal data available as was the case for the three indexes above).
(10-Year Sector Seasonality -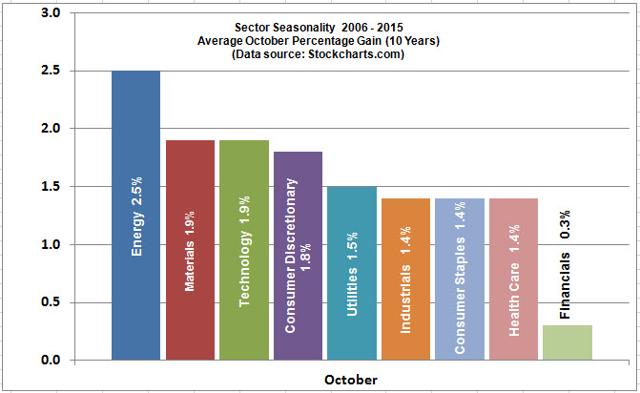 Of the top four best performing sectors from above, it is worth noting that only Energy and Technology had positive monthly closes above 65% for the 10-year period (70% for both XLE and XLK). Materials (NYSEARCA:XLB) and Consumer Discretionary (NYSEARCA:XLY) both clocked in at 60% positive monthly finishes.
Looking at the October positive-close performance for the remaining five sectors, Utilities (NYSEARCA:XLU) and Consumer Staples (NYSEARCA:XLP) both had 80% positive finishes, Healthcare (NYSEARCA:XLV) and Financials (NYSEARCA:XLF) both had 70% positive finishes, and Industrials (NYSEARCA:XLI) was at 60%.
Here is a chart that summarizes October sector performance for 2006 - 2015:
(Reminder: positive monthly closes greater than 65% represent a bullish bias.)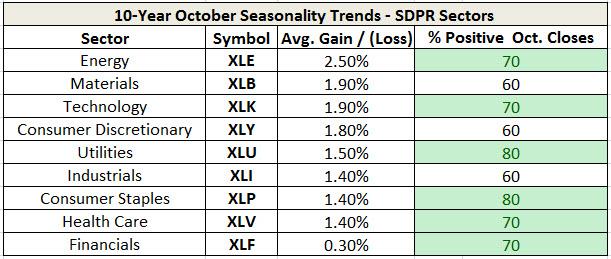 Focus on Consumer Discretionary (Q4):
Consumer Discretionary deserves a special call out as Q4 is a seasonally strong period for the sector . This becomes more evident when the seasonality chart is extended out 18 years (see next chart).
(Consumer Discretionary -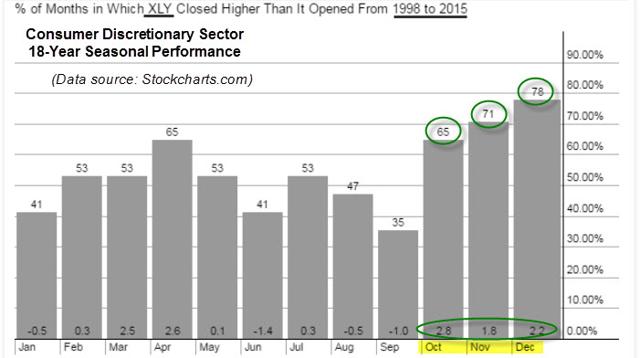 Keep in mind that the data presented here is only an average of past performance and no guarantee of future performance. The purpose of this exercise (and this blog post) is to help you understand what indexes and sectors should be potentially over-weighted versus underweighted going into Q4. It is also designed to help you understand how seasonality can be used in your investment and trading decisions.
You can experiment and perform additional research on your own by using the free seasonality charts on Stockcharts.com
In the stock market there are no "sure things", but technical analysis can help you to put the odds in your favor...
Q4 Seasonality Summary:
The seasonally worst month of the year has come to a close (September).
The market has historical seasonal strength during Oct - Dec.
October favors large-cap stocks in the S&P 500.
October favors Energy and Technology stocks.
November - December favors S&P 400 mid-cap and S&P 600 small-cap stocks.
Consumer discretionary stocks are strong in November & December.
November is the beginning of the "Best Six-Months" (Stock Trader's Almanac).
Seasonality can play an important role in timing the market.
Thanks for the read…
Previous Instablog's for Reference:
Sector Analysis - Week Ending Sept. 23, 2016 - Utilities And Consumer Discretionary In Focus As Q4 Looms.
Sector Analysis - Watching Financials & Utilities Ahead Of Fed Day / AMZN Revisited - Week Ending Sept. 16, 2016.
Sector Analysis - Week Ending Aug. 26, 2016 - Consumer Discretionary Bears Close Watching.
Disclosure: I am/we are long XLY.