Alpha is about achieving returns greater than a benchmark (i.e. the S&P 500). Relative strength can help identify sectors that are outperforming the benchmark. Let's first recap last week's performance, which will help segue to further this discussion.
Weekly Sector Recap
It was not a pretty week. All four of the economically-sensitive (aggressive) sectors finished negative. The only sectors to finish positive were Utilities and Consumer Staples. Despite Financials negative finish, the four best performing sub-groups in that sector were all REIT's, with Specialty REIT's finishing with a 2.03% weekly gain. I highlight this point because if interest rates are going to rise, why would these rate-sensitive industry groups outperform?
(Weekly Sector Performance -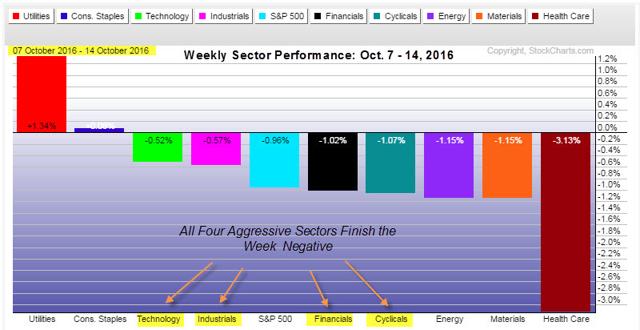 Utilities and REIT's are considered "bond proxies". They are both inversely correlated to bond yields and positively correlated to bond prices. If the market is anticipating higher rates we would expect Utilities and REIT's to under-perform, not rally. Janet Yellen's comments on Friday about letting the economy run hot to spur growth perhaps had some influence on this situation.
Healthcare took a drubbing this past week. It was the worst performing SPDR sector for last week and the worst so far for October. All of its sub-groups finished negative, with Biotech taking the biggest hit with a 5.75% weekly loss. There were sizable losses in individual names in the group. View the carnage on this StockCharts.com page. (Biotech is also down 16% year-to-date.)
Month-to-Date Recap
October is a historically volatile month and so far it is living up to its reputation. The VIX is up 21.3% in October. This is certainly having an impact on the month-to-date performance of the SPDR sectors. The only sector to squeak out a gain so far is Financials (see next chart).
(October Sector Performance -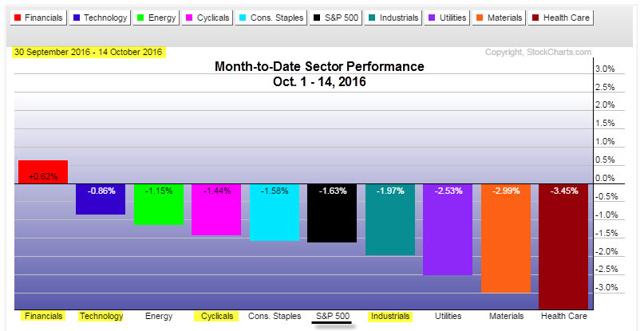 Seeking Alpha
The following chart is the month-to-date relative performance for the nine core SDPR sectors. Financials, Technology, Energy, Consumer Discretionary and Consumer Staples all outperformed the S&P 500 benchmark. Those are the sectors you want to be looking at for opportunities. Also, three of those five are aggressive sectors as highlighted on the chart.
(Relative Sector Performance -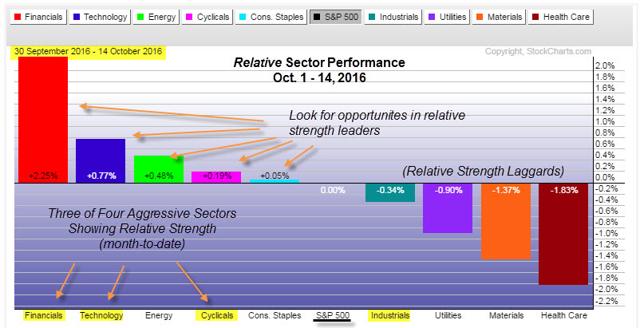 U.S. Dollar vs. S&P 500:
Rising yields (discussed in the previous week's blog) are resulting in a strengthening U.S. Dollar. This is probably the culprit for the under-performance of the S&P 500. A rising dollar makes U.S. exports more expensive which in turn reduces overseas sales. U.S. multi-nationals, many of which are part of the S&P 500, depend heavily on exports.
The following chart shows the recent relationship between the dollar and the S&P 500. The weakness in the S&P started in mid-August when the dollar began its most recent rally.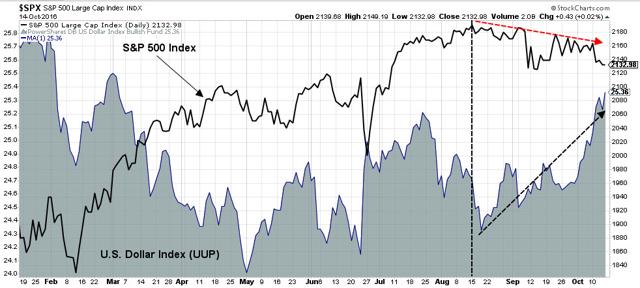 The takeaway is it may be prudent to focus on the stocks of companies whose customers are U.S. based and in sectors showing relative strength. Small-cap stocks are less dependent on exports. Within small caps, focus on the relative sector leaders - Financials, Technology, Energy and Cyclicals.
Thanks for the read...
Previous Instablog's for Reference:
Sector Analysis - Rising Treasury Yields Support An October Rally - Week Ending Oct. 7, 2016.
How To Time The Market: Preview Of Seasonality Trends For Q4-2016.