Weekly Sector Recap
The "Trump Jump" rally continued this last week with Materials and Industrials leading the pack. In the Materials sector, industry-group leaders were from non-ferrous metals (i.e. copper), aluminum, and steel. Industrials were led by commercial vehicles, heavy construction and industrial suppliers. This is obviously in anticipation of president-elect Trump following through with his U.S. infrastructure revitalization plans.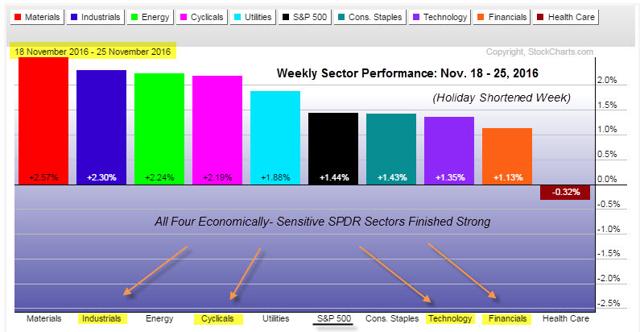 The Trump Rally is Impressive
To gain a perspective of the "Trump Jump", look at the following chart. It shows sector performance for the last 13 trading days, starting the Wednesday after the U.S. Presidential Election (chart covers the close on Nov. 8 th through Friday's close, Nov. 25 th)…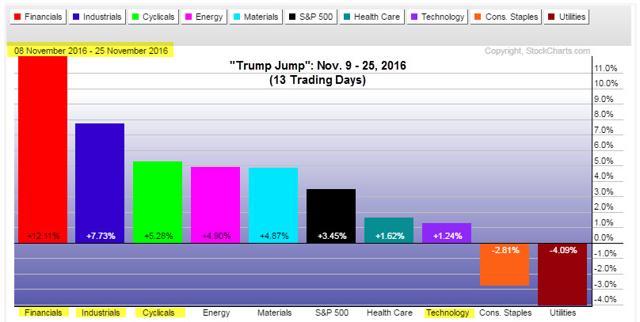 Index performance for the same 13-day period provides additional perspective on the strength of the Trump rally…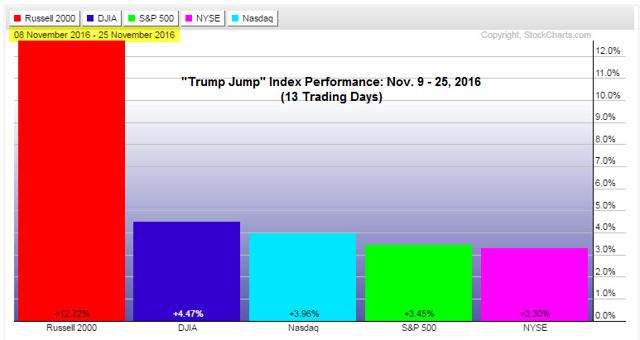 Compare the chart above to the following year-to-date index performance through the Nov. 8 th close…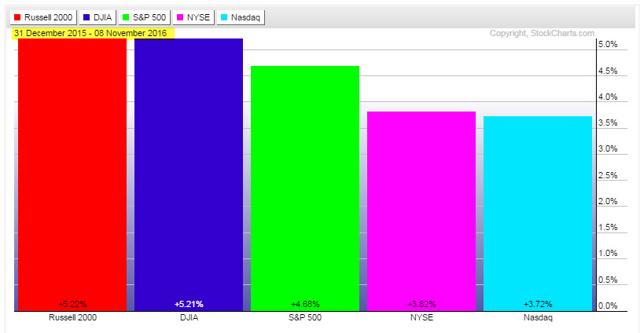 The small-cap Russell 2000, the NASDAQ, and the NYSE composite have all outperformed their corresponding Nov. 8 th YTD metrics during this 13-day rally. It's an impressive rally, but is it sustainable without at least a short-term pullback?
Was the Transportation Index Telegraphing a Trump Upset?
The November 4th blog post highlighted that the Transportation index had been outpacing the S&P 500 on a relative basis since last August. This relative outperformance, in the midst of pre-election volatility, was perhaps a harbinger that the industrial engine of the economy was about to take off. Here is that Nov. 4 th chart again for review…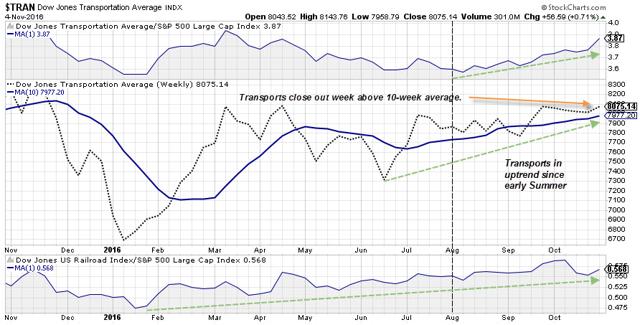 And following is an updated version of the above chart through Friday's close (Nov. 25 th). The Transportation Index's relative strength vs. the S&P 500 has broken above its year-long resistance (see top pane)…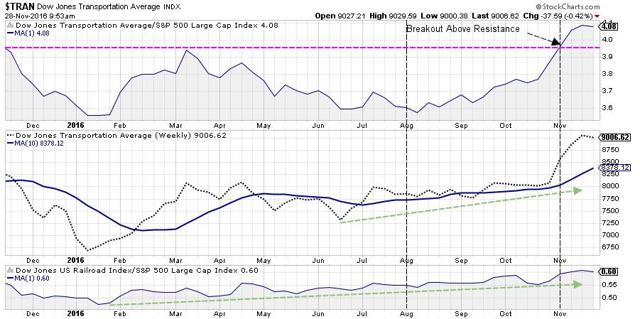 Thanks for the read…
Previous Instablog's for Reference:
Sector Analysis: Dow Transports Telegraphing Strength - Week Ending Nov. 4, 2016.
Sector Analysis: Seeking Alpha Using Relative Strength - Week Ending Oct. 14, 2016.
How To Time The Market: Preview Of Seasonality Trends For Q4-2016.
Disclosure: I am/we are long XLY,IYT.