Weekly Sector Recap
It was a positive finish for the third week of December. Three of the four economically-sensitive sectors - Financials, Technology, Industrials - finished as the top three, respectively…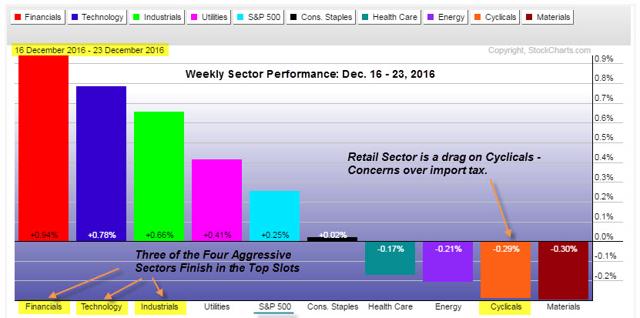 Cyclicals had a poor finish though; much of its selling came in the latter part of the week. The selling was the result of a report on concerns over import taxes, which hit the clothing and apparel-retail groups hard within the sector.
The following performance chart helps put the impact of the possible import tax in perspective. It's for Monday & Tuesday -- Dec. 19th & Dec. 20th-- which shows the aggressive sectors as the four leaders. It was a very bullish looking week up until then…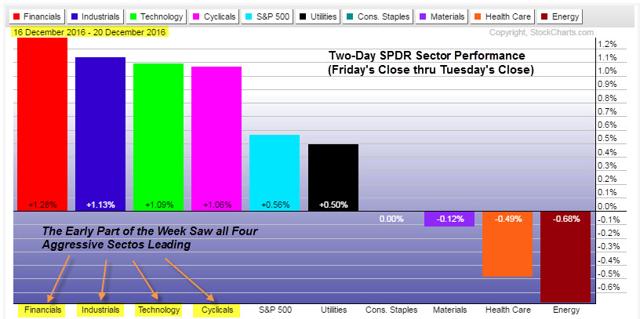 Defensive Market Posturing
In last week's blog a monthly chart for the relative strength of Consumer Discretionary vs. Consumer Staples was presented. The following chart is an updated version using daily data to compare a similar topping pattern from Dec. 2015 to Dec. 2016. The concern for the current rally is the weakness in this key relative ratio, which serves as a gauge of aggressive vs. defensive market posture…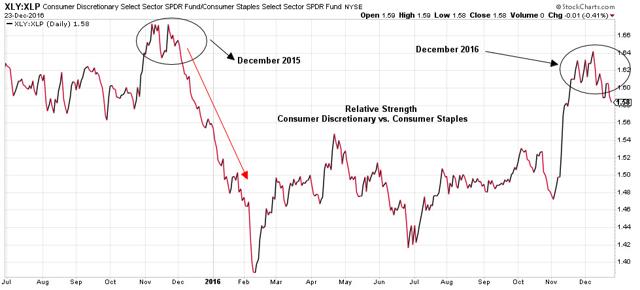 Another sign of potential defensive posturing is the strengthening of the Utilities sector (NYSEARCA:XLU). Look at the following hourly chart, which highlights both the relative and absolute performance of the XLU SPDR ETF since early December…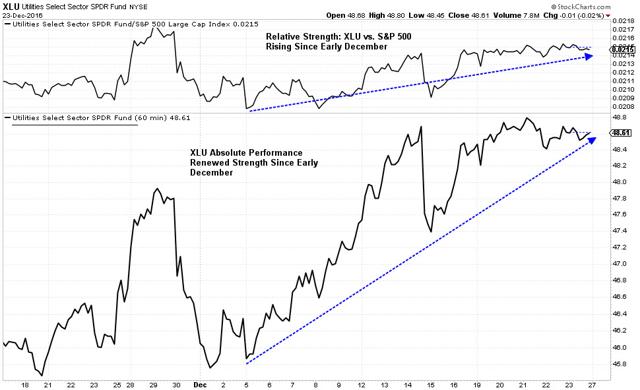 Barron's reported this weekend that "When bond yields start rising, investors gravitate to stocks that offer dividend growth" (source: "The Trader"). This would include Utilities stocks, (NYSE:ES) and (NYSE:PEG) were mentioned specifically in the article.
To be fair, the strengthening in Utilities could just be a result of portfolio rebalancing for yield, and not defensive posturing. However, the latter would be consistent with the weakening Discretionary vs. Staples relative ratio presented above.
As we move closer to Inauguration Day (Jan. 20th), it will be important to keep a close eye on these developing trends. The market has "baked in" a lot of Trump's growth policies. Soon it will be time to see if he can deliver.
Thanks for the read…
Previous Instablog's for Reference:
Sector Analysis: Trump Rally Extended & Cyclicals Sector Raising Caution Flag- Week Ending Dec. 16, 2016.
Sector Analysis: Trump Rally Resumes With Seasonality Tailwinds- Week Ending Dec 9, 2016.
Sector Analysis: Trump Rally Takes A Breather - Week Ending Dec 2, 2016.
Sector Analysis: The Trump Rally Was Telegraphed By The Transports - Week Ending Nov. 25, 2016.
Sector Analysis: Dow Transports Telegraphing Strength - Week Ending Nov. 4, 2016.
Sector Analysis: Seeking Alpha Using Relative Strength - Week Ending Oct. 14, 2016.
How To Time The Market: Preview Of Seasonality Trends For Q4-2016.