Weekly Sector Recap
Despite the weak finish for the S&P 500, Cyclicals and Technology had decent weekly gains. As noted in the following chart, three of the four economically-sensitive (aggressive) sectors finished positive. Financials took a bit of a breather last week (-0.13%). Its fortunes are tied to the 10-year Treasury yield, which was off 1.57% for the week…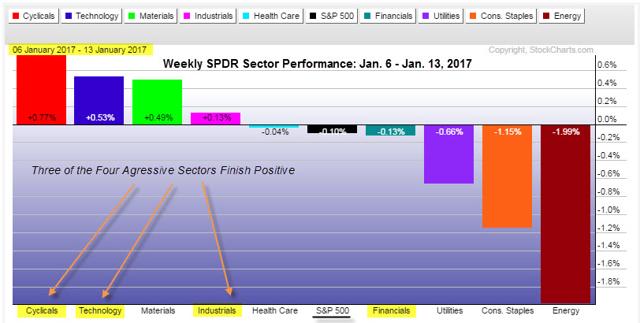 Month-to-Date Sector Recap
As mentioned in last week's Instablog, the Cyclicals, Healthcare, and Technology sectors all have historical seasonal strength in January. The following month-to-date chart reinforces that trend…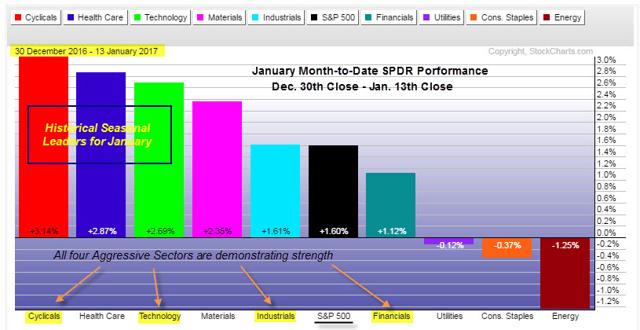 The Healthcare sector took a bit of hit last week (specifically Biotech & Pharma). President-elect Trump criticized bio-pharma firms during his Wednesday press conference. Even with that Healthcare is still up a respectable 2.87% for the month.
The following chart is a month-to-date performance summary for the Healthcare sector's five industry groups. Only Pharmaceuticals is lagging the S&P 500, but all five groups still have respectable gains for the month, so far…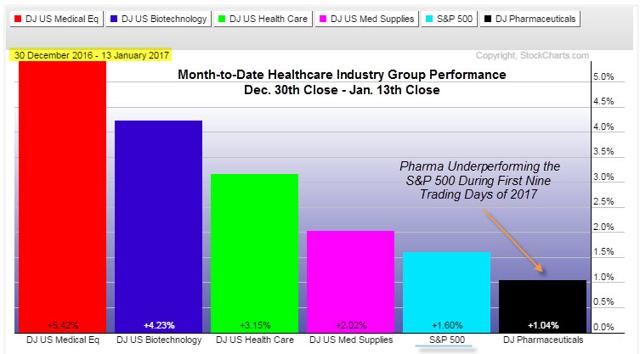 Month-to-Date Market Overview
So far January shows a bullish bent to the overall market. Base metals are demonstrating strength; some of this is related to the recent pullback in the U.S. Dollar. However, the commodity complex may finally be bottoming. This would be a very bullish development.
Transports are outperforming Utilities in January. This is a bullish sign. Transports are the growth engine of the economy - Railroads, Truckers, Delivery Services, and Airlines. The Nasdaq is outpacing the S&P 500 and the Dow Jones Industrial Average. This is another bullish sign - strength in Nasdaq stocks represents a risk-on market sentiment.
The only caution flag is the relative weakness in small-cap stocks. Typically you want to see the small caps leading in a bullish market environment. This weakness may only be temporary due to the downdraft in Biotech last week. Many of those Biotech's are small-cap names.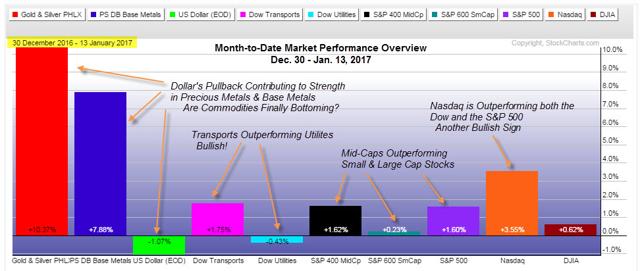 Thanks for the read…
Previous Instablog's for Reference:
Sector Analysis: Healthcare Driven By Seasonality, Transports Nearing Support - Week Ending Jan 6, 2017.
Sector Analysis: Defensive Sectors Are Relative Leaders Entering 2017 - Week Ending Dec 30, 2016.
Sector Analysis: Is Defensive Posturing Starting To Develop? - Week Ending Dec. 23, 2016.
Sector Analysis: Trump Rally Extended & Cyclicals Sector Raising Caution Flag- Week Ending Dec. 16, 2016.
Sector Analysis: Trump Rally Resumes With Seasonality Tailwinds- Week Ending Dec 9, 2016.
Sector Analysis: Trump Rally Takes A Breather - Week Ending Dec 2, 2016.
Sector Analysis: The Trump Rally Was Telegraphed By The Transports - Week Ending Nov. 25, 2016.
Sector Analysis: Dow Transports Telegraphing Strength - Week Ending Nov. 4, 2016.