Weekly Sector Recap
There was no two-ways about it, last week was bullish. All four of the economically-sensitive (aggressive) sectors had strong weekly finishes (those four are highlighted in the following chart). Three of those four -- Financials, Industrials, and Technology -- also finished as relative leaders…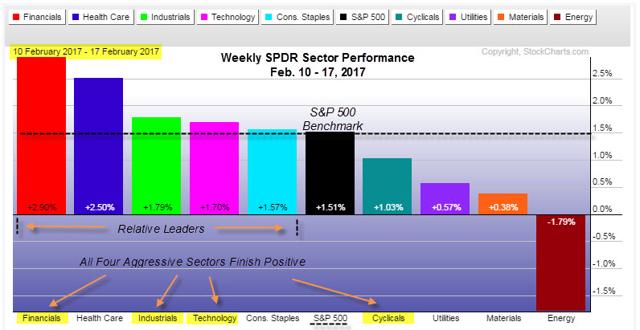 Cyclicals (Consumer Discretionary) did not finish as a relative leader, but it did finish with a respectable 1.03% gain for the week. It has also logged a 2.10% gain so far for February. The biggest drag on Cyclicals last week was in the Gambling industry group. MGM's (NYSE:MGM) poor earnings report on Thursday dragged down that entire sub-group, including industry component Wynn Resorts (NASDAQ:WYNN).
Monthly Performance
The month-to-date performance for February confirms the bullish nature of the current market action. All four of the aggressive sectors have double-digit gains so far for the month. Financials, Industrials, and Technology are also relative leaders with Cyclicals the only economically-sensitive sector lagging the benchmark S&P 500. Month-to-date relative sector performance is a mirror image of the weekly chart from above…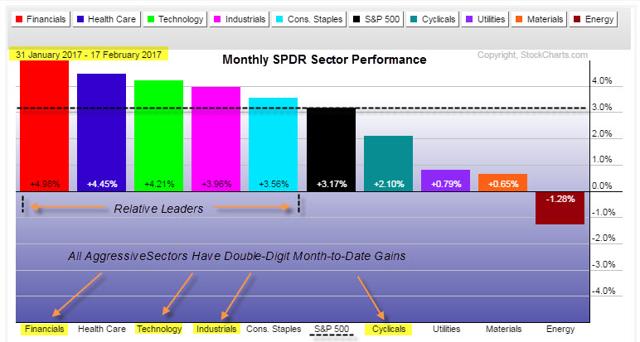 One more chart in case you're a skeptic regarding the current risk-on nature of the market. Following is the month-to-date performance of the nine equal-weight sectors (those were highlighted in last week's blog). The following chart also confirms the performance of the four aggressive sectors, which serve as an indicator of market risk…

Defensive Relative Leaders
One thing (okay, two) as you have probably noted by now is the relative strength of Healthcare and Consumer Staples. Both sectors are considered defensive and February is historically a seasonally weak month for both (based on 19-year averages, 1998 - 2016).
Healthcare (NYSEARCA:XLV) typically has its strongest months in November thru January (19-year average). That trend did not play out in 2016. Perhaps there is a bit of catch-up in play, combined with its oversold nature from the post-election brouhaha (regarding drug pricing and "Obamacare" repeal). But drilling down and looking at just the prior five-year performance, that longer-term paradigm could be shifting…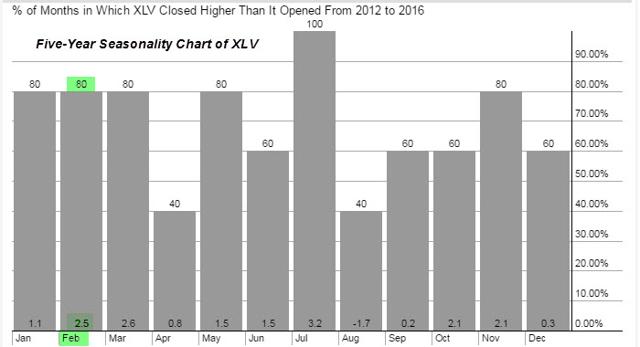 Consumer Staples (NYSEARCA:XLP) is demonstrating a similar five-year trend (first chart below) as compared to its 19-year average (second chart below)…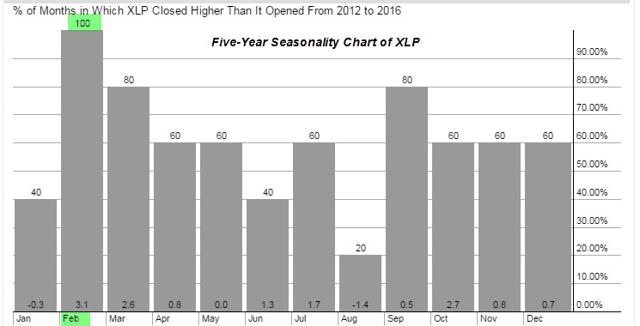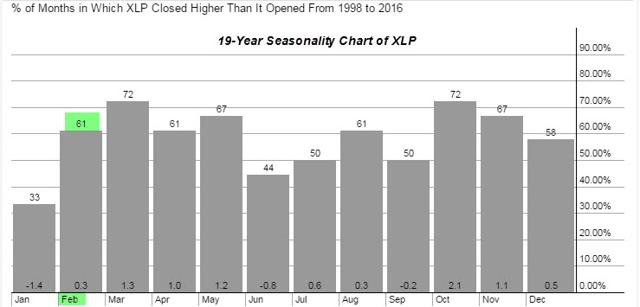 Thanks for the read…
Previous Instablog's for Reference:
Sector Analysis: Confirming Trends Using Equal Weighted ETF's - Week Ending Feb 10, 2017.
Sector Analysis: Defensive Posturing Or February Consolidation? - Week Ending Feb 3, 2017.
Sector Analysis: Materials Sector Finishes Strong & February Sector Preview - Week Ending Jan 27, 2017.
Sector Analysis: Cyclicals And The Transportation Index Say Stay Long- Week Ending Jan 20, 2017. Sector Analysis: Bullish Sentiment Is Still Alive And Well - Week Ending Jan 13, 2017.
Sector Analysis: Defensive Sectors Are Relative Leaders Entering 2017 - Week Ending Dec 30, 2016.
Sector Analysis: Is Defensive Posturing Starting To Develop? - Week Ending Dec. 23, 2016.
Sector Analysis: Trump Rally Extended & Cyclicals Sector Raising Caution Flag- Week Ending Dec. 16, 2016.
Sector Analysis: Trump Rally Resumes With Seasonality Tailwinds- Week Ending Dec 9, 2016.
Sector Analysis: Trump Rally Takes A Breather - Week Ending Dec 2, 2016.
Sector Analysis: The Trump Rally Was Telegraphed By The Transports - Week Ending Nov. 25, 2016.
Sector Analysis: Dow Transports Telegraphing Strength - Week Ending Nov. 4, 2016.