Weekly Sector Recap
It was holiday shortened trading week with the markets closed Monday. There was a risk-off posture with the majority of the four relative leaders being the three core defensive sectors - Consumer Staples (NYSEARCA:XLP), Health Care (NYSEARCA:XLV) & Utilities (NYSEARCA:XLU)…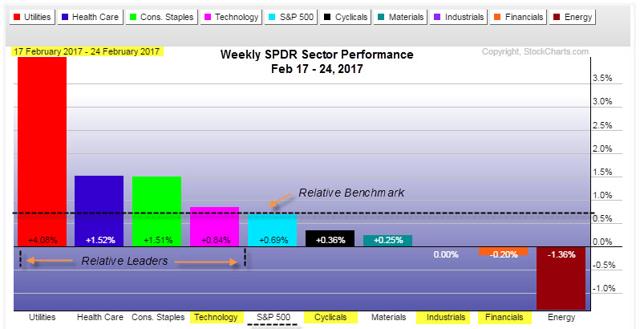 The only economically sensitive (aggressive) sector to finish in the relative leader camp was Technology (NYSEARCA:XLK). The other aggressive sectors - Cyclicals (NYSEARCA:XLY), Industrials (NYSEARCA:XLI) & Financials (NYSEARCA:XLF) - finished behind the S&P 500 benchmark. Financials was the only sector from those three that incurred a (small) weekly loss. Energy (NYSEARCA:XLE) was the biggest loser for the week (-1.36%). More on Energy below.
Utilities Seasonality
In the previous week's blog it was demonstrated that recent strength in Health Care and Consumer Staples may be related to recent (five year) seasonality trends. The same may be true for Utilities which saw a large spike last week (+4.08%). In the case of the XLU, the seasonality strength for March & April holds up for the last 19 years…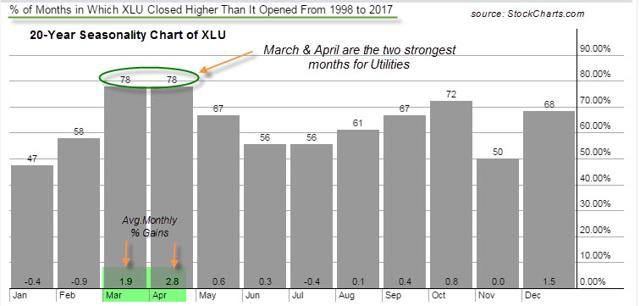 The market is definitely overbought at this point. The rotation into these defensive areas - Utilities, Health Care, & Staples - could be a sign of money flowing into risk-off assets in the event a market correction occurs. However, it's worth pointing out that some of this rotation could be part of an early jump on expected seasonal trends. The drop in the ten-year Treasury yield also contributed to last week's surge in Utilities. The 10-year yield was down 2.97% for the week, finishing at 2.314%.
Energy SPDR and Crude Oil Diverge
Much has been written recently about the divergence of energy stocks and the price of oil. Crude oil ($WTIC) has been in a mild uptrend since early/mid-January. However, energy stocks which typically have a high correlation to oil have been tracking lower as measured by the XLE. The following chart demonstrates that divergence, which appears to have begun in late December 2016…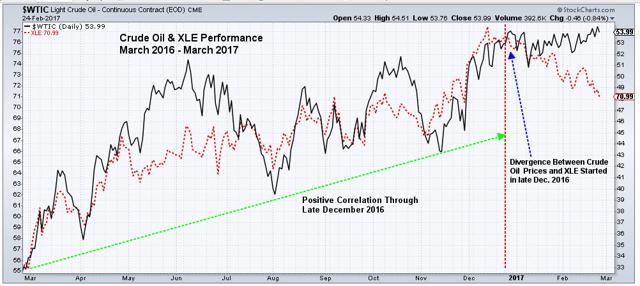 This divergence exists despite positive earnings reports from Energy related companies in the S&P 500 (i.e. RIG). So what gives?
Drilling down into Energy's industry groups may help to understand what is occurring underneath the surface. As the following chart shows, all of the Energy sub-groups have negative returns year-to-date with the exception of Renewable Energy Equipment. That group is up 18.3% since the Dec. 30th market close (the last trading day of 2016)…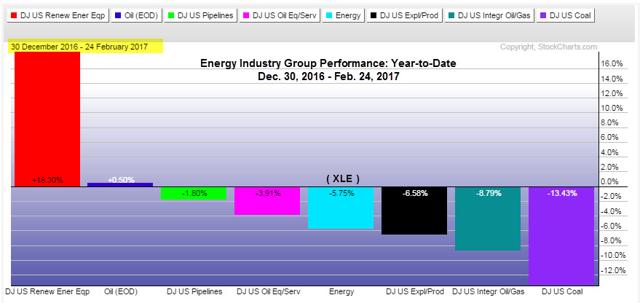 So obviously "Renewable" is where money has been flowing within the Energy sector recently. Is this a sign of the "smart money" knowing something the rest of us don't? Or perhaps just speculation, or something else? This definitely deserves more analysis with additional follow-up in future blog posts.
Economic Optimism Supports Bull Market
And finally, it's worth noting that JP Morgan's recent Business Leaders Outlook poll shows that 80% of mid-size businesses are optimistic. This survey also reflects the positive economic reports of late. As stated previously, the market is overbought and perhaps due for some consolidation. However, sentiment and economic data does not suggest that a full-fledged correction is imminent …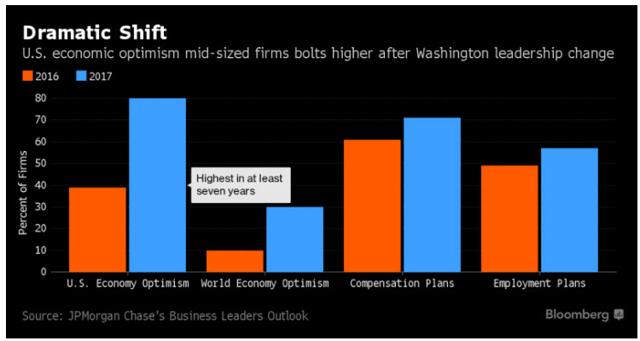 Thanks for the read…
Previous Instablog's for Reference:
Sector Analysis: The (Up) Trend Is Your Friend - Week Ending Feb 17, 2017.
Sector Analysis: Confirming Trends Using Equal Weighted ETF's - Week Ending Feb 10, 2017.
Sector Analysis: Defensive Posturing or February Consolidation? - Week Ending Feb 3, 2017.
Sector Analysis: Materials Sector Finishes Strong & February Sector Preview - Week Ending Jan 27, 2017.
Sector Analysis: Cyclicals And The Transportation Index Say Stay Long- Week Ending Jan 20, 2017. Sector Analysis: Bullish Sentiment Is Still Alive And Well - Week Ending Jan 13, 2017.
Sector Analysis: Defensive Sectors Are Relative Leaders Entering 2017 - Week Ending Dec 30, 2016.
Sector Analysis: Is Defensive Posturing Starting To Develop? - Week Ending Dec. 23, 2016.
Sector Analysis: Trump Rally Extended & Cyclicals Sector Raising Caution Flag- Week Ending Dec. 16, 2016.
Sector Analysis: Trump Rally Resumes With Seasonality Tailwinds- Week Ending Dec 9, 2016.
Sector Analysis: Trump Rally Takes A Breather - Week Ending Dec 2, 2016.
Sector Analysis: The Trump Rally Was Telegraphed By The Transports - Week Ending Nov. 25, 2016.
Sector Analysis: Dow Transports Telegraphing Strength - Week Ending Nov. 4, 2016.