Weekly Sector Recap
Crude oil took a big fall Wednesday and continued its selloff Thursday and Friday. As a result the Energy SPDR (NYSEARCA:XLE) took a big fall for the week. The divergence in the XLE and oil highlighted in the Feb. 24th blog played out as a negative, contrary to anticipated seasonal strength.
The same scenario could be developing for Transports and the S&P 500. More on both of those later in this blog.
Let's first review last week's overall sector performance…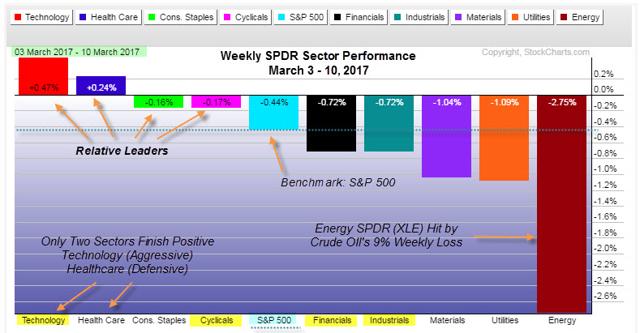 The week of March 7 - 10 has a historical tendency to be a profit taking week. That comes from Tom Bowley's blog over at Stockcharts.com. And that appeared to play out last week.
Only two sectors finished positive for the week - Technology and Healthcare. Those two sectors are also the current year-to-date leaders as highlighted in the previous week's blog
The other two relative leaders - Consumer Staples and Consumer Discretionary (Cyclicals) -- finished negative on the week. Some consolidation had to be expected after the big run-up the last several months.
Reviewing XLE's Divergence with Crude Oil -
Last week's blog included a chart demonstrating the divergence between the XLE SPDR and the price of crude oil (as measured using the continuous contract for West Texas Intermediate, aka WTI).
Here is that chart again for review…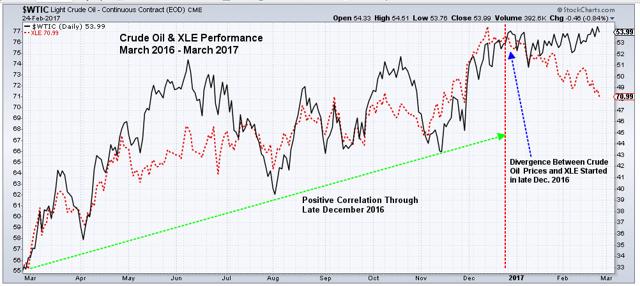 When a divergence develops, the first thing to ask yourself is, will this resolve itself positive or negative? In this case it was a negative resolution with crude oil playing catch-up to the XLE's negative correlation.
That acted as a negative feedback loop driving down the XLE further along with its equity components. The next chart, which is an update of the previous, says it all…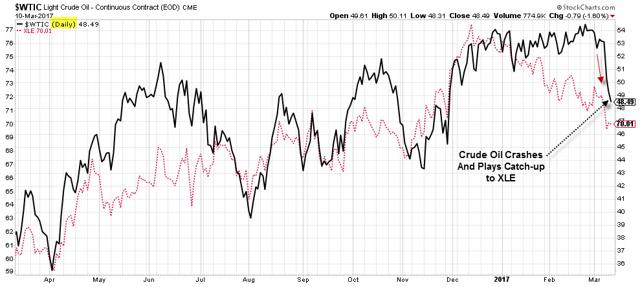 The XLE SPDR has a positive seasonal strength coming into March and April(link to chart here). I anticipated that the XLE might be getting ready to play catch-up to crude oil. Obviously this did not occur.
The lesson is to stay flexible and not get married to an opinion (or a position) if the opposite occurs. When the opposite of the expected occurs, a big move in the other (anticipated) direction can play out.
Transportation Index Relative Strength - Another Divergence to Watch
The relative strength in the Transportation index is featured in this blog periodically. It's worth reviewing that ratio to see if it held any forewarning to last week's weakness.
The relative strength line of the Transports to the S&P 500 has been weakening since early December. That relative weakness, along with some key support and resistance levels, are highlighted in the following chart…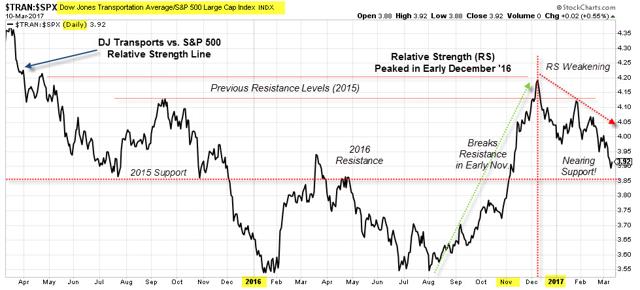 This relative weakness in the Transports needs to be monitored. It is also forming a negative divergence with the absolute trend of the S&P 500 (see next chart).
This can resolve in two ways - the Transports RS line plays catch-up with the S&P, or the S&P corrects and catches up to the Transports RS line. The previous divergence played out positive, right before the November 2016 rally...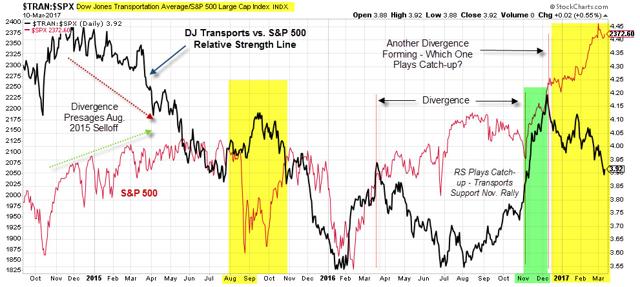 Many (most?) are expecting the market rally to resume after a bit of consolidation. If the opposite occurs (the XLE & Crude divergence, for example), then we could see a big move down. Caution is advised. Lighten up on positions and respect you stops.
Thanks for the read…
Previous Instablog's for Reference:
Sector Analysis: A Split Decision for February - Week Ending March 3, 2017.
Sector Analysis: Defensive Rotation vs. Seasonality & Energy's Divergence - Week Ending Feb. 24, 2017.
Sector Analysis: The (Up) Trend Is Your Friend - Week Ending Feb 17, 2017.
Sector Analysis: Confirming Trends Using Equal Weighted ETF's - Week Ending Feb 10, 2017.
Sector Analysis: Defensive Posturing or February Consolidation? - Week Ending Feb 3, 2017.
Sector Analysis: Materials Sector Finishes Strong & February Sector Preview - Week Ending Jan 27, 2017.
Sector Analysis: Cyclicals And The Transportation Index Say Stay Long- Week Ending Jan 20, 2017. Sector Analysis: Bullish Sentiment Is Still Alive And Well - Week Ending Jan 13, 2017.
Sector Analysis: Defensive Sectors Are Relative Leaders Entering 2017 - Week Ending Dec 30, 2016.
Sector Analysis: Is Defensive Posturing Starting To Develop? - Week Ending Dec. 23, 2016.
Sector Analysis: Trump Rally Extended & Cyclicals Sector Raising Caution Flag- Week Ending Dec. 16, 2016.
Sector Analysis: Trump Rally Resumes With Seasonality Tailwinds- Week Ending Dec 9, 2016.
Sector Analysis: Trump Rally Takes A Breather - Week Ending Dec 2, 2016.
Sector Analysis: The Trump Rally Was Telegraphed By The Transports - Week Ending Nov. 25, 2016.
Sector Analysis: Dow Transports Telegraphing Strength - Week Ending Nov. 4, 2016.