Weekly Sector Recap
Only one sector finished positive, Utilities (NYSEARCA:XLU). The 10-year Treasury yield was down 4% for the week, hence the outperformance of the XLU SPDR…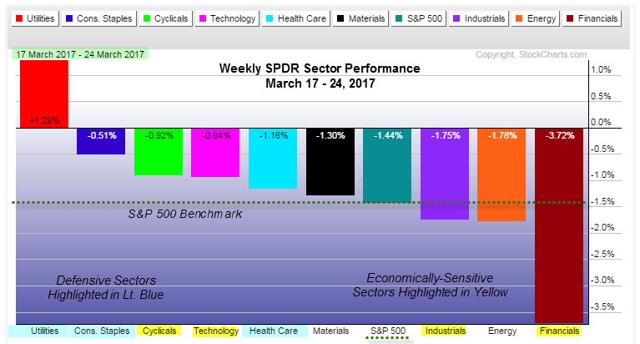 It was all about the Healthcare (repeal & replace) vote last week. It appears the market was determined to price in any bad news ahead of the actual vote. The majority of the losses occurred on Tuesday (see next chart). This explains the muted reaction on Friday when the vote was pulled by House Speaker Ryan…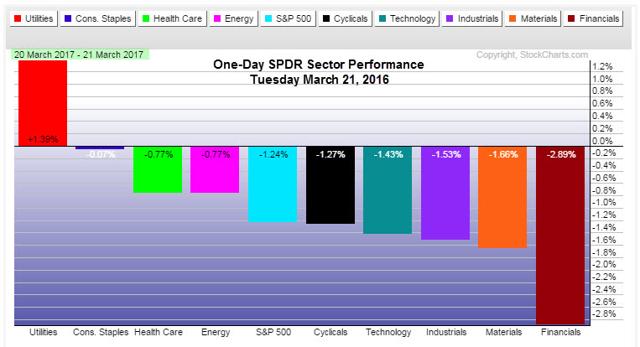 Relative Sector Strength - A Bifurcated Market
The market is definitely in a bifurcated state. The following hourly charts demonstrate the relative strength of the nine SPDR sectors against the benchmark S&P 500 (NYSEARCA:SPY). The more granular (hourly) format was used to highlight the performance for March to date.
The first chart is for the four economically-sensitive (aggressive) sectors; Industrials (NYSEARCA:XLI), Financials (NYSEARCA:XLF), Technology (NYSEARCA:XLK), and Consumer Discretionary (NYSEARCA:XLY). Technology and Consumer Discretionary (Cyclicals) are the relative leaders in the aggressive camp.
This is probably a reflection of trader and investor sentiment. Tech and Cyclicals may be impacted less by any headwinds with President Trump's other initiatives. Industrials and Financials are more likely to be impacted with any infrastructure and tax reform headwinds…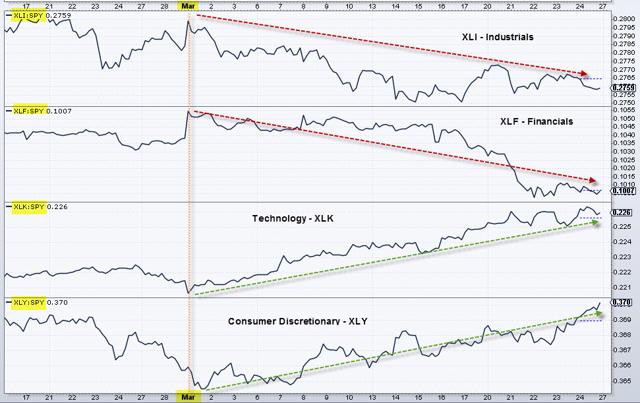 The next chart is for the three defensive sectors; Consumer Staples (NYSEARCA:XLP), Utilities, and Healthcare (NYSEARCA:XLV). It also includes the Materials (NYSEARCA:XLB) and Energy (NYSEARCA:XLE) SPDR sectors...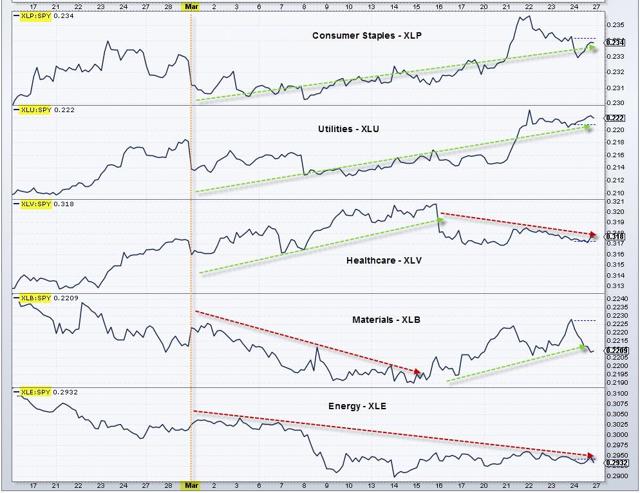 The relative strength in the XLP and the XLU show the market has been taking a somewhat risk-off posture since early March. Some of the strength in Utilities is certainly related to the recent weakening in the 10-year Treasury yield.
Healthcare's relative strength started to weaken mid-Month, perhaps telegraphing the negative news from last week. It is still up a respectable 8.15% year-to-date though. Next week should be telling if the XLV downtrend is to continue.
Materials have taken a somewhat positive posture since the middle of the month. Coincidently this change took place about the same time that Healthcare started to weaken. Perhaps this is an early sign of money rotation out of the Healthcare repeal/replace bets and into risk-off areas (Gold Miners). Recent strength in emerging markets is also supporting Materials.
What do the above two charts tell us?
The market is bifurcated and perhaps trying to determine if President Trump can still follow through on tax reform and infrastructure initiatives after the recent setback with healthcare.
Buckle up!
Thanks for the read…
Previous Instablog's for Reference:
Sector Analysis: Keeping An Eye On Transports Ahead Of Fedex Earnings - Week Ending Mar. 17, 2017.
Sector Analysis: Crude Oil Plays Catch-Up With XLE - Week Ending March 10th, 2017.
Sector Analysis: A Split Decision for February - Week Ending March 3, 2017.
Sector Analysis: Defensive Rotation vs. Seasonality & Energy's Divergence - Week Ending Feb. 24, 2017.
Sector Analysis: The (Up) Trend Is Your Friend - Week Ending Feb 17, 2017.
Sector Analysis: Confirming Trends Using Equal Weighted ETF's - Week Ending Feb 10, 2017.
Sector Analysis: Defensive Posturing or February Consolidation? - Week Ending Feb 3, 2017.
Sector Analysis: Materials Sector Finishes Strong & February Sector Preview - Week Ending Jan 27, 2017.
Sector Analysis: Cyclicals And The Transportation Index Say Stay Long- Week Ending Jan 20, 2017.