Sector Recap – Week Ending November 30, 2018
All eleven SPDR sectors finished positive last week. The relative leaders were Healthcare (XLV), Technology (XLK), Consumer Discretionary (XLY), and Communication Services (XLC).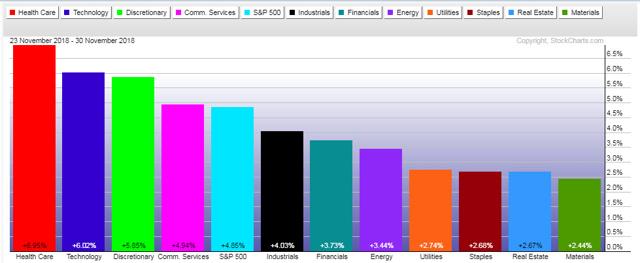 Looking back over the last eleven months, Healthcare is also the clear year-to-date leader (see next chart). The sector is up an impressive 17.25%, versus 3.25% for the S&P 500 (SPY). Consumer Discretionary, Utilities (XLU), Technology, and Real Estate (XLRE) are the other year-to-date relative leaders.
Only two of those five relative leaders -- Consumer Discretionary & Technology -- are considered economically sensitive. The other three are defensive sectors which demonstrate the risk-off nature of the current market environment.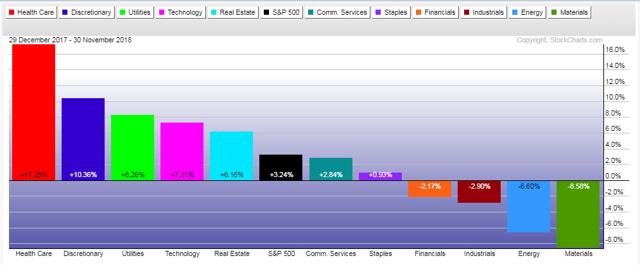 A good (and quick) measure of market breadth is the percentage of stocks trading above their 200 daily moving averages (dma). The next chart reinforces the depth of the current market correction. The NYSE and NASDAQ exchanges have only 33% and 31% of their respective stocks above their 200 daily moving averages.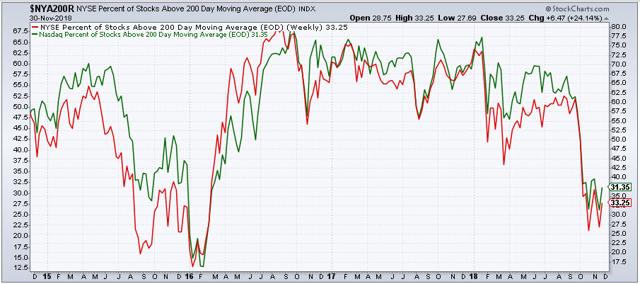 The major indexes are in somewhat better shape with the S&P 500 and NASDAQ 100 at 49% and 50% respectively. The Dow is the leader with a respective 76% of its 30 stocks above their 200 daily moving averages. However the Dow is considered a more defensive index and another indication of a risk-off market environment.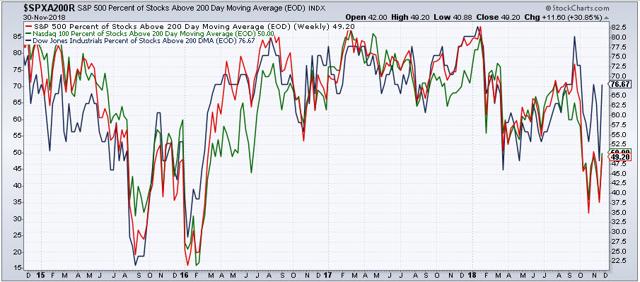 Disclosure: I/we have no positions in any stocks mentioned, and no plans to initiate any positions within the next 72 hours.