Sector Recap – Mid-Week Summary December 5th, 2018
Tuesday's selloff was brutal. The following chart of the eleven SPDR sector ETF's demonstrates the carnage. All four of the economically-sensitive sectors were standout laggards. Those four sectors represent 53% of the S&P 500. The market cannot regain its footing without those four participating more favorably.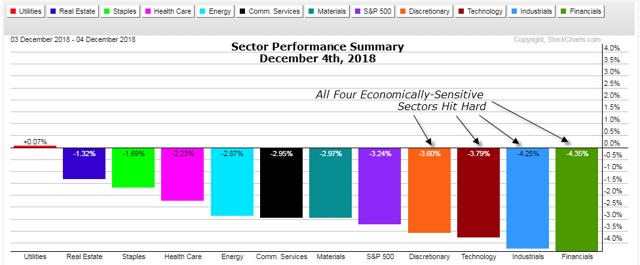 The only sector to escape the carnage on Tuesday was the Utilities sector (XLU). It managed a fractional gain. My Sunday post discussed how the 200 day-moving-averages can be used to measure market breadth (strength) for each sector.
The following table summarizes breadth using the 200-day exponential averages for each of the SPDR sectors. The Real-Estate SPDR (XLRE) and the Communications SPDR (XLC) are not included. Breadth data for those two are not yet available from my source.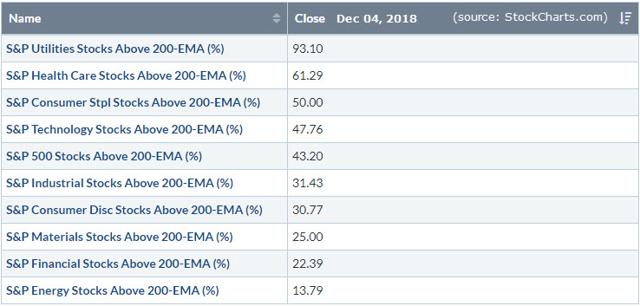 The only sectors with a majority of their stocks above their 200-day averages are Utilities, Health Care (XLV), and Consumer Staples (XLP). Staples are essentially a coin flip at this point at 50%. All three of the aforementioned are defensive sectors. Defensive sectors lead during corrections and bear markets.
Disclosure: I/we have no positions in any stocks mentioned, and no plans to initiate any positions within the next 72 hours.