Sector Recap – Week Ending December 7th, 2018
It was another brutal week for stocks. Only two sectors managed a positive finish for the week – Utilities (XLU) and Real Estate (XLRE). Both of those sectors are defensive groups, reinforcing the risk-off and flight to safety bias of the current market.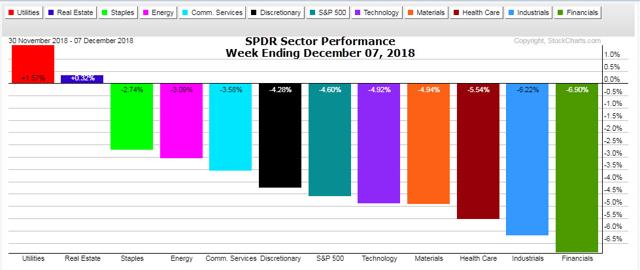 All four of the economically-sensitive sectors were down hard – Financials (XLF), Industrials (XLI), Technology (XLK), and Consumer Discretionary (XLY). These were significant losses, losses you might expect to see during a bad quarter, not for a shortened 4-day trading week (the NYSE & NASDAQ were closed Wednesday for the funeral of President George H.W. Bush).
The performance of the Industrial sub-groups was worrisome (see next table below). Most of these sub-groups (and their underlying stocks) represent the Transportation Index (Transports). The strength of the Transports is a gauge of economic expansion or contraction. Currently it is telegraphing economic weakness lies ahead.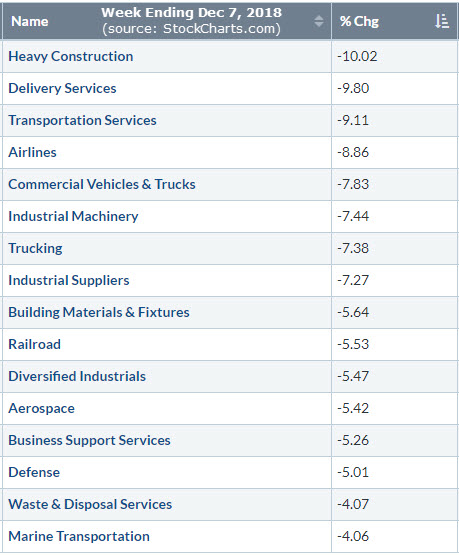 The last mid-week report (Dec 5th) included a table demonstrating market breadth in terms of the number of stocks above their 200-day moving averages. The following table is an updated version for the week ending Dec. 7th.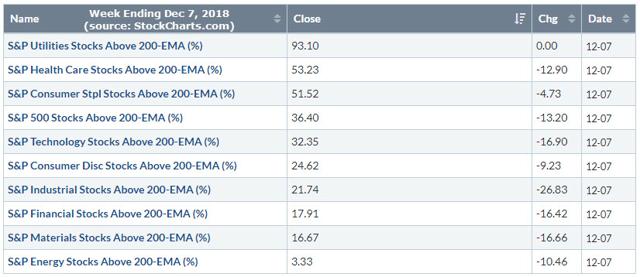 As can be seen, breadth continues to deteriorate with the exception the defensive Utilities sector. Also of note, the large drop in the percentage of Industrial stocks above their 200-day averages. Money flowing into defensive areas and out of economic-sensitive areas reinforces that the market is anticipating future economic weakness, not expansion.
Disclosure: I/we have no positions in any stocks mentioned, and no plans to initiate any positions within the next 72 hours.