Sector Recap – Week Ending December 14th, 2018
It was another brutal week for stocks. Wait that sounds like a repeat of last week's opening line. It is a repeat, and it was another brutal week. The Financial sector (XLF) saw the largest decline among the eleven SPDR sector ETF's.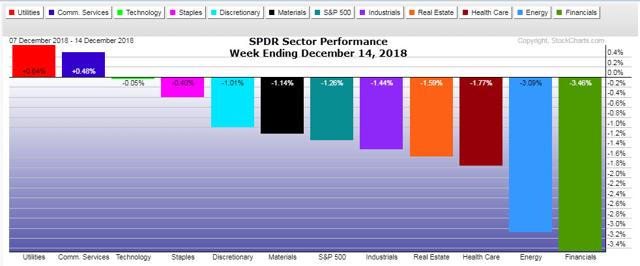 The Financial sector has also been the biggest laggard month-to-date (-10.12%). There have been nine trading days for the month so far (the market was closed Dec. 5th). There are nine-and-a-half trading days left in December. If Santa Claus is coming to town he better hurry.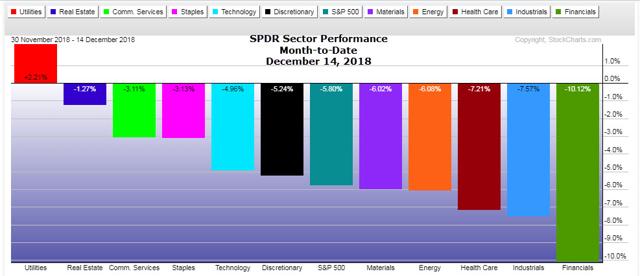 Following is a weekly breakdown of the 12 industry groups within the Financials sector. Banks took the biggest fall last week (-5.24%). Financials (and their sub-groups) are an economically-sensitive entity.

Last week's blog highlighted the weakness in the Industrial sector and their sub-groups, also all economically-sensitive. The market continues to telegraph a vote of 'no confidence' for the 2019 economic outlook.
The next chart is the breakdown for the above industry groups for the same week in December 2007 (curious enough that trading week landed on the same calendar days). We all knew what followed in 2008.

In case you need a reminder, here is the 2008 yearly performance breakdown for the Financials industry groups…not pretty.

The Federal Reserve will need to lower interest rates if a recession takes place in 2019. The Fed won't have much wiggle room with rates still at historical lows. If that occurs, banks and other spread-sensitive groups will be in a tough spot.
Disclosure: I/we have no positions in any stocks mentioned, and no plans to initiate any positions within the next 72 hours.