Businesses worldwide are salivating at the promises governments are making in order to clean the world in which we live. According to an article titled "Europe moves to reduce pollutants," by Joshua Chaffin of the Financial Times, environment ministers across Europe have agreed to sweeping plans and new investments to reduce sulfur dioxide and other pollutants that industries pump into the air. This is just one example of how governments and businesses are looking to be more proactive in taking care of the planet. How can you profit from the effort to clean?
Clean Technology
PowerShares Cleantech ETF (ticker PZD) is just the fund to get exposure to the highly innovative cleantech companies that will be helping keep our world clean. The Cleantech fund tracks a global index of stocks from businesses that provide products and services designed to prevent pollution and hazardous waste. According to PowerShares literature regarding the fund, to be considered cleantech products and services must:
Optimize use of natural resources, offering a cleaner or less wasteful alternative to traditional products and services
Have their genesis in an innovative or novel technology or application
Add economic value compared to traditional alternatives
More than half of the portfolio is invested in U.S. companies and the remainder is spread across the world. The fund is up 13.82% YTD, and up 21.10% in the last three months. Currently, the fund is above both its 50 and 200 day EMA.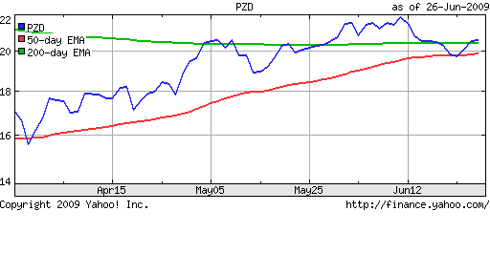 Disclosure Statement: ETFGPS is a blog that Navigates The World of ETFs. Sustainable Investment Strategies LLC is a Registered Investment Adviser in the State of Maryland, and may hold positions in the ETF(s) listed above. Investors who are interested in money management services may visit the Sustainable Investment Strategies LLC web site.