It comes of no surprise that Google (NASDAQ:GOOG) has been making a major push into the social couponing & group buy arena. In June 2011, nearly six months after the search giants $6 billion bid for Groupon (NASDAQ:GRPN) was rebuffed, Google rolled out a beta version of their own daily deal site called Google Offers. If Google can't have Groupon, evidently they will just build their own and with a cash hoard of $50 billion their acquisition appetite seems to have no bounds. In late 2011, Google scooped up DailyDeal & Zagat for $151 million & $114 million, respectively.
Last year, the chairman of Google, Eric Schmidt was quoted as saying "Google is buying more than one company a week." Apart from Google's largest proposed acquisition of Motorola Mobility (NYSE:MMI) for $12.5 billion, the vast majority of their spending spree is focused on smaller companies. In fact, in October Google revealed that it had spent $1.4 billion on 57 separate acquisitions in the prior nine months alone which averages out to a price of $25 million per company. When asked why the majority of these acquisitions are not announced, Schmidt simply said: "We don't have to."
The overarching theme of Google's buying spree revolves around small bolt-on acquisitions geared toward the building out of the Google Offers product. Of the 26 acquisitions in 2011 that were made public, 15 were for social couponing or social networking related companies: (Admeld, BeatThatQuote.com, Clever Sense, DailyDeal, Dealmap, fflick, Fridge, Katango, PostRank, Punchd, SocialGrapple, Sparkbuy, TalkBin, Zagat, & Zave Networks).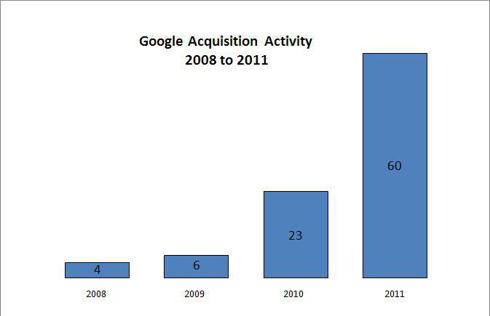 Enter PeopleString Corp. (OTCQB:PLPE)
PeopleString Corp. is an interactive social portal and social affiliate program founded in January 2009. The company operates an interactive social portal that features a multi-tiered affiliate program, sharing revenue generated by the company with its users. The PeopleString Portal consists of PeopleString's InstaPortal technology, cash-back shopping, as well as self-destructing and re-callable email services.
The fact is PeopleString's social portal program has not captured meaningful market share since launch - which is an obvious conclusion when looking at the stock chart. (OTCQB:PLPE) has had a 52-week range of $1.07 to $.03. In the last three months the stock has seemed to have found a floor and has been maintaining an uptrend to the current price of $.0875. With the outstanding share count coming in at 38.2 million shares, (OTCQB:PLPE) sports a microscopic market cap of only $3.3 million while holding $400k in cash and zero debt on it's balance sheet.
In an effort to reinvent itself, PeopleString launched PeopleDeals along with ShareItUp in June 2011. This is the Company's patent-pending technology that allows merchants to launch real-time social media marketing campaigns by empowering marketers to transform their Facebook fans, Twitter followers, and email subscribers into earned media to increase brand awareness, loyalty, and sales. ShareItUp works by harnessing the power of social media to create coupons that go up in value when shared and rewards loyal customers who share offers from their favorite brands, restaurants, retail stores and e-commerce sites with their social networks. PeopleDeals exists as a stand-alone web portal and Facebook application, with mobile applications on both the iPhone and Android operating systems.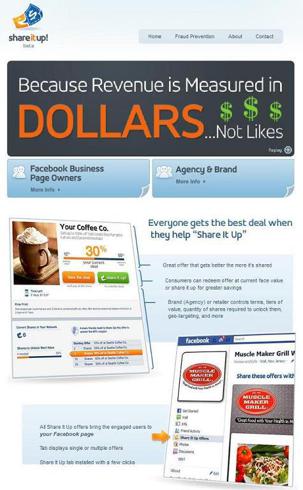 The reinvention is paying off. Last week we learned that one of the world's largest rental car companies, Hertz Corporation (NYSE:HTZ) chose ShareItUp for their summer promotional campaign. This development is by far the most significant news (OTCQB:PLPE) has had in its three year history and further validates the value ShareItUp brings to companies large & small. We believe that more corporations will be following in Hertz's lead and utilizing PeopleString's technology to deploy successful social marketing campaigns.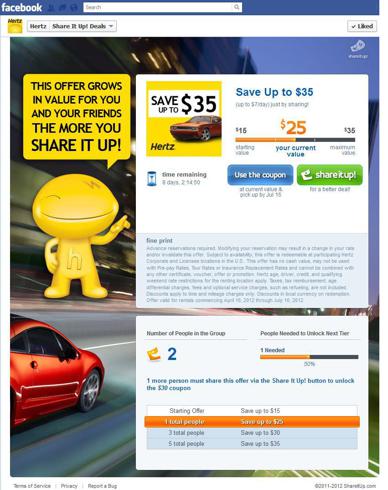 Why would Google want to acquire a $3.3 million social networking company? The fact is that Google Offers does not have the same incentive based advertising model that PeopleString's own PeopleDeals & ShareItUp bring to the table. As Google Offers is still in Beta testing, Google continues to acquire social coupon companies at an alarming pace & integrate these small companies in a piecemeal approach.
In a takeout scenario with (GOOG), and valuing (OTCQB:PLPE) based on only PeopleDeals & ShareItUp, we estimate a takeout price of $25-$35 million on a sum of parts basis which would equate to a share price of $.65 - $.92. With the current stock price of (OTCQB:PLPE) at $.0875, we believe the risk- reward profile offers an extremely asymmetrical risk opportunity for returns on the order of 6x to 10x.
*On Friday we learned that (OTCQB:PLPE) offered to acquire a 51% stake in BiLo Media, which is a gasoline and consumer goods discount club. BiLo Media is projected to earn over $100 million in revenues over the next 12 months. Due to timing of this latest event, we will write a follow-up article when more details become available.