Apple Inc has been avoiding UK tax by registering its operations in countries which impose a lesser rate of tax, tax havens. Apple Inc.'s tax haven of choice is Luxemburg. Apple Inc. has been applying a flat rate of 3% on App store's sales across Europe. 3% is the tax rate in Luxemburg. The UK wants Apple Inc. to apply country specific rate, for instance the British want Apple to apply a rate of 20% and pass the burden of price on to the customers.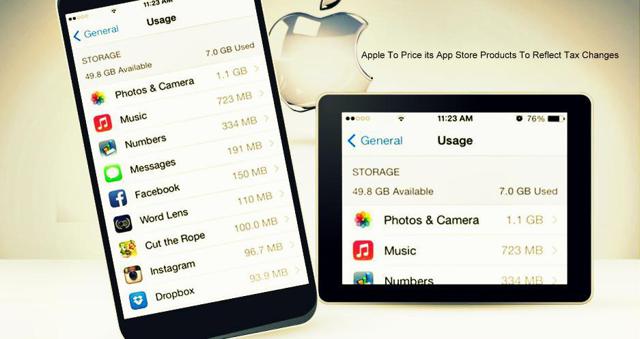 These changes will inflate app prices for consumers in the UK, as it is normal for demand to go down as prices increase. This can take a hit on its profits. However, anything regarding this can only be said once the policy is implemented and results are published. This is so far purely speculation.
Some analysts are saying that Apple Inc. (NASDAQ:AAPL)'s next financial report may show high improvements due to iPhone6, Wall Street may taking the tech giant too lightly. The much anticipated iPhone 6 is working wonders for Apple, since the company is now trying to enter the Chinese market for their iPhone 6 and 6 plus.
Sundeep Bajikar, an analyst, and his team at Jefferies said in a report on December 15 2014 that Apple is relishing "solid brand recognition" in the Chinese market. According to them a large chunk of consumers in China are saving up money to buy expensive iPhone's rather than buying low-priced smartphones manufactured in China.
Although they did find one weakness with this smartphones content, software and services that are provided via iTunes store. According to the analyst and his team, they do not see the sales in China of iPhone 6 pointing towards growth.
They also added that Apple needs to work on its Cloud services. Because majority of the Cloud services in China are rendered from other companies and not just Google Inc. (NASDAQ:GOOGL) or Apple. Major Chinese smartphone manufacturers, such as, Lenovo, Xiaomi and TCL are heavily investing in their own Cloud services. This is because these companies are threatened of losing their Cloud sevices market share to other stronger companies, such as, Baidu Inc. (ADR) (ADR NASDAQ:BIDU) and Tencent Holdings Ltd.
Data from the most used and reliable Cloud service in China was taken and the results showed that the most popular messaging application is Tencent's WeChat, with 438 million users. On the other hand Baidu's maps and searches are very popular amongst users in China. The company has 73% share in the search market and 67% share in the maps market.
Disclosure: The author has no positions in any stocks mentioned, and no plans to initiate any positions within the next 72 hours.
The author wrote this article themselves, and it expresses their own opinions. The author is not receiving compensation for it. The author has no business relationship with any company whose stock is mentioned in this article.