Micron (MU) is a Harvard-like case study on the easiest way to make money in the stock market, and all professional traders and portfolio managers know this. Warren Buffett uses this method and so can you. I use the case study method in my book "Successful Stock Signals" because it is the easiest way to learn how to make money in the stock market by just copying what the pros are doing. 
When I first wrote about this, MU was testing support at $40, down from $50. Now it is bouncing up testing resistance at $45 as I expected in my article. Earnings are due Dec. 19 and after earnings the market becomes efficient again and price will probably be right relative to the $55 targets of recent analysts or the consensus target of $53.
Here is our latest chart on MU showing the drop and predictable pop: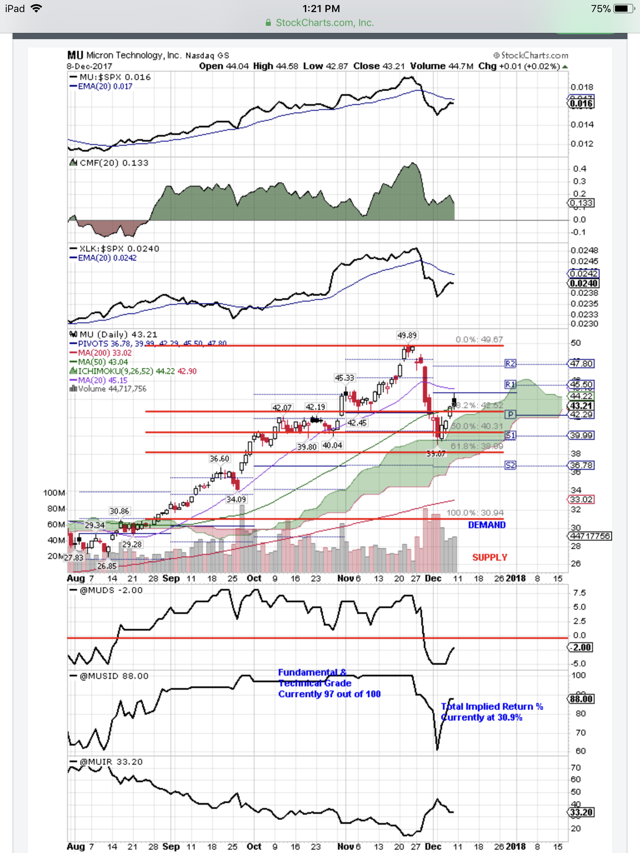 So how do the pros know that stocks like MU are good examples of the easiest way to make money in the stock market? They know the market is an inefficient pricing mechanism and they take advantage every time the market is wrong about a price. Can you do this? Of course, both as a trader and an investor.
However, you must know that Technology sector is being hit with 3 waves of selling. First the rotation out of technology into financials. Second ETF/Index selling,. Third, the tax bill had no good news for technology. Once this selling is over, bargain hunters (portfolio managers and traders) will look at the analyst targets still going up for MU and will start buying. But they want to make sure all the selling is finished. (Also some selling was created by stop loss orders where small investors have used trailing stop loss orders in stocks where they have big gains.)
Also notice at the top of the chart we compare price movement not only to the 500 Index but also compare the technology ETF, symbol XLK, to the Index. You can see a very familiar pattern indicating that the ETF is driving MU price, not fundamentals. ETF selling is dumb index selling because Index selling can't tell a good stock from a bad one. Index selling sells all stocks both good and bad. That allows those who know a good stock from a bad stock to make a killing by buying the bargains. The fundamentally good stocks go back up to where they were and the bad stocks stay down. Portfolio managers love Index selling and the bargains they create. As soon as the Index selling is over the portfolio managers rush in to buy the bargain prices. THIS IS A NO BRAINER WAY TO MAKE MONEY IN THE STOCK MARKET.
This also is a good example of the inefficient pricing created short term by Index selling. Eventually the market becomes efficient and price goes back to where it belongs. Traders love inefficient pricing because they know eventually the price becomes efficient and they make "no brainer" low risk profits. Professional traders hate risk and always want sure things to trade.They know MU is one of those easy ones. They just wait for the buying to start and then join in. (Traders were probably shorting it on the way down, front running the Index/ETF selling. Now they are reversing themselves and buying it on the way up.) THIS IS A GREAT GAME.
Conclusion
There is no question that the small investor and trader can use the easiest way to make money in the stock market. All they need is our Daily Index Beaters list of stocks with the signals shown at the bottom of the MU chart shown above. They need to know fundamentals as well as technicals. Our chart signals give the answers to both.
Disclaimer: We are not investment advisers and we never recommend stocks or securities. Nothing on this website, in our reports and emails or in our meetings is a recommendation to buy or sell any security. Options are especially risky and most options expire worthless. You need to do your own due diligence and consult with a professional financial advisor before acting on any information provided on this website or at our meetings. Our meetings and website are for educational purposes only. Any content sent to you is sent out as any newspaper or newsletter, is for educational purposes and never should be taken as a recommendation to buy or sell any security. The use of terms buy, sell or hold are not recommendations to buy sell or hold any security. They are used here strictly for educational purposes. Analysts price targets are educated guesses and can be wrong. Computer systems like ours, using analyst targets therefore can be wrong. Chart buy and sell signals can be wrong and are used by our system which can then be wrong. Therefore you must always do your own due diligence before buying or selling any stock discussed here. We assume no liability for erroneous data or opinions you hear at our meetings and see on this website or its emails and reports. You use this website and our meetings at your own risk.

Disclosure - I have no position in these stocks, but may be long or short anytime in the future.

Disclosure: I/we have no positions in any stocks mentioned, and no plans to initiate any positions within the next 72 hours.
Additional disclosure: This information, but not this article, was previously published to subscribers of Daily Index Beaters.