You can't know what is next for Facebook (FB) unless you know where it has been, and where it is going short term and long term. The long term answer is the easy one. I think it is going up. The short term answer is more difficult. I think it is going down until price is a bargain at $150 or lower.
Here is the monthly chart that gives me both the long term and short term answers. If those answers don't pop out at you, then you either need to read my book, or subsribe to my service. We derive our answers from both fundamentals and technicals. Here are the latest technicals. I think the fundamentals are good and not the problem. Bad news and analysts dropping targets are the problems that are stalling FB's uptrend. Every good stock has a dose of bad news and then you have to go to the charts for answers. Below are the answers.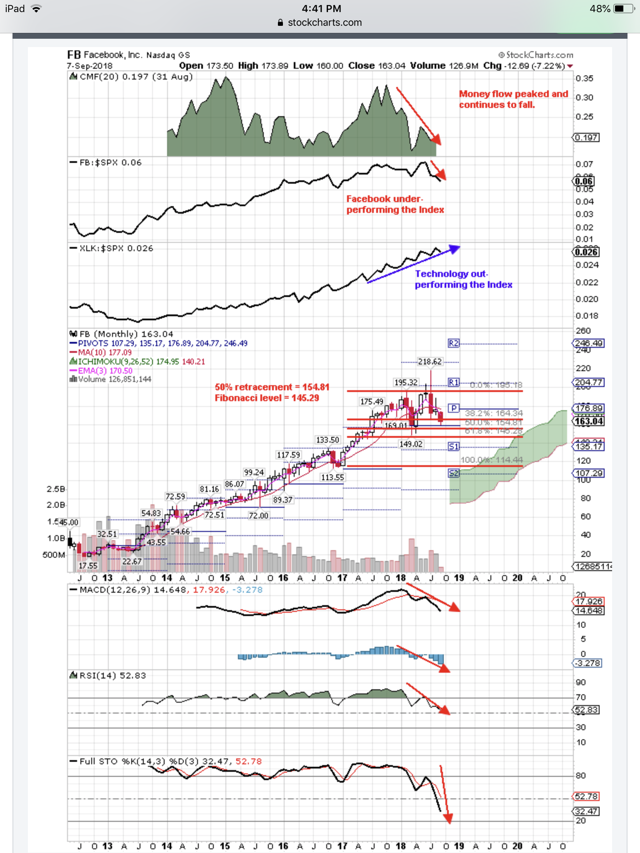 Money Flow Drop
At the top of the chart you can see the sharp drop in Chaikin money flow, one of my favorite indicators. Change in direction is most important. You can see when it peaked and changed direction, thus giving an early warning for the drop in price. Last time this happened there was only a minor, two month drop in price. This time there are two major drops in price so far.
Under-performing the Index
The next indicator at the top of the chart shows FB is now not beating the Index. Portfolio managers cannot keep these stocks, unless they think this is just a short term problem. I think it is just a short term problem. Portfolio managers love a bargain. They thought FB was a bargain at $150 when it pulled back last time. Now the only unknown is at what price they will do that again? Is it $150 or $160? I think it is $150.
Technology ETF Is Outperforming the Index
The (XLK) is outperforming the Index. That tells us two things. First, that FB has unique problems, not sector problems. Second, it indicates that robot, ETF selling is not the cause of FB falling in price. In fact, the ETF buying is supporting the FB price with its robot like buying. No fundamental analysis required. FB price would be lower without this dumb, ETF, index buying. Thank you XLK.
How Low Will It Go?
Price support is at $160 and it just bounced up from that support. The next price support level is $150. A normal, 50% retracement from the closing high is $154.81 according to the computer. That means approximately $155. The next calculated level is $145.29, so that guess is around $145. We will wait for the buyers to identify the exact bottom of this pullback. Our Demand Signal will tell us when this happens. We will let you know. Stay tuned!
Worst Signal In Five Years
At the bottom of the chart you can see this drop into oversold territory is the worst in five years. This is because of the back-to-back selloffs to test $150 support. Obviously this is unusual for FB and hardly anyone expected it. We did publish our concerns before this latest drop, but did not expect a revisit of $150.
Conclusion
In the immortal words of Yogi Berra "It ain't over 'til it's over." We will wait for the selling to stop and the buying to begin. We wait for our Demand Signal to buy the bargain. Our guess is that will be $145-150. But we don't have to guess when we have Signals, both fundamental and technical. Stay tuned.
NOTE: See our free annotated charts and footnotes at
stockcharts.com/public/1792807
SID2018 model portfolio:
https://www.marketwat...
ALSO: check our trades at
http://stocktwits.com...
Disclaimer: We are not investment advisers and we never recommend stocks or securities. Nothing on this website, in our reports and emails or in our meetings is a recommendation to buy or sell any security. Options are especially risky and most options expire worthless. You need to do your own due diligence and consult with a professional financial advisor before acting on any information provided on this website or at our meetings. Our meetings and website are for educational purposes only. Any content sent to you is sent out as any newspaper or newsletter, is for educational purposes and never should be taken as a recommendation to buy or sell any security. The use of terms buy, sell or hold are not recommendations to buy sell or hold any security. They are used here strictly for educational purposes. Analysts price targets are educated guesses and can be wrong. Computer systems like ours, using analyst targets therefore can be wrong. Chart buy and sell signals can be wrong and are used by our system which can then be wrong. Therefore you must always do your own due diligence before buying or selling any stock discussed here. We assume no liability for erroneous data or opinions you hear at our meetings and see on this
Disclosure: I/we have no positions in any stocks mentioned, but may initiate a short position in FB over the next 72 hours.
Additional disclosure: Our subscribers are aware of our signals every day.