The best time to make money in a stock is after a market correction drags price down, despite fundamental and technical buy signals as found in Apple (AAPL). Here is our daily list of stocks reporting earnings, showing Apple at the top because of its buy signals. In particular, it has our Timing, Buy-On-Weakness signal in the Tmg column of the report. We are going to examine both the fundamentals and technicals to see if APPL will pop as our signals seem to indicate.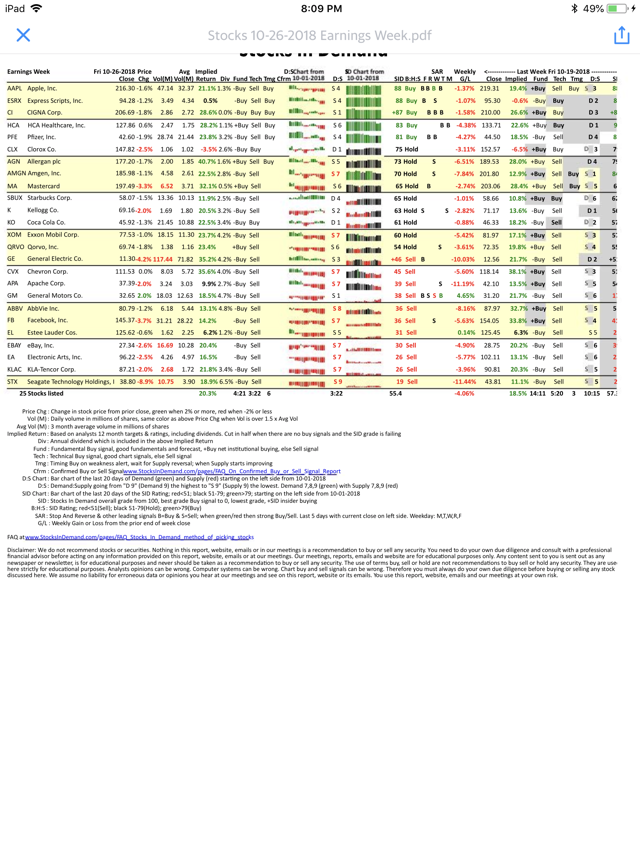 You can see AAPL has a grade of 88 out of 100, color coded green and tagged as a Buy signal. There is also a Fund Buy signal. The Implied Return calculated at 21.1% is color coded green to identify the buy signal. The short term price weakness triggered our short term, Tech sell signal. Whenever we have all these Buy signals and short term price weakness, it triggers our buy-on-weakness signal shown in the Tmg column. No let's examine the chart showing these signals, then we will look at the fundamentals creating these Buy signals.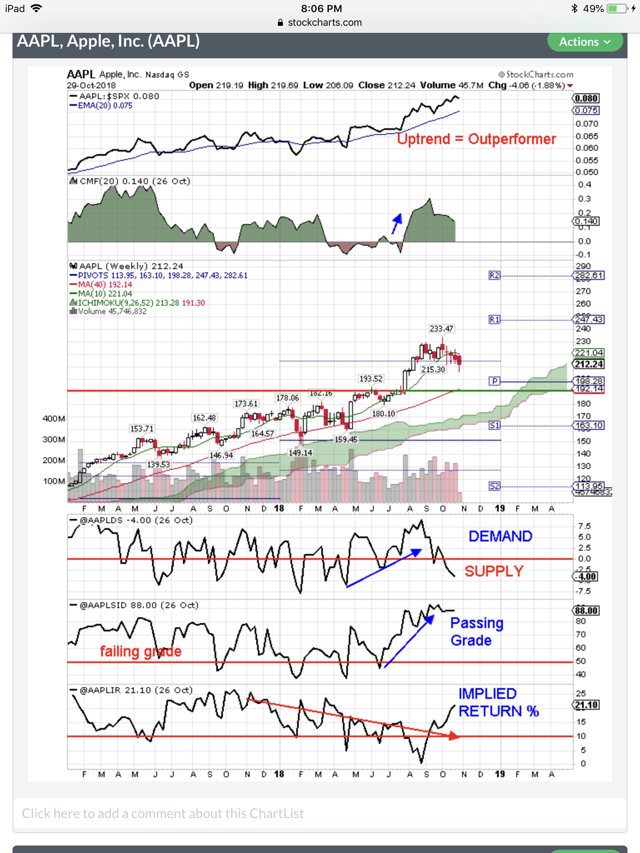 At the top of this weekly chart you can see AAPL is outperforming the market, the most important signal for portfolio managers trying to beat the Index. They have determine if this trend will continue. Earnings will give them that answer. 
The next indicator shows the green money flow dropping during this selling cycle. Price is dropping through support here and targeting a test of the 40 week (200-day) uptrend. You can also see the price support line drawn at the same point near $193, thus a strong, double support level.
Below price, we have the tracking for our most important buy signal, the passing grade now at 88 out of 100. Above that you can see Demand dropping down into Supply and taking price down. Below the grade you can see the tracking for our Implied Return buy signal, improving as price drops. Because we have both of these Buy signals in place, the Supply weakness in price triggers our buy on weakness signal in the Tmg column of our report above.  Now let's check out the fundamentals driving these signals.
Nasdaq shows only 11 out of 24 analysts have buys and that raises questions. For example, is it overvalued and are analysts waiting for lower prices before they give a buy rating? With price now dropping and our Implied Return calculation improving, you may see analysts upgrading to buy after earnings.
The consensus, 12-month target is $245 and, in uptrend stocks like AAPL, this target tends to be conservative. So at today's price, this target looks attractive, provided it is not downgraded after earnings. So let's look at earnings. Recently 8 analysts have upgraded their earnings, expecting a good earnings report. The consensus for the quarter is  $2.78, but more important is next quarter at $4.77. Also more important is next year's earnings of $13.52 vs. the $11.77 expected for this year. If we value AAPL with a PE of 20, then using next year earnings, we calculate a target of $270 vs $245 consensus.
Finviz gives us the color coded, fundamental metrics at a glance. The P/E, FP/E, P/FCF, P/S, P/C and PEG all look good. The growth in earnings is increasing next year and that could mean a higher valuation and target calculation. Two recent analysts have just come out with a $265 target. Earnings for the quarter are expected at $2.78 and $13.78 for next year. The short ratio is low and would be high if they expected bad earnings.
Yahoo is showing consensus earnings and revenue of $2.78 and $61.57 bil. Next quarter is $4.94 and $92.91bil. Earnings estimates were increasing from 90 days ago which is a bullish signal for earnings.
Lastly, Earnings Whispers is showing $2.90 and consensus of $2.79 with $61.41 bil. in revenues. My guess is the market will be disappointed if earnings are less than $2.90. But more important is the forecast for next quarter. If AAPL waffles on the forecast, price could drop to test the 200-day support. 
Conclusion
I think earnings will be good and AAPL will pop after earnings. Even if it drops after earnings, it will be a win for the bargain hunters, unless there is a negative surprise (unlikely.) If there is no pop now, I will look for support to hold and then put it in the 2019 model portfolio. I think $195 would be a bargain price. 
NOTE: See our free annotated charts and footnotes at
stockcharts.com/public/1792807
SID2018 model portfolio:
https://www.marketwat...
ALSO: check our trades at
http://stocktwits.com...
Disclaimer: We are not investment advisers and we never recommend stocks or securities. Nothing on this website, in our reports and emails or in our meetings is a recommendation to buy or sell any security. Options are especially risky and most options expire worthless. You need to do your own due diligence and consult with a professional financial advisor before acting on any information provided on this website or at our meetings. Our meetings and website are for educational purposes only. Any content sent to you is sent out as any newspaper or newsletter, is for educational purposes and never should be taken as a recommendation to buy or sell any security. The use of terms buy, sell or hold are not recommendations to buy sell or hold any security. They are used here strictly for educational purposes. Analysts price targets are educated guesses and can be wrong. Computer systems like ours, using analyst targets therefore can be wrong. Chart buy and sell signals can be wrong and are used by our system which can then be wrong. Therefore you must always do your own due diligence before buying or selling any stock discussed here. We assume no liability for erroneous data or opinions you hear at our meetings and see on this website or its emails and reports. You use this website and our meetings at your own risk.
Check out our free reports and free trial.
Disclosure: I/we have no positions in any stocks mentioned, but may initiate a long position in AAPL over the next 72 hours.