The bargain hunting buyers are supporting Boeing (NYSE:BA) price between $364 and $388. This trading range is already established. They are willing to pay up, but they are not willing, so far, to breach the resistance level. 
The monthly chart below shows why it has stopped falling in price. You can see the strong support, where a lot of buying was done for many months in the trading range between $320 and $360. I think it will take months for all the bad news to play out with BA. That is why you want to use the monthly chart to see it grind away in never-never land between $320 and $360.
i think it will start falling once the current bargain hunting buyers are finished buying the 150 million shares that were dumped on the market by trigger happy sellers. Maybe in June on a really bad market day, BA might reach down to touch the bottom at $300. I think we will see this print and exhaustion selling to mark the bottom at $300. Then after all the investigations and law suits, I expect to see the 12 month climb back to $444. I think the bounce might start when the planes are back in the air.
Here is the link to our live charts on BA so you can follow our future comments at the bottom of each chart:
Here is the monthly chart we are watching live: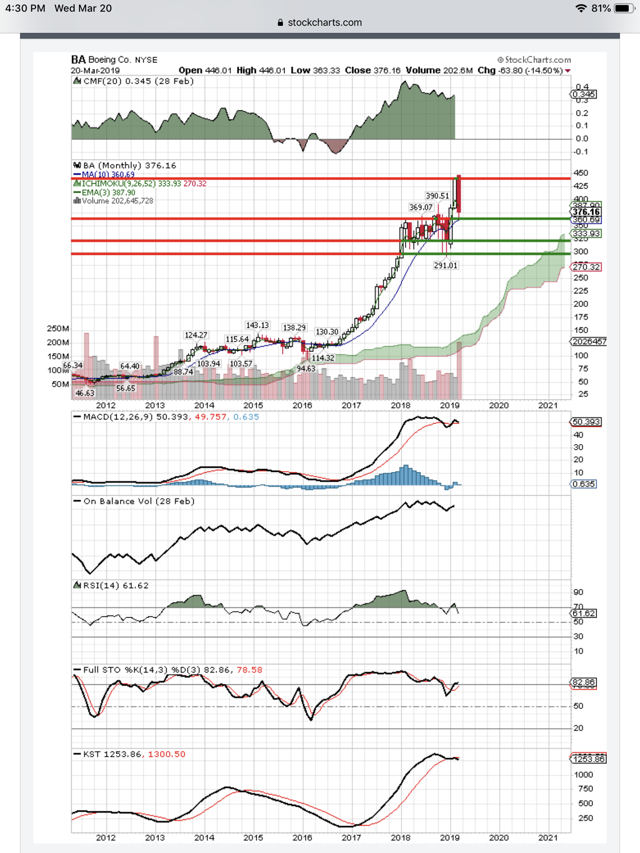 As you can see all the signals are turning down and I think it will take months before they start improving. That will be soon enough for me to buy.
DISCLAIMER: We are not investment advisers and we never recommend stocks or securities. Nothing on this website, in our reports and emails or in our meetings is a recommendation to buy or sell any security. Options are especially risky and most options expire worthless. You need to do your own due diligence and consult with a professional financial advisor before acting on any information provided on this website or at our meetings. Our meetings and website are for educational purposes only. Any content sent to you is sent out as any newspaper or newsletter, is for educational purposes and never should be taken as a recommendation to buy or sell any security. The use of terms buy, sell or hold are not recommendations to buy sell or hold any security. They are used here strictly for educational purposes. Analysts price targets are educated guesses and can be wrong. Computer systems like ours, using analyst targets therefore can be wrong. Chart buy and sell signals can be wrong and are used by our system which can then be wrong. Therefore you must always do your own due diligence before buying or selling any stock discussed here. We assume no liability for erroneous data or opinions you hear at our meetings and see on this website or its emails and reports. You use this website and our meetings at your own risk.
Let us know if you would like to receive our BA Buy Signal in the future.
Disclosure: I/we have no positions in any stocks mentioned, but may initiate a short position in BA over the next 72 hours.