Beyond Meat (NASDAQ:BYND) had a bearish, gap down on the open today and may trigger more selling on this overvalued stock.
Beyond Meat (BYND) popped 39 points after earnings and an optimistic, analyst target is now at $125. Is it time to buy or take profits? That 12-month target of $125 tells me it should probably be trading closer to the consensus target of $81 and that is being very optimistic. 
Fundamentals
Let's see if we can find any fundamentals that support the analysts' consensus target of $81 or the recent higher analyst target of $125. Here is what a Zacks' analyst wrote. BYND expects to grow revenues to $205.5 million for a growth of !40% over 2018 results. They expect to break even on an EBITDA basis. The analyst is quick to point out the big time competition that BYND will face in the future. It is also interesting to note that these foods are no healthier than meat products, but just a substitute for meat. I don't think that is well known in this rush to buy BYND by the health conscious investors.
Obviously, analysts are going beyond 2019 to justify their targets. That growth of !40% is the driver for future results. BYND has a market niche and is in many supermarket stores, but there are gigantic competitors ready to copy BYND's success.  Let's assume that the growth continues at 100% in 2020 and 2021. That would give us in round numbers, $400 million in 2020 and $800 million in 2021. Using a 75 PE, we would need about $2 in earnings just to justify the current price. I guess it is in the realm of possibility that BYND will come in with 2021 earnings of $2, but the question is do you want to value a stock based on 2021 earnings or beyond? The current buyers are saying yes.
Finviz shows the short term fundamental metrics and you can see how outlandish the valuation is. BYND has a $8 billion market cap and only $205.5 million in revenues projected for 2019. There are no earnings projected and the earliest you could see some earnings is in 2020. Of course this is a growth play, so there is no use talking about earnings this year. This is a tiny company, with only a small number of employees, trying to grow into a billion dollar company in a short amount of time. They do not have a product moat and there is plenty of big time competition ready to crush them. But let's not waste our time on non-existent fundamentals because the chart is where the action is. We know the ridiculous price is not based on fundamentals, but a complete mismatch of supply and demand in the marketplace. That makes it a good short when the greedy start taking profits.
Technicals
As a starting point, here is the daily chart and the signals are pointing to where price is going. They will also tell us when this silly game is over and it is time to short.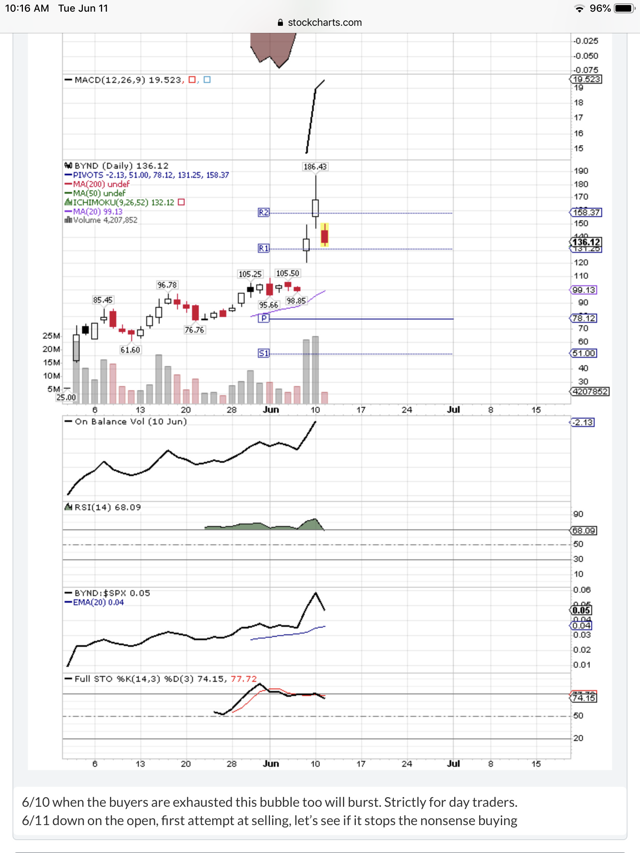 This gap down is the first sell signal, if the buyers are finally exhausted then serious profit taking starts. The shorts have been burned and will wait for all these signals to turn down, indicating it may be safe to short, that is if there is any stock they can borrow to short, otherwise there are put options.
What will the traders be doing? When the buyers are exhausted and the signals on the daily chart turn bearish, the traders and the robots will reverse their strategy and lean to selling every pop and buying the pullbacks to cover the short.
Obviously those investors who were in at the opening price of $46 on the IPO date, are willing to take some profits at these prices, but not as long as price keeps climbing. Like the shorts, they will wait for the signals to turn down. If McDonald's starts using BYND there probably will be another big pop in price.
Conclusion
Price is now way beyond the very optimistic analyst targets. It is overvalued by most fundamental metrics. The traders will just watch the chart and trade the momentum. So will the robots. As soon as the worm turns they will all go short and the greedy will rush to the exit door to take profits. 
Let us know if you would like to receive this report in the future.
Disclosure: I/we have no positions in any stocks mentioned, but may initiate a short position in BYND over the next 72 hours.
I wrote this article myself, and it expresses my own opinions. I am not receiving compensation for it (other than from Seeking Alpha). I have no business relationship with any company whose stock is mentioned in this article.
Additional disclosure: Additional disclosure: Disclaimer: We are not investment advisers and we never recommend stocks or securities. Nothing on this website, in our reports and emails or in our meetings is a recommendation to buy or sell any security. Options are especially risky and most options expire worthless. You need to do your own due diligence and consult with a professional financial advisor before acting on any information provided on this website or at our meetings. Our meetings and website are for educational purposes only. Any content sent to you is sent out as any newspaper or newsletter, is for educational purposes and never should be taken as a recommendation to buy or sell any security. The use of terms buy, sell or hold are not recommendations to buy sell or hold any security. They are used here strictly for educational purposes. Analysts price targets are educated guesses and can be wrong. Computer systems like ours, using analyst targets therefore can be wrong. Chart buy and sell signals can be wrong and are used by our system which can then be wrong. Therefore you must always do your own due diligence before buying or selling any stock discussed here. We assume no liability for erroneous data or opinions you hear at our meetings and see on this website or its emails and reports. You use this website and our meetings at your own risk.