Our Sell signal for Broadcom (NASDAQ:AVGO) has improved dramatically in the last 20 days . It's rated a 47 out of 100, a Sell signal, where reaching 51 would make it a weak Hold signal. Our Demand Signal has showed green for the last week, which is a positive. One analyst just raised the 12-month target to $330 and that is usually bullish, especially just before earnings.
Our signals reflect what the market expects. They are not, necessarily, predictive. Our signals and the market can be surprised by earnings. When that happens, the market quickly changes its view. Likewise our signals quickly change, if they were wrong. Indications from our Demand Signal and our most important signal, the overall fundamental/technical grade, show improvement just before earnings. That leads us to expect good earnings. That will move our grade from a Sell signal to a Hold signal. I doubt it will jump to a buy signal. 
To make it into our dividend model portfolio, AVGO needs a strong Hold signal, not a weak one. Further, our total return calculation, that includes the fat dividend, needs to move above 10%. That could happen if the earnings guidance is really good. That would be a surprise to our signals.
EarningsWhispers is looking for $5.30, well above consensus of $5.13 on $5.5 billion in revenues. Unfortunately, Yahoo shows the earnings estimate of $5.73 dropping to $5.13 over the last 90 days and the 2019 earnings dropping from $23.05 to $21.38. Next year's estimate has dropped from $26.34 to $23.55. Obviously, guidance needs to reverse these trends.
Finally, the market rotation into low PE stocks with great dividends may be the reason for AVGO improving recently, despite the drop in earnings estimates. Obviously it is easier for AVGO to beat $5.13 rather than the $5.73 of 90 days ago. (Also the short ratio indicates this is not a favorite short.)
Here is the chart with the signals we like to watch and they don't look bearish: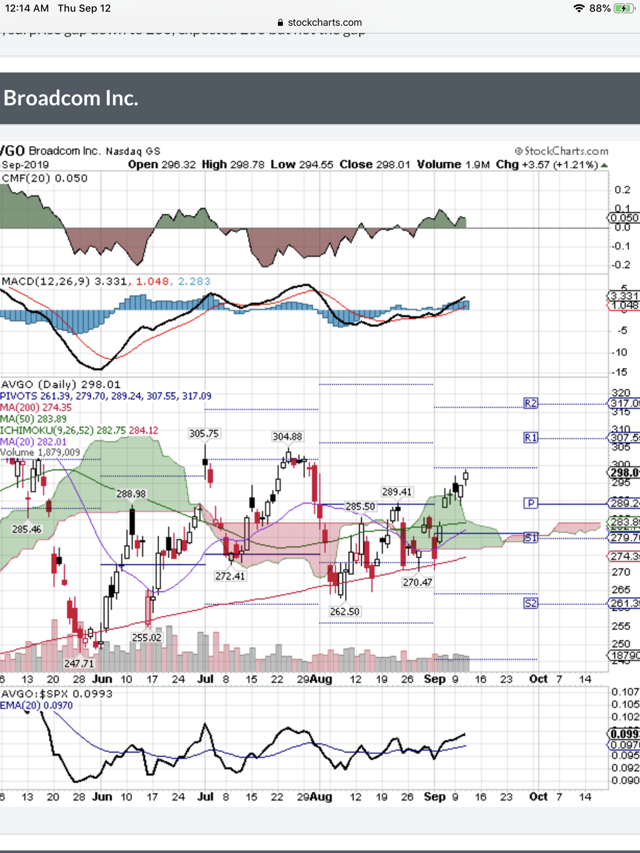 Disclosure: I/we have no positions in any stocks mentioned, but may initiate a long position in AVGO over the next 72 hours.
Additional disclosure: Disclaimer: We are not investment advisers and we never recommend stocks or securities. Nothing on this website, in our reports and emails or in our meetings is a recommendation to buy or sell any security. Options are especially risky and most options expire worthless. You need to do your own due diligence and consult with a professional financial advisor before acting on any information provided on this website or at our meetings. Our meetings and website are for educational purposes only. Any content sent to you is sent out as any newspaper or newsletter, is for educational purposes and never should be taken as a recommendation to buy or sell any security. The use of terms buy, sell or hold are not recommendations to buy sell or hold any security. They are used here strictly for educational purposes. Analysts price targets are educated guesses and can be wrong. Computer systems like ours, using analyst targets therefore can be wrong. Chart buy and sell signals can be wrong and are used by our system which can then be wrong. Therefore you must always do your own due diligence before buying or selling any stock discussed here. We assume no liability for erroneous data or opinions you hear at our meetings and see on this website or its emails and reports. You use this website and our meetings at your own risk.