Chipotle Mexican Grill (NYSE:CMG) is overvalued and the earnings have to be perfect  to have an ascending triangle breakout. I have no idea whether the earnings will be perfect. I would not be surprised to see some selling on any good earnings report. 
Here is the chart showing the potential breakout after earnings: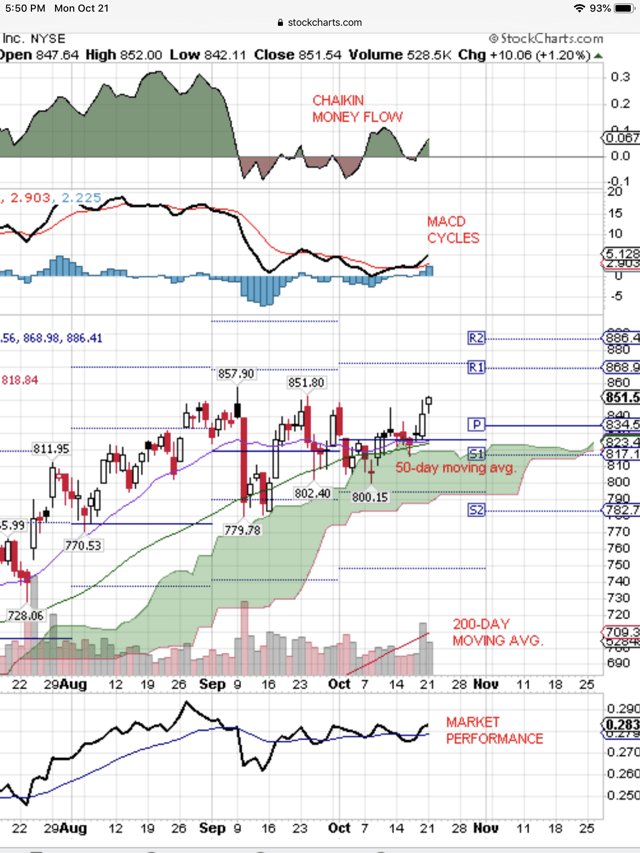 Our computer system gives CMG a grade of 62 out of 100, which is a weak HOLD signal. In addition, our computer calculates a minus 4.5% Implied Return, which tags it as overvalued. Let's look at the fundamentals to see if it is overvalued and why it is only a HOLD and not a BUY signal?
According to Finviz the forward PE is very high at 48 and no bargain compared to the 35% five year growth rate. Obviously, with many aggressive growth stocks, valuation is ignored until there is an earnings miss followed by a sharp drop in price.  At $851 I would like to see analyst targets at least 30% higher than price or at $1,106. I did see one analyst target at $1,000, but the consensus target is only $806. That means CMG better have very good earnings that will prompt analysts to raise their targets.
CONCLUSION
I expect CMG will have good earnings because of the recent analyst upgrade and the ascending triangle breakout price pattern. I think any earnings pop will target $860. Any slight miss and I think price would drop to $800 to test support.
Disclosure: I/we have no positions in any stocks mentioned, but may initiate a long position in CMG over the next 72 hours.
Additional disclosure: DISCLAIMER-- We are not investment advisers and we never recommend stocks or securities. Nothing on this website, in our reports and emails or in our meetings is a recommendation to buy or sell any security. Options are especially risky and most options expire worthless. You need to do your own due diligence and consult with a professional financial advisor before acting on any information provided on this website or at our meetings. Our meetings and website are for educational purposes only. Any content sent to you is sent out as any newspaper or newsletter, is for educational purposes and never should be taken as a recommendation to buy or sell any security. The use of terms buy, sell or hold are not recommendations to buy sell or hold any security. They are used here strictly for educational purposes. Analysts price targets are educated guesses and can be wrong. Computer systems like ours, using analyst targets therefore can be wrong. Chart buy and sell signals can be wrong and are used by our system which can then be wrong. Therefore you must always do your own due diligence before buying or selling any stock discussed here. We assume no liability for erroneous data or opinions you hear at our meetings and see on this website or its emails and reports. You use this website and our meetings at your own risk.