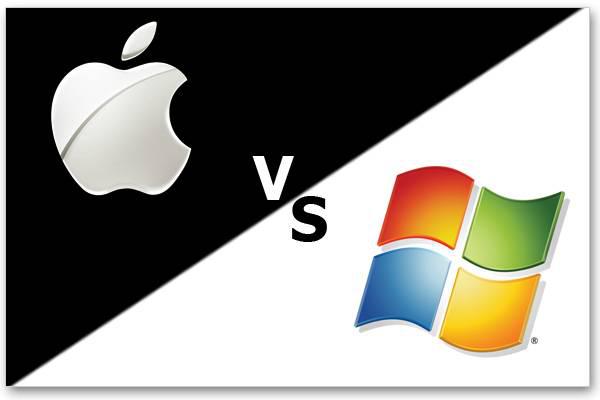 Source: SheConomy
Apple (NASDAQ:AAPL) is the largest corporation in the world with a market cap of just under $500 billion. The business sells iPhones, iPads, iPods, Mac computers and laptops, and accessories for the aforementioned products through different retail channels, including their Apple Stores. Apple also generates revenue through iTunes (movies, music, TV show downloads) and iCloud (Cloud based storage).
Microsoft (NASDAQ:MSFT) is the 5th largest publicly traded corporation, with a market cap close to $330 billion. Microsoft operates in 5 segments:
Windows Division: Operating systems
Server and Tools: Server software & tools, and cloud-based services & solutions
Online Services Division: Search engines (Bing, MSN) and search advertising
Microsoft Business Division: Microsoft Office & Microsoft Dynamics
Entertainment and Devices Division: Xbox, Windows Phone, & Skype
Current State of Affairs
Apple
Apple posted year-over-year sales growth of 5% for the 2nd quarter 2014. Gross margin increased to 39.3% from 37.5%; the company's highest gross margin since the 3rd quarter of 2012.
Sales growth came largely from increased iPhone sales (up 14%) and iTunes, software, & services (up 11%). iTunes now has nearly 800 million accounts, with total iTunes billings up 24% year over year.
The strong growth in iTunes & iPhone sales was offset by negative growth for iPad (revenue down 13%) and iPod (down 52%) sales. iPad volume was down 16%; 13% of this was due to tightening inventory in distribution channels. Sell through volume was down just 3%.
Geographically, Apple's revenue was up 26% in Japan. Apple now has a 55% smartphone market share in Japan. Revenue was up 13% in China, with sales of nearly $10 billion.
Sources: Apple Q2 Earnings & Q2 Transcript
Apple is aggressively returning cash to shareholders in the form of share repurchases and dividends. The company has returned $28.8 billion (about 5.75% of market cap) to shareholders through the first 2 quarters of this year through share repurchases ($23 billion) and dividends ($5.3 billion). Apple estimates it will repurchase another
$44 billion dollars of shares over the next 6 quarters, while continuing to pay quarterly dividends. Organic revenue growth is positive, with guidance for Q3 predicting 2% to 7% organic revenue growth. Overall, shareholders of Apple can expect a CAGR of 10% to 15% through share repurchases (6%), dividends (2%), and organic growth (2% to 7%).
Source: Apple Capital Return Program
Based on Apple's high gross margin, strong brand name, and ubiquitous products, the company has a strong competitive advantage. The question is: how long will the company's competitive advantage last? The largest headwind Apple faces is product obsolescence. Apple has historically grown through product innovation. It has been several years since Apple released a new product. For Apple to continue to grow organically, it will have to expand with new products, while staying competitive in both developed and developing markets.
Microsoft
Microsoft Revenue by Division



Source: 2013 Annual Report
Microsoft has grown revenue 8% year-over-year, and is expecting revenue for the fiscal year to grow between 7.8% and 8.6%. Microsoft has several growth drivers, examined below.
The company's commercial cloud service has nearly doubled
Microsoft is attempting to strengthen its mobile position through its acquisition of Nokia, which finalizes this month
The company's recent launch of Xbox One has gone well, with over 5 million units sold
Microsoft's Office 365 subscription based office suite had about 1 million new subscribers in the 3rd quarter
Microsoft now has an 18.6% share in US search, up from 18.4% for the previous month. Search revenue is up 38% year-over-year.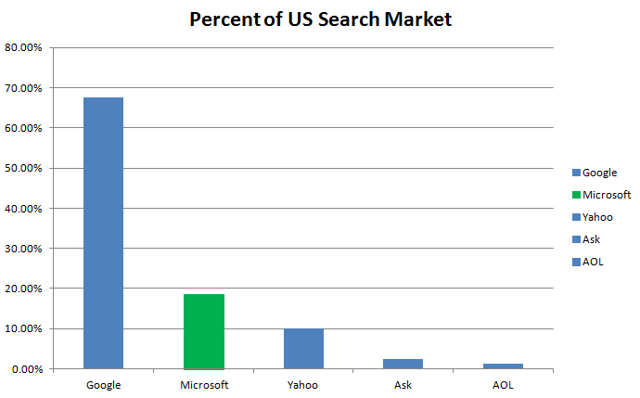 Source: Comscore
Microsoft is a very shareholder friendly business, having returned over $12 billion dollars to shareholders in the form of dividends and share repurchases so far this year. Shareholders of Microsoft can expect a CAGR of about 13% going forward from dividends (2.8%), share repurchases (2%), and growth (~8%).
Microsoft is transitioning to a "devices and services" company. This transition comes out of necessity due to rapid changes in the technology industry. If Microsoft cannot continue to innovate and stay on pace with the industry, the business will eventually falter. Microsoft's history of innovation is rife with poor execution and ill-advised products (Windows Vista, Zune, etc.)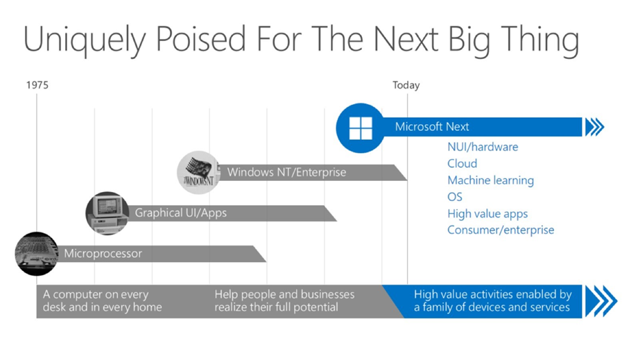 Comparison 1: Valuation
| | | |
| --- | --- | --- |
| Company | Ticker | P/E |
| Microsoft | MSFT | 14.95 |
| Apple | AAPL | 13.67 |
| IBM | | 12.94 |
| Google | GOOG | 27.04 |
| Sony | SNE | 22.62 |
| Motorola Solutions | MSI | 15.28 |
| Panasonic | | 22.90 |
| Philips | PHG | 18.50 |
| Samsung | OTC:SSNLF | 13.40 |
| Oracle | ORCL | 16.51 |
Both business appear to be somewhat undervalued compared to their peers. Apple's P/E ratio of 13.67 is lower than Microsoft's at 14.95. Neither company is in any danger of being overvalued at these levels. Apple holds the advantage in valuation.
Comparison 2: Dividends
Apple currently yields 2.24% after its recently announced 8% dividend increase. Apple has been paying a dividend since 2012. This is the second consecutive yearly dividend increase for Apple.
Microsoft's dividend yield is 2.81%. The company has increased its dividend every year since 2005, except in 2009 when it did not increase the dividend payment from the previous year.
Microsoft wins this category due to its higher dividend yield and longer history of dividend payments.
Why it Matters: Stocks with higher dividend yields have historically outperformed stocks with lower dividend yields. The highest yielding quintile of stocks outperformed the lowest yielding quintile by 1.76% from 1928 to 2013. (Source: Dividends: A Review of Historical Returns)
Comparison 3: Payout Ratio
Microsoft's payout ratio is 39.80%, versus just 29.00% for Apple. Neither businesses dividend payments are in jeopardy based on the low payout ratio for both businesses. Apple wins this category because of its lower payout ratio.
Why it Matters: High-yield low-payout ratio stocks outperformed high-yield high-payout ratio stocks by 8.2% per year from 1990 to 2006.
(Source: High Yield, Low Payout by Barefoot, Patel, & Yao, page 3)
Comparison 4: Growth Rate
Apple's 10 year historical revenue per share growth rate is much higher than Microsoft's. This is misleading, however, due to the slow-down in Apple's growth rate over the last several years. Microsoft is expected to grow at 8% with buybacks of about 2% per year for a per share growth rate of around 10%. Apple's guidance gives a wider range of growth between 2% to 7%, with share buybacks around for an expected per share growth rate of 8% to 13%. Due to the ambiguity of future growth rates and the irrelevance of Apple's historical growth rate, this category is a draw.
Why it Matters: Growing dividend stocks have outperformed stocks with unchanging dividends by 2.4% per year from 1972 to 2013. (Source: Rising Dividends Fund, Oppenheimer, page 4)
Comparison 5: Volatility
Microsoft's long-term standard deviation is 27.09% versus 36.67% for Apple. Microsoft wins this category by a wide margin due to its significantly lower volatility.
Why it Matters: The S&P Low Volatility index outperformed the S&P 500 by 2 points per year for the 20-year period ending September 30th, 2011. (Source: Low & Slow Could Win the Race, page 3)
Conclusion
Microsoft outranks Apple based on the 5 buy rules from the 8 Rules of Dividend Investing. Neither stock has a long history if dividend payments, although both companies have been very shareholder friendly in recent history. The fast-changing nature of the technology industry casts doubts onto where these companies will be in 10 to 15 years. These businesses both appear to be somewhat undervalued, and may be suitable medium term investments.
Disclosure: I have no positions in any stocks mentioned, and no plans to initiate any positions within the next 72 hours. I wrote this article myself, and it expresses my own opinions. I am not receiving compensation for it (other than from Seeking Alpha). I have no business relationship with any company whose stock is mentioned in this article.