This is a guest contribution written by Kay Ng who writes on Motley Fool Canada and also writes on Seeking Alpha under the alias Canadian Dividend Growth Investor. She also maintains a blog at Passive Income Earner with a focus on dividend investing as a Canadian investor in Canada and the U.S.
Dividend investors might initially ignore Alimentation Couche-Tard (TSX:ATD.B)(OTCPK:ANCUF) because it pays a tiny dividend. However, Couche-Tard has been an outstanding investment in total returns. Low yield stocks can fit well into a dividend portfolio.
In the last five years, the stock appreciated 500%, greatly outperforming the U.S. and Canadian stock markets. An investment of $10,000 five years ago would have transformed into a little over $56,600 with price appreciation and dividends received.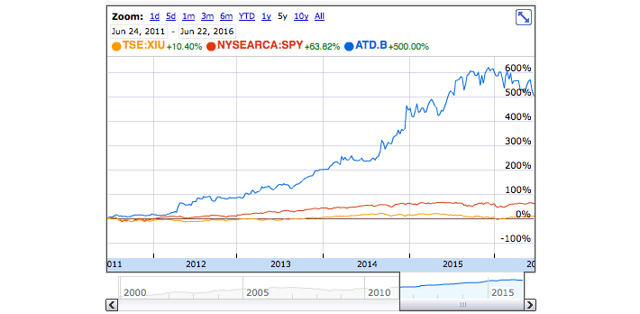 Source: Google Finance as of close of June 22, 2016
As well, it has increased its dividend at a tremendous rate.
If you generated $1,000 of dividends from an investment in Couche-Tard five years ago, this year, the same investment would generate $3,799 of dividends.
The Growth Story
Couche-Tard opened its first convenience store in Quebec, Canada in 1980. Fast-forward to today, the company has leading positions in North America, Scandinavia, and the Baltics.
Click here to continue reading this post on Sure Dividend...