Apple (NASDAQ:AAPL) reported quarterly results last week with attractive growth year over year. Numbers were positive nearly across-the-board and could likely continue.
Apple reported very strong third quarter earnings last week which you all have seen. Hopefully enough time has passed for the numbers to sink in. From Apple's press release:
"The Company posted quarterly revenue of $49.6 billion and quarterly net profit of $10.7 billion, or $1.85 per diluted share. These results compare to revenue of $37.4 billion and net profit of $7.7 billion, or $1.28 per diluted share, in the year-ago quarter. Gross margin was 39.7 percent compared to 39.4 percent in the year-ago quarter. International sales accounted for 64 percent of the quarter's revenue. The growth was fueled by record third quarter sales of iPhone and Mac, all-time record revenue from services and the successful launch of Apple Watch." Net profit margin even ticked up a point from 20.5% last year to 21.6% this year.
These numbers are strong. So strong that people will continue to ask how long this can last. Somehow it keeps lasting. This is a valid question however. How can the largest company in the world continue to post such large growth? One glaring item I noticed, as did others, was Apple's extraordinary growth in China.
Apple increased revenue in China by 112% quarter over quarter, $13.23B this quarter over $6.23B same quarter last year. No other segment comes close. This is a $7B revenue increase for 1 quarter, which is $2.33B per month. China revenue growth made up 57.5% of Apple's total revenue growth for the quarter. I am not sure the numbers have sunk in quite yet for me.

Apple achieved positive growth mostly across-the-board with 47.5M iPhone sales, an increase of 59% over same quarter last year. Mac, Apple Services (iTunes, AppleCare, Apple Pay, licensing and other services) and Other Products (Apple TV, Apple Watch, Beats Electronics, iPod and Apple-branded and third-party accessories) all had positive growth. The Apple iPad was the one sore spot in the bunch posting a 23% drop in quarterly revenue. The long and short of it is Apple still increased revenue by 33%. Overall I feel this is a very positive outlook for investors. Tim Cook and his management team have achieved another record quarter with very impressive numbers.
But let's get back to China. Considering this segment could be Apple's biggest market very soon, I feel the Chinese consumer will be the key to Apple's future. Apple is the largest company in the world. Some analysts may believe Apple has hit a growth peak and do not see much more potential stock growth in Apple. This quarter shows there is much more growth potential for Apple. China is clearly a key business segment based on the amount of revenue coming from China. What can be so easily forgotten is that Apple is still pushing new product lines, namely the Apple Watch. The Apple Watch is a brand-new product as far as Apple is considered. The product is reported in Other Products. A lot of Chinese consumers like technology accessories. The Apple Watch is a brand new product that will only increase market share as it gets more widely adopted. Chinese consumers could potentially lead the way for the Apple Watch and be the biggest market for this new product. Just like the iPod, iPhone, and iPad, the Apple Watch will take time to get established and see large adoption rates. As Apple keeps releasing updates for the Apple Watch more consumers in China and around the world may see value in the Apple Watch. Apple has a way of holding out on product feature releases, the same could be true with Apple Watch. As new updates and features come out, the more value the product offers consumers, which could lead to much higher sales.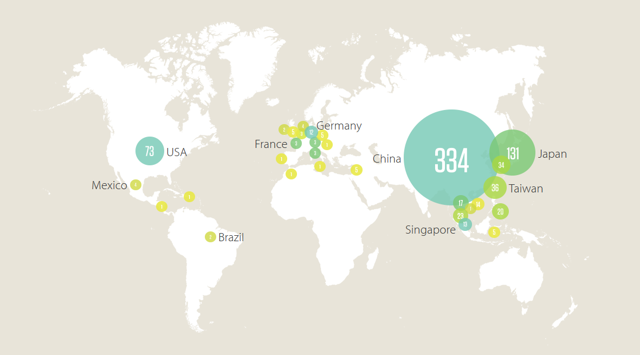 China is the major key in Apple's supply chain. According to a page on Apple's website, 14 of Apple's 18 final assembly facilities are located in China. The image above shows a representation of the number of Apple suppliers and assembly facilities around the globe, not to be missed is the presence in China. It is clear that China is a major part of Apple's future. Furthermore, this list shows Apple's top 200 suppliers around the world, a large percentage of these companies have locations in China. So you can get a taste for the relationship Apple has with China.
I think there is more room for Apple and the stock to grow. The growth of Apple in China will be vital to the company's future and cannot be ignored by investors and analysts. China could be Apple's biggest market within the next 3-5 years. Such strong growth could continue for years, it will not always be 112% QoQ growth but should be positive, and perhaps very positive.
Disclosure: I am/we are long AAPL.